The struggle is real: Have you scored AirPods yet?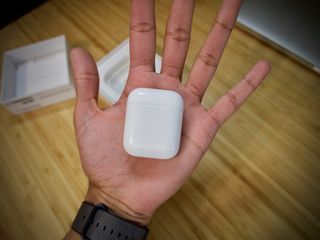 When Apple's Airpods first launched, people were pumped to say the least 💪🏼, but some also complained that they were having a tough time finding a set for themselves.
Fast forward a number of months later and people still seem to be stuck and attached to wires while they could be rocking out wirelessly: So what gives?
Do you think there's been a shortage of Airpods lately, or did you pick up your pair without any problems?
Some people have mentioned that there has been a bit of a delay and they would rather just order online and wait...
While others say they've been able to find them at their local Verizon stores and Walmarts...
But what do you think?
Hop on into the iMore forums today and join the discussion to let us know if finding your AirPods has been more difficult than a super duper hard page in Where's Waldo, or if you picked up a pair in an instant!
Cella writes for iMore on social and photography. She's a true crime enthusiast, bestselling horror author, lipstick collector, buzzkill, and Sicilian. Follow her on Twitter and Instagram: @hellorousseau
Love mine - was lucky enough to get them on launch day :)

I ordered set from Best Buy on Monday this week and they delivered today.

I don't get what the problem is. They are everywhere. Look online

I found them at my local Target using the Is In Stock website. They had 5 in stock and I did an online order. They were in my hand less than an hour later.

No struggle at all. Bought BeatsX. Haven't lost them yet ;)
Get the best of iMore in in your inbox, every day!
Thank you for signing up to iMore. You will receive a verification email shortly.
There was a problem. Please refresh the page and try again.