Take control of Trello notifications with Sunrise Calendar for iPhone and iPad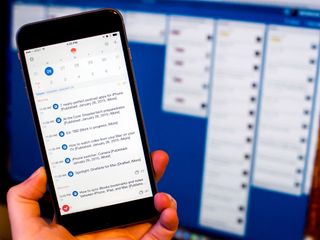 Sunrise Calendar isn't a replacement calendar app for me. That spot is currently occupied by Fantastical 2 on both my iPhone and my iPad. Sunrise Calendar is, however, a very important part of my workflow — it's my notification system for Trello. Yes, Sunrise Calendar is better at notifying me about Trello — the workflow management tool we use at iMore — that Trello itself. That alone makes Sunrise Calendar indispensable to me.
I love Trello but if you're using it on a regular basis, you know that the notification system is less than stellar. Actually, if we're being honest, it sucks.
I can't customize any kind of notification preferences through Trello for iPhone or iPad
I have no week view which makes it virtually impossible to see what due dates are approaching unless I organize columns by due date, which is redundant and should be unnecessary
Sunrise Calendar, on the other hand, offers excellent support for Trello notifications. Not only does it import all my Trello cards by due date, I can even receive notifications so I know when something is due. The Notification Center widget lets me view all my Trello cards in due date order and at a quick glance. I even placed the Sunrise Calendar widget directly under my Fantastical 2 widget so I have a great overview of my work day in less than 10 seconds.
Even though I don't use Sunrise Calendar as my regular calendar app, it now has a dedicated spot in my iMore folder right next to the Trello app itself. At this point, it's just as indispensable to me as Fantastical 2 but for very different reasons. I actually have nothing linked to Sunrise Calendar except for Trello and Evernote, and it works for me.
If you use Trello on a regular basis, be sure you pick up Sunrise Calendar. You'll be glad you did.
Get the best of iMore in in your inbox, every day!
iMore senior editor from 2011 to 2015.
Nice workaround, thanks! BTW: I still don't get everyone's fascination with Fantastical: the fact that I cannot easily copy and paste appointments makes it a deal breaker. I use Calendars 5 which nails the copy and past thing. What am I missing here?

In Fantastical, press and hold on an event to duplicate, move or share. In landscape week view, you can hold and move events around, but not duplicate.

They must've just added that with an update – it didn't used to have that feature. Thanks!

I am a huge of Sunrise on all my devices for this reason. Not just Trello, but having my Evernote reminders and Wunderlist tasks in one place with my regular calendar really makes life easy. I use it on my Android phone, iPad, and rMBP.

They must've just added that with an update – it didn't used to have that feature. Thanks! Edit: okay that was supposed to be in reply to fabsgwu. I tapped the Reply link under his post, but it often doesn't work correctly on iMore. Very annoying.
Thank you for signing up to iMore. You will receive a verification email shortly.
There was a problem. Please refresh the page and try again.