The Talk Show Live! Transcript at WWDC 2017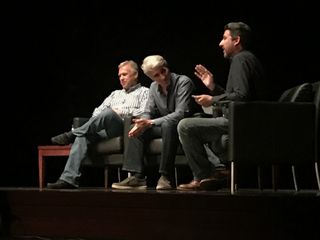 Won't you please welcome to the stage — my friend and yours, John Gruber!
John Gruber
Hello, and welcome to the Talk Show Live from WWDC 2017! Good show, I think! [laughs] We have a beautiful theater, I know.
So something to get out of the way, right out of the front: This show would not have possibly happened without our sponsors. We have three perfect sponsors for this show. Our first sponsor is JAMF: J-A-M-F. Jamf specializes in Apple Device Management: If you have multiple devices in a small company, and you need them, the MDM-management type stuff — go to them, they support Apple stuff, they're Apple-only — they support Apple stuff before it's out! They're probably already working on the betas for iOS 11. It's absolutely great.
Go to jamf.com/talkshow, and you will find out more.
Our second sponsor, another great sponsor, perfect for this audience is MacStadium. It is time to get your build server out of your office closet, or out from under your desk and put it in the hands of some professionals. Get a real build server. You can't just go and get some no-name Linux server and have Xcode running on it — you need a Mac! Go to them, MacStadium knows how to professionally host macOS X Server in a great colocation environment. All of their cloud accounts start with a 30-day free trial that is production-ready, so when your 30-day free trial is over and you're like "I wanna pay, I want to go with this," you just roll right over and you're already done.
Visit macstadium.com/df for more information.
[laughs]
You guys dying? You probably wanna know who's the guest? So I'll just tell you that, and then I'll do another sponsor?
[laughs]
Our third sponsor — great sponsor — are there any developers here in the audience?
[Voice: No. Laughs]
Our third sponsor is Setapp. Setapp, if you haven't heard about it, is a new subscription service for indie Mac apps. You pay $9.99/month as a user, and you get access — they have over 70 apps in the service — think of it as like, Netflix for apps. It is quite a deal, and they've got a ton of great apps in there. It's brought to you by MacPaw, a long-time independent Mac developer, the makers of CleanMyMac, Gemini, and a bunch of other stuff. So they know the indie Mac market. They are tried and true indie Mac developers; it's a great service; if you're a user — with is probably more people than developers — go there and check it out. And if you're a developer, certainly go there and look at it and see if it makes sense for your app to be part of their service.
Go to Setapp.com, and you can find out more.
And last but not least, and one of the great traditions of this show is I think every single time I've done it — I don't know, I've lost count, I think it's like the sixth one, maybe seventh, but I think every single time we've had an open bar, and that open bar has been sponsored by the same company — the great people at Mailchimp.
[Loud cheers.]
So if you've enjoyed a few beverages before the show, you can thank Mailchimp for that. I thank them. It's a great company. If you have email marketing needs, go check out Mailchimp. It's terrific. And I thank them for sponsoring the open bar here, because I certainly wasn't gonna pick up the bill. [chuckles] I know how some of you drink.
[Loud random noise over the speaker.]
I don't know what that was. We'll get past it.
So yesterday, when I was at the — there's one last group of people I wanna thank, and that's you. All of you. Those of you in this room, those of you listening at home. Yesterday, during the press event — there's all sorts of stuff back stage, and you have briefings, and there's schedules, and there's people and the press and you have to sit around all day.
While you guys are in the State of the Union, people like me are sitting around talking. And I got to talking with Walt Mossberg.
[cheers]
And it was a great talk, it always is. He's exactly like what you think he's like in person — he's full of [laughs] very strong opinions.
But he was talking about what we do, and I was telling him how what I loved about him was that he was a columnist, and that to me, there was something in my head about that style of writing that's writing a column, and that's what I always wanted to do with Daring Fireball, and he was very complimentary. He said "Yeah, I can see that, and I think you do a great job." But then he said "You know what I've really enjoyed these last few years? I've really enjoyed podcasting." And I said, "You know, I have too, but from when I was a senior in high school until I actually got Daring Fireball as a job off the ground, I've thought I want to be a columnist, I wanted to be a writer, and I wanna write, y'know, something like this." I never in a million years thought that I would be, like, a broadcaster as something that I should put on my tax return.
But there's no question that the podcast is half my job. And I enjoy it, and it's totally unexpected, and for some reason I love everybody who reads Daring Fireball — if you read it and you don't really listen to the show, that's fine. But for some reason, I feel like I have more of a connection with the people who listen to show. Like bumping into people on the sidewalk here in San Jose — and if you do see me anytime this week, please say hello.
But the people who say "I love your show" seem more connected, personally, than the people who say "I love Daring Fireball." I love both of them, and it's all complementary, but I just thank all of you for being here. I really cannot believe that I'm here in this theater for this show.
[huge applause]
I also feel like maybe listeners of the show have more of a sense of my actual personality? Like, maybe my writing kind of conceals it, and it's a little bit more formal. But if you do know me at all, you know that I… when I find something I like, I like to keep going with it.
And so, if you liked last year's show, I think you'll like…
[gigantic applause]
I think you're going to like this year's show, too. Let me introduce Phil Schiller and Craig Federighi!
[the house roars, whistles, etc]
Craig Federighi
Nice little place you have here.
[John laughs]
John Gruber
So, Craig, did you think my intro went on too long? Is that why you ran?
[laughter]
Craig Federighi
(It's gonna happen.)
Phil Schiller
Alright, big secret thing here: So whenever we do keynotes, Craig always bolts on-stage. He's always full of energy and he runs out there. And it's really impressive, right? Because he just — it just kicks things off, just like that.
And the rest of us… y'know, don't.
[laughs]
And in rehearsing for this keynote, someone — who will remain nameless — said "It's so great when Craig does that! We should all run on stage!"
[laughter]
And I said "No! Because I'll trip, and fall, and be an idiot, and then I'll regret it." So it's his thing, and it's Craig's thing, and it's impressive, so.
Craig Federighi
Well, thank you, Phil.
[applause]
John Gruber
Alright. I don't know about you guys, but I thought yesterday's keynote was longer than most podcasts.
[laughter]
Phil Schiller
Probably about the same. But we covered more stuff.
[laughter]
John Gruber
You covered a lot of stuff, which is going to make tonight very difficult.
Phil Schiller
Yeah. [laughs]
John Gruber
It also seemed as though there was… there could have bene more. What was like the first draft of the keynote?
Phil Schiller
[deadpan] Three and a half hours.
[laughter]
True.
Craig Federighi
It's true.
Phil Schiller
So we had to cut. Y'know, in a perfect world we would have liked to get it to two hours; it's a goal. But it's kind of hard to hold your bladder for some people for more than two hours. But that's as close as we got. We got — y'know, we got close, but not there, and we cut a lot. And we kind of ran out of — we just didn't want to cut any of this stuff!
John Gruber
Mm. I thought — running through some of the stuff from the keynote. I want to talk about the Mac first.
[Woos]
Because — not just — yesterday was a very strong day for the Mac on software, on laptop hardware, on desktop hardware, but in the recent months with, y'know, the discussions we've had and your announcements about the Mac Pro, I feel like the Mac — not that it's in a different place, but it's certainly in a different place, perception-wise, than it was a year ago. I thought that, let's just go with this right off the bat: I thought that the Mac stuff alone, yesterday, would have made a pretty good Macworld Expo keynote back in the day.
Craig Federighi
We used to find a way to stretch things out.
[laughter]
Phil Schiller
I don't know about Macworld, but at least an Apple Expo Paris, or Japan… [laughs]
John Gruber
So starting with macOS — Craig, when you introduced macOS High Sierra…
Craig Federighi
[dryly] Uh-huh.
[laughter]
Craig Federighi
Where are you going with this?
John Gruber
I was seated in the press area with friend of the show — sometimes guest of the show — Serenity Caldwell was right next to me, and you were thirty seconds into it after the name, and she says to me, "I can't believe it, I don't think he's going to make a high joke!" [Ed. note: The actual exchange.]
[laughter]
Phil Schiller
[laughs] She doesn't know Craig that well.
John Gruber
[on the verge of laughter] As soon as she said that to me… you made the joke.
[laughter]
Craig Federighi
[quietly] It's a tradition.
John Gruber
I was very happy about this announcement, because, if people listen to the show, my hope for the Mac is, look: The Mac has all the major tentpole-style features that it needs. I think what it just needs is sort of refinement. And is that — that's what the name High Sierra sort of sets the bar for?
Craig Federighi
It's a proud — it could have been Snow Sierra, or something…
[laughter]
We've done that. There's a proud tradition of Mac releases — that, I think, some of our most loved releases sometimes, are when we take a year to refine and perfect, and we wanted to do it again.
John Gruber
Mountain Sierra wouldn't have worked.
Craig Federighi
[laughs] That's the the thing: Snow Sierra, Mountain Sierra, where do we go with this… Our crack marketing team.
[huge laughter]
Phil Schiller
Augh.
[laughter and clapping]
Phil Schiller
First of all, I don't appreciate it when you use the crack word and point to me.
[more laughter]
And second of all, it is a sad state when you're naming products, and you're more afraid of what your head of engineering is going to say about it than all the press and all the customers…
[laughter]
But… truth be told.
[Craig holding back laughter]
John Gruber
Now, it's one of those things — and it happened repeatedly through the keynote, and this is how you can tell that it was a jam-packed keynote. One of the things you guys do in a keynote is, when you get to the end of a segment, and you still have 20 or 30 other things that are new about this subject, you'll put up, like, a catch-all slide.
And in the press area, people tend to take their phone out, or if they have the standalone camera, and then they'll point up and take a picture of that, and in their notes at the end they have these, go through all those catchup slides, see if there's anything in there.
And it went by so fast, where it kept happening — where people would be like "Oh, it's gone!"
But one of the little things you called out was a 35% improvement in the efficiency of storage of Mail…
Craig Federighi
Yep.
John Gruber
… And that's the sort of thing that's like music to my ears about this, because to me, it's not that there's all these people out there whose MacBooks are stuffed to the limits of the drive with Mail, but that that's the sort of thing that only happens when you really go through the code, and do a refactor.
Craig Federighi
Yeah, well, and really, starting out this year, every team went and said to me, "What do we want to make faster?" And our Finder guys were like, "Hey, y'know… it should be a little faster to open a Finder window." And so they put some folks on that. Every demo, the Photos team, they would bring me the slowest Mac they could find, and show me how fast it was launching.
Y'know, it's like that. Here's a 100,000 [photo] Photo Library, let's see how fast it launches, right?
So, yeah. When you start seeing stats like that, it is a sign of everybody in engineering putting their focus and going deep in their area.
John Gruber
And you're saying like, this is the type of release where teams can say, "Here's what we would like to throw effort at to, because we're not happy with the performance of this part of the system; if you can give us the time and let us do it, we can really get that going."
Craig Federighi
Yeah, absolutely. I mean, certainly at Apple there's a real blend of saying, "Hey, we're coming out with a new machine, a new iMac Pro with really interesting architecture; we gotta, we all have to do our part to make that possible. Or you look at the iPad Pro, and what it took to do ProMotion, huge effort, so this —
[woos from the audience]
[smiling] So this, yeah. It's, it's awesome.
John Gruber
You're skipping ahead! iPad…
[laughter]
Craig Federighi
Sorry, sorry man!
[laughter]
But so, there's definitely a fair amount where we have goals as a company and as a release, where we ask all teams to pull in, and what's so awesome about Apple is that the teams will all rally to the cause. But at the same time, this release, we said, listen: Here's 50% of the time off the top — tell us how you just want to make your stuff better. And the teams took to it, uh… it's great to have great people.
John Gruber
Safari got a pretty good chunk of that.
Craig Federighi
Yeah.
John Gruber
And it seemed like… you — just flat out said, y'know, "Safari is faster than Chrome."
Craig Federighi
You helped prompt me to do that!
John Gruber
Yeah?
Craig Federighi
Yeah! Yeah. It was a few weeks ago that you wrote something about Safari, and you were — you complimented Safari in one regard, and then you said "Yeah, and it's okay that Safari's not the fastest," and I'm like, "WHAT?!"
[big laughter]
And I realized, when every time one opens their browser and goes to a particular search engine, that there's an ad that says "Get a faster browser"…
John Gruber
Right.
Craig Federighi
… That eventually, it seeps in, and people stop —
Phil Schiller
[into the mic] MARKETING.
Craig Federighi
Marketing, where that's coming from. And…
[laughter]
And so we thought we'd bring some knowledge! And it's all true, man. I mean, that team is unbelievably obsessive about performance. They're absolutely the best in the industry. The Safari team rules, the WebKit team, the combination of them, they build the fastest browser on the planet, and honestly, I'm getting sick of people not giving them their due!
[large cheers and applause]
Phil Schiller
Beware a pissed off engineer.
[laughter]
John Gruber
And I thought that the Safari news yesterday hit on the major themes that Apple has been — I mean, performance is obviously something you guys always care about, so there's that, we just covered that — but then the other angle is the privacy angle, right?
And so, there's a new intelligent tracking prevention. And you talked about it…
Phil Schiller
Yeah.
John Gruber
… But can you nerd out on us a little more on what's intelligent about it?
Craig Federighi
Yeah. You know, actually, years ago, Safari was the first browser to have these mechanisms to try and prevent cross-site tracking. And there became a point where the tracking industry — the tracking industrial complex is pretty inventive!
[laughter]
And they came up with some pretty wild mechanisms. I mean, for awhile, it was "How do we use storage in Flash," how do we use any API you can imagine to try to maintain a tracking cookie effectively across everywhere you go on the web. And the Safari team has been really drawing deep to try and solve this problem.
And we figured out that through a combination of, essentially, double-keying the cookie, saying if you pulled a resource, and you were on — I don't want to pick a particular publication — you were on publication A, and it included some Javascript to try and to pull content from this tracker. Instead of allowing that to be a key by the tracker's domain, which would be the same domain when you'd pull that tracker from another site, we'd segregate it. We'd say "Oh, well this tracker's going to see a different cookie when you're on Site A than when you're on Site B, than when you're on Site C. We took to siloing that.
But these guys are even more insidious than that. And so we had to actually use some local machine learning to figure out which are trackers, to partition their data, to delete their data. But all of this is really just to me, I think what is many reasonable people's expectation, right, that's when I'm on this site, I know I'm seeing their ads, I don't expect that there's any record, anywhere else, about what I was looking at.
And we think that's the way the web should be. And the Safari team had to work incredibly hard on that, so.
[huge applause]
[More coming as the show progresses!]
[huge applause]
John Gruber
I use the word "creepy" a lot talking about the track, and I do think it's creepy. And I feel like, somehow, because it's online, and on a screen, and it's computerized, and nobody really knows what happens, that people aren't creeped out in the way that they would be in the real world.
Like, if I go to Macy's, and I'm looking at jeans, and I decide, "Eh, I'm not going to buy any jeans." And then I go into another store, and somebody comes up to me and says, "Would you like some jeans?"
Craig Federighi
Right.
[laughter]
John Gruber
That's creepy! I'm immediately thinking, "How do you know this, what is going on here — let me see the jeans, though."
[loud laughter]
But I am creeped out! Y'know, and that's why it works, though, because maybe… y'know, obviously sometimes it works, but I do think it's a reasonable — there should be a reasonable expectation of privacy in that regard, and just putting your browser in Private mode isn't a great solution to that, because then you lose all sorts of helpful user features that are based on, "Hey, we're remembering stuff!"
Craig Federighi
Yeah. And that was actually the hardest part about it. It's easy to do if you're willing to completely break the web.
John Gruber
Right.
[chuckling from the audience]
Craig Federighi
But what's the point of that. But the kind of thing that — it's not just, y'know, I go here and look at the jeans, I mean, it's you go here and they say "Hey, we noticed that your car — the lease on your car is nearly up." I mean, they don't say that, but they know that, right? They're like "We know you own —" I don't know what you own, if you own a car, but — do you own a car?
John Gruber
I was going to buy the Apple Car.
[lots of laughter]
Craig Federighi
Okay.
[huge applause]
Well, we're going to have to work on that, then. If, uh…
[more laughter]
They know, they know, they're correlating, "Hey, we know you what you bought at the grocery store, and we know this," and they tie it together, and it's like… yeah, it's creepy.
John Gruber
Yeah, well, it's great that Safari is working on it. And then, the other one too, and it got huge — I never know what you guys can tell, I mean here, we get pretty good audience feedback, but...
Craig Federighi
[laughs] It's very different.
John Gruber
… But the auto-block feature got a huge applause, and it's because people — so many people use their MacBooks all over the place, y'know, whether it's work, or a library, or something. And when all of a sudden you click a link, somebody's like, "check this out," and you get all this sound — it's embarrassing!
Craig Federighi
It is a great way to tell who's not paying attention in a meeting.
[laughter]
I kid you not — literally while we were reviewing this feature, slides for this feature in one of our rehearsals, and somebody's browser goes off playing an ad…
[laughter]
And this is someone who shall not be named who was not yet running the beta, and it was… it was a perfect proof point.
John Gruber
I'm gonna, I'm going to make a bet. I'm going to bet it was [SVP] Eddy [Cue].
[laughter, groans]
Craig Federighi
Eddy is… Eddy is one of our best beta testers.
[huge laughter]
He's already on the beta. Eddy is aggressive…
Phil Schiller
Oh yeah. He's usually the first on every beta.
Craig Federighi
No, in fact in most of our executive team meetings, Eddy is updating two or more devices…
Phil Schiller
While — DURING the meeting…
Craig Federighi
… On the board room table.
Phil Schiller
He's got his cables spread out, downloading the morning's update.
John Gruber
Alright.
Craig Federighi
It's true!
[laughter]
John Gruber
Is there anything in macOS High Sierra that either didn't get time on stage or didn't get enough review that you'd like to talk about?
Craig Federighi
Oh boy. Yeah, y'know, I, on the way over here I was tapping out Notes to myself on all the things I was going to forget to say when I got here…
[Gruber laughs]
… And I feel like I'm not going to pull my phone out right now and look at that list…
John Gruber
Oh, that's alright. What about the Face syncing across devices? That's something that we talked about here last year…
Craig Federighi
Yep.
John Gruber
And it was per-device. And so, you'd get a new device — and even throughout the year, it played into when the new MacBook Pros came out last fall, and some people were saying "Yeah, my battery life isn't that great" and you guys looked into it, and part of it is the first-run experience, and it's redoing Spotlight indexes and this stuff — clearly you guys were, it wasn't there last year simply because it wasn't done.
Craig Federighi
Yep.
John Gruber
It wasn't like you didn't have it on the…
Craig Federighi
No, we've been working on it. And it's actually something that's harder to get right right, because when you go through the process of classifying your photos, we offer up and we say "Hey, is this John?" And y'know, "Is this John?" And you say "Yes, yes."
But when you say yes to one face, we're actually saying "Okay, well, there are a thousand other photos we saw that we think are the same person as this, so we're going to count those all as John — but all you really told us is about that one photo. And so what we actually sync, and support, and so that we get this right — we sync only the specific photos you told us about, and then each… 'cos that's really the truth, y'know, that's what the user really told us.
And then we sync that information, and then each device, because they're independently doing photo recognition are talking that, and re-deriving the — coming to the final result on all your machines to synchronize. So synchronize is actually very little data, and it's all just the truth data, and we won't hold back the right solution.
But getting that architecture completely right was a — took a little longer than we would have liked, and so we're super excited to have it done now.
[Ed note: Remaining transcript coming soon!]
Master your iPhone in minutes
iMore offers spot-on advice and guidance from our team of experts, with decades of Apple device experience to lean on. Learn more with iMore!
Serenity was formerly the Managing Editor at iMore, and now works for Apple. She's been talking, writing about, and tinkering with Apple products since she was old enough to double-click. In her spare time, she sketches, sings, and in her secret superhero life, plays roller derby. Follow her on Twitter @settern.