Tank Domination Review: Fight for the flag on iOS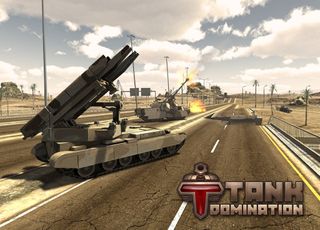 Game Insight is one of the largest mobile software publishers in Russia, where it organizes the Live Mobile! European Mobile Congress. The publisher – historically known for its casual titles like the My Country series, made its first foray into more serious games with an MMORPG called Dragon Eternity earlier this year.
Now Game Insight returns with their most hardcore title yet: Tank Domination. Similar to Tanktastic and World of Tanks, Tank Domination is a large-scale competitive online game. With 10-against-10 online battles, a large array of realistic tanks, and even the celebrity voice talent of Michael Ironside, Tank Domination aims to be a serious contender in the tank combat genre.
Preparing for battle
Like Tanktastic, Tank Domination is an online-only game. After logging in, players arrive in their own personal tank hangar. From there you can manage your tanks, purchase equipment and upgrades, and hop into battle.
Every proper tank combat game needs an armada of realistic tanks for players to drive, and Tank Domination doesn't disappoint. Each is based on a real-life vehicle or concept tank from the United States, Russia, and China.
Tanks falls into Light, Medium, Heavy, and Artillery categories as well. A tank's size determines its movement speed, durability, and firepower – the bigger they are, the harder they fall. Artillery are a special class, with limited movement and defense but especially high damage capabilities. A light escort can be essential to keeping Artillery tanks safe.
Various tanks and armaments will unlock for purchase as players level up. 30 is the highest level, at which point you'll have everything unlocked. You can own three tanks by default, with defeated tanks becoming unavailable for a short time. A fourth tank slot will cost Warbucks, the game's premium currency.
Tank hard before you answer
Tank Domination currently offers a single game type: Capture the Flag. Game Insight does plan to add new modes over time, so we won't just be shooting it out over flags forever.
Capture the Flag is a team-based game type. Teams can consist of 2-10 players. The two teams strive to steal each other's flags – by reaching the flag and staying with it long enough, you'll win the game. Matches can also be won by eliminating all of the other side's tanks; no respawns here.
Tanks are slow and deliberate vehicles. As such, touch screen controls work better in games like this than faster-paced shooters. A stick on the left side controls movement. A button beside it will set the tank to moving forward without the need to press the stick. On the right side of the screen, you'll find another stick for aiming, as well as buttons to zoom the view and fie.
The tanks in this game can use multiple types of ammunition. Each ammo type has its own damage rating, reload time, and other properties. You can actually switch ammo types during the match, allowing you to match your firepower to your opponents.
Shaping up nicely
At this point, Tank Domination lacks a few of Tanktastic's features like a party system and in-game chat. You can issue specific commands to teammates, but proper chat (and forming teams with friends) are sorely missed. This is a team-based game, after all.
Still, Game Insight has big plans for this title - so don't be surprised if Tank Domination catches up before too long. The publisher will be adding the gravelly voice of actor Michael Ironside to the game's tutorial early next year. New game types, maps, and tanks will follow in the months to come. As long as Game Insight supports the game as planned, it just might end up dominating the tank genre on iOS.
Master your iPhone in minutes
iMore offers spot-on advice and guidance from our team of experts, with decades of Apple device experience to lean on. Learn more with iMore!
Paul started writing about games in 2003 with his first strategy guide (Bomberman Land 2) for GameFAQs. He continued writing guides while earning his B.A. in Literature. When Windows Phone launched in late 2010, the Xbox integration lead our hero to jump on board the platform. He joined Windows Phone Central as Games Editor at the beginning of 2011, going on to review over 125 mobile Xbox titles over the years. He now leads Windows Central's Xbox One coverage, personally specializing in developer interviews, indie games, controllers and accessories, and Twitch broadcasts. Paul loves games on all platforms; he goes where the games are. Although very busy with console coverage, he sometimes contributes gaming articles to iMore and Android Central.