Tech companies take a stand against DACA repeal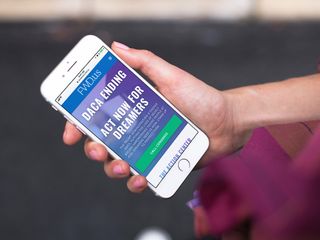 DACA is a vital program that protects individuals who immigrated as children from deportation and authorizes them to work in the United States. If no legislation solution takes DACA's place soon, these individuals will be subject to immediate deportation and gradual termination from work and school.
Check back throughout the day — we'll be adding more tech company responses as we come across them.
Apple
In an email obtained by iMore, Apple CEO Tim Cook said that he pledges to support Apple employees affected by the DACA repeal. Because Trump is phasing out the DACA program over the next six months to give Congress time to replace it, Cook stated that Apple will work with Congress to come up with legislation that still allows for the protection of immigrants and their children. The letter is as follows:
Team,
America promises all its people the opportunity to achieve their dreams through hard work and perseverance. At Apple, we've dedicated ourselves to creating products that empower those dreams. And at our best, we aspire to be part of the promise that defines America.
Earlier today, the Justice Department announced that President Trump will cancel the Deferred Action for Childhood Arrivals (DACA) program in six months if Congress does not act to make the program permanent.
I am deeply dismayed that 800,000 Americans — including more than 250 of our Apple coworkers — may soon find themselves cast out of the only country they've ever called home.
DACA recognizes that people who arrived in the United States as children should not be punished for being here illegally. It lets these Americans, who have successfully completed rigorous background investigations, go to school, earn a living, support their families, pay taxes and work toward achieving their dreams like the rest of us. They are called Dreamers, and regardless of where they were born, they deserve our respect as equals.
I've received several notes over the weekend from Dreamers within Apple. Some told me they came to the U.S. as young as two years old, while others recounted they don't even remember a time they were not in this country.
Dreamers who work at Apple may have been born in Canada or Mexico, Kenya or Mongolia, but America is the only home they've ever known. They grew up in our cities and towns, and hold degrees from colleges across the country. They now work for Apple in 28 states.
They help customers in our retail stores. They engineer the products people love and they're building Apple's future as part of our R&D teams. They contribute to our company, our economy and our communities just as much as you and I do. Their dreams are our dreams.
I want to assure you that Apple will work with members of Congress from both parties to advocate for a legislative solution that provides permanent protections for all the Dreamers in our country.
We are also working closely with each of our co-workers to provide them and their families the support they need, including the advice of immigration experts.
On behalf of the hundreds of employees at Apple whose futures are at stake; on behalf of their colleagues and on behalf of the millions more across America who believe, as we do, in the power of dreams, we issue an urgent plea for our leaders in Washington to protect the Dreamers so their futures can never be put at risk in this way again.
Despite this setback for our nation, I'm confident that American values will prevail and we will continue our tradition of welcoming immigrants from all nations. I'll do whatever I can to assure this outcome.
Tim
Cook also expressed his support for Dreamers and DACA on Twitter.
Google
Sundar Pichai, Google's CEO, showed his support for Dreamers and his desire to protect DACA on Twitter.
Spotify
Spotify is standing against the DACA repeal by releasing a playlist featuring empowering songs and encouraging messages from artists who wish to stand in solidarity with the 800,000 Americans affected. The playlists features musicians such as Logic, DJ Khaled, Demi Lovato, Juanes and Jared Leto.
Facebook
Facebook's Mark Zuckerberg called for the president to keep the DACA program in place with a post on his Facebook page. He emphasized that Dreamers deserve the chance to contribute to their country and community.
Microsoft
Microsoft President Brad Smith also joined the ranks of those supporting Dreamers. In a blog post, he stated that protecting those affected by the DACA repeal is an issue more pressing than tax reform. He also asserted that that Dreamers are an integral part of our nation's fabric and called other tech companies to defend their legal rights as well.
Microsoft CEO Satya Nadella also shared some words on Twitter:
IBM
Tech giant IBM shared their desire to protect those affected by the DACA repeal with a series of tweets and retweets, beginning with this statement showing their support.
Uber
Uber CEO Dara Khosrowshahi shared her thoughts on the DACA repeal in a tweet:
Mozilla
Mozilla, creator of browser Firefox, released a statement on its blog in support of the young Americans who benefit from DACA.
Verizon
Verizon Executive Vice President Craig Silliman posted a statement to the news section of Verizon's website citing the Dreamers as "800,000 reasons why diversity matters."
The statement was also shared to the Twitter account of Verizon's public policy team.
Tech Industry
Several companies, including some of those listed here, also sent a letter to Trump on Aug. 31 to discourage the president from repealing DACA. You can read the full text of the letter here.
Learn more about DACA and the Dreamers movement here.
Master your iPhone in minutes
iMore offers spot-on advice and guidance from our team of experts, with decades of Apple device experience to lean on. Learn more with iMore!
Tory Foulk is a writer at Mobile Nations. She lives at the intersection of technology and sorcery and enjoys radio, bees, and houses in small towns. When she isn't working on articles, you'll likely find her listening to her favorite podcasts in a carefully curated blanket nest. You can follow her on Twitter at @tsfoulk.