There's a new Johnny Cash album releasing in 2014, enjoy his best of with iTunes!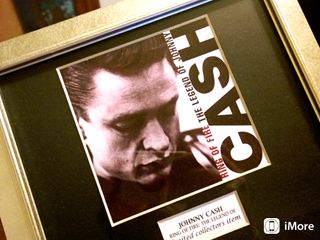 Huge news has come the way of Johnny Cash fans today – myself included – with word that a brand new record will see the light of day in early 2014. Out Among The Stars is the first new release since the American Recordings series came to a close in 2010 and will be compiled of songs recorded by the legendary Country Music star in the Eighties.
While we have to wait patiently for the release, slated for March 25, 2014, what better opportunity to jump into the vast back catalog by way of the iTunes Store. Click on for a selection of the best on offer! Usual disclaimer though folks, music is often bound by region so you might not be able to get some of it.
So, that's a selection of my favorites on offer, but the great news is there's literally a ton – maybe even 16 Tons! – of content in the iTunes stores for Cash fans. The new album is up for pre-order on Amazon for hard copies and the iTunes Store for digital downloads right now at the links below. If you've got a favorite not mentioned, be sure to share it with us in the comments!
Source: Johnny Cash Online
Get the best of iMore in in your inbox, every day!
I'm excited for the release of anything by Johnny Cash I haven't heard before. Just so everyone know the Amazon physical CD comes with a free digital copy. That's probably why it's more expensive than iTunes.

I'm wanting the Vinyl copy too. Just because ;-)

I don't think that is correct as it is an iTunes exclusive (for the digital copy) at this time.

This is awesome for those Johnny Cash fans. Sent from the iMore App

Wow! I've got to have it! Sent from the iMore App

By contract, you were required to put out so many albums a year. When you had no real pull, it was up to the record companies to decide what songs made it. There is so much unheard music by old artist not released. Marty Robbins son put out unreleased songs of his dad, and the big boys pulled it. Kind of sad. What is the use of not releasing songs of artist? I would pay for it. Sent from the iMore App
Thank you for signing up to iMore. You will receive a verification email shortly.
There was a problem. Please refresh the page and try again.