What can you automate? Your morning coffee and more!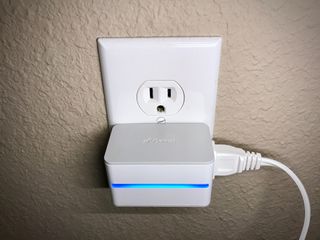 You've replaced your normal, boring lights with multicolor, Wi-Fi connected bulbs; you've swapped out your decrepit thermostat for one you can control with your voice; you've even changed the lock on your front door so it can be opened using your phone, but despite all that, you've still got the smart home bug. So what now? It's time to start thinking creatively and looking for ways to make your smart home work for you. That means automating things you may not have considered in the past. Here are some things you didn't know you could automate (or, at least, hadn't considered before).
☕️ Coffee Maker
You don't need to buy a fancy coffee maker to get a freshly brewed cup of joe in the morning. Pair a coffee maker that brews as soon as it's switched on with a smart plug and you've got yourself an automated brewing system!
If you want to schedule some morning joe, the trick is to find a simple, manual coffee maker — one that starts brewing coffee as soon as you flip the switch to the on position. Reason being, smart switches and plugs work by turning on and off the power to whatever they're attached to, so if you want the process to be automatic, you've got to have something that will start working without your intervention as soon as it receives power.
To automate your coffee machine, you'll also need to buy a smart plug or switch. I recommend the HomeKit-enabled iDevices Switch. Once you've got your switch plugged in and set up, plug in your coffee maker and schedule your plug to turn on every morning about twenty minutes before you wake up. Before you go to bed, fill the tank with water, insert your filter, and dump in the coffee grounds. Check to make sure you've got the coffee maker turned on and the settings adjusted to your liking. All that's left is for you to go to bed and wake up the next morning to the wonderful smell of freshly brewed coffee!
You can set everything up according to your schedule or manually turn on the coffee maker using your switch or plug's app no matter where you are. Want an iDevices Smart Switch? You can snag one from Amazon for just over $40.
🌫 Humidifier
Useful all year round, a humidifier can help restore necessary moisture in the air in your home. In the summer, air conditioners cool the air in your home, removing moisture during the process. In the winter, the air is already far drier. In other words, no matter the time of year, your home's air is likely to be drier than it should be and that's where a humidifier can help you out.
Knowing and remembering when to turn on the humidifier can be a bit of a hassle on its own, but things get a thousand times easier when you automate the process. Get a humidifier that has manual controls — I have and love this $60 germ-free humidifier from Honeywell, set it to your desired settings (there's a control knob atop the humidifier), and plug it into a smart plug or switch. Once again, I recommend the HomeKit-enabled iDevices Switch.
Now, you could simply set up a schedule that turns on your humidifier at a certain time of day — say, right before bed. That'd work, but let's get even more creative by adding a humidity sensor to your automation! Elgato makes the Eve Room air sensor, a HomeKit-enabled, Bluetooth-connected room sensor that can keep track of air quality, temperature, and humidity. Combining the humidifier, smart plug or switch, and smart air sensor, you can set up an automation that turns on your humidifier when the humidity drops below a certain percentage. What's more, you can also set it to turn off when humidity is restored to a certain percentage!
Want to add the Elgato Eve Room to your home automation setup? You can get one from Amazon for just under $80.
Other ideas?
Do you have any clever home automation tricks of your own? Be sure to share them in the comments below!
Master your iPhone in minutes
iMore offers spot-on advice and guidance from our team of experts, with decades of Apple device experience to lean on. Learn more with iMore!
Mikah Sargent is Senior Editor at Mobile Nations. When he's not bothering his chihuahuas, Mikah spends entirely too much time and money on HomeKit products. You can follow him on Twitter at @mikahsargent if you're so inclined.