Transcript: Apple CEO Tim Cook on the company's 2017 Q1 earnings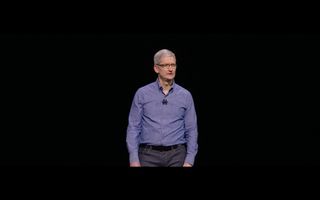 Apple CEO Tim Cook and CFO Luca Maestri spoke with analysts during the company's Q1 2017 earnings call. Here's our ongoing live transcript of their remarks! If you want more info on Apple's results, we recommend Six Color's ace charts for the quarter.*
Cook's opening remarks
Tim Cook
Good afternoon, everyone, and thanks very much for joining us. I'm very happy to share with you the outstanding results of Apple's December quarter.
We generated the highest quarterly revenue in Apple's history, along with all-time unit and revenue records for iPhone and Apple Watch; all-time revenue records for services and Mac; and all-time revenue records for four out of our five geographic segments.
The strong performance of our business also produced all-time record earnings-per-share. Revenue in the quarter was 78.4 billion dollars, which was above the top of our guidance range. iPhone had a tremendous quarter thanks to exceptional demand that beat our own internal expectations.
While iPhone 7 is our most popular model, we saw especially strong demand for iPhone 7 Plus, which was a higher portion of the new product mix than we've ever seen with Plus models in the past. Demand for iPhone 7 Plus exceeded supply throughout the quarter, and we came into supply/demand balance in January.
iPhone 7 Plus has earned rave reviews for its advanced new features, especially the dual-camera system, which produces stunning portraits and high-quality zoom. This is a uniquely Apple feature that is surprising and delighting our users. Both iPhone 7 and iPhone 7 Plus are empowering our customers to be more productive, more engaged, and more expressive than ever by integrating hardware, software, and services to create experiences that only Apple can deliver.
It was our best quarter ever for services, with almost 7.2 billion dollars in revenue. App Store customers broke all-time records during the holiday quarter, including 3 billion dollars in purchases in December alone, making it the App Store's single best month ever.
Our innovative and vibrant developer community has created over 2.2 million apps for doing almost anything that you can imagine. Apple's developer community has now earned over 60 billion dollars, including over 20 billion [dollars] in 2016 alone.
Revenue from our music business grew for the third quarter in a row, and our AppleCare and iCloud storage services had all-time record results. Apple Pay continued its strong momentum, with its number of users more than tripling over the past year, and hundreds of millions of transactions and billions of dollars in purchases in the December quarter alone.
Transaction volume was up over 500% percent year-over-year as we expanded to four new countries, including Japan, Russia, New Zealand, and Spain, bringing us into a total of 13 markets.
Apple Pay on the Web is delivering our partners great results. Nearly two million small businesses are accepting invoice payments with Apple Pay through Intuit QuickBooks Online, FreshBooks, and other billing partners, and beginning this quarter, Comcast customers can pay their monthly bill in a single touch with Apple Pay.
Services are becoming a larger part of our business, and we expect the revenues to be the size of a Fortune 100 company this year. Our services offerings are now driving over 150 million paid customer subscriptions; this includes our own services and third-party content that we offer on our stores.
We feel great about this momentum, and our goal is to double the size of our services business in the next four years.
The Mac not only returned to growth, but generated its highest quarterly revenue ever. Our latest data shows that most Mac customers are buying their first Mac, with the vast majority of them coming from a Windows PC.
The new MacBook [Pro] Touch with Touch Bar is an outstanding example of the innovation made possible by integrating world-class hardware and software. We were supply-constrained for the new MacBook Pro throughout the December quarter, and are just now coming into supply/demand balance.
It was also our best quarter ever for Apple Watch — both units and revenues — with holiday demand so strong that we couldn't make enough. Apple Watch is the best-selling smartwatch in the world, and also the most-loved, with the highest customer satisfaction in its category by a wide margin. Apple Watch is the ultimate device for a healthy life, and it's the gold standard for smartwatches. We couldn't be more excited about Apple Watch.
We're also thrilled with the response to AirPods: Customers love the magical experience AirPods are delivering, and if you haven't tried them yet, you'll be delighted when you do. They're far ahead of anything else on the market today, and we're working hard to catch up with the incredible demand.
With AirPods off to a fantastic start; a strong, full first year for Apple Watch; and Beats Headphones offering a great wireless experience using the Apple-designed W1 chip, we now have a rich lineup of wearable products. Their design, elegance, and ease of use make us very excited about the huge growth potential for wearables going forward.
Our ecosystem is broadening to more and more of the areas where people spend their time: at the gym, on the go, in the home, and on the job. For example, every major automaker is committed to supporting CarPlay, with over 200 different models announced including five of the top ten selling models in the United States. There are well over a million people using CarPlay now, and this continues to grow rapidly.
We're leading the industry by being the first to integrate home automation into a major platform with iOS 10. With Siri and the new Home app in iOS 10, everywhere you go you can easily and securely all of your home accessories with your iPhone, iPad, or your Apple Watch. The number of HomeKit-compatible accessories continues to grow rapidly, with many exciting solutions announced just this month, including video cameras, motion detectors, and sensors for doors, windows, and even water leaks. Perhaps even more importantly, we are unmatched when it comes to securing your home with HomeKit-enabled door locks, garage doors, and alarm systems.
I'm personally using HomeKit accessories in the Home app to integrate iOS into my home routine: Now, when I say "Good Morning" to Siri, my house lights come on and my coffee starts brewing. When I go to the living room to relax in the evening, I use Siri to adjust the lighting and turn on the fireplace. And when I leave the house, a simple tap of my iPhone turns the lights off, adjusts the thermostat down, and locks the doors. When I return to my house in the evening as I'm near my home, the house prepares itself for my arrival automatically by using a simple geofence.
This level of home automation was unimaginable just a few years ago, and it's here today with iOS and HomeKit.
We're making great progress in the enterprise market alongside our major partners. The combination of iOS and Cisco Technology is giving companies everywhere the opportunity to vastly improve the user experience for their mobile employees. With enhanced networking performance, up to 8x faster roaming, better reliability for apps, and native voice experience, we're excited about how much more productive the workforce will be with these capabilities. In fact, the total number of joint customer opportunities has grown over 70% since last quarter.
Enterprises are using IBM's new mobile-at-scale design and development model to deploy multiple iOS apps with speed and efficiency. For example, Fennar [sic] is transforming airport maintenance, and Cemex is revamping activities from attracting new clients to invoicing to after-sale support.
And later this spring, SAP will be rolling out its SDK for iOS, providing its community of more than 2.5 million developers the tools to build powerful, native iOS apps that leverage the SAP HANA cloud platform. We're delighted with how these partnerships are making it even easier for enterprise customers to transform how work gets done with iOS.
As we reflect on a record-breaking December quarter, I'd like to thank our developers, our business partners, and our employees for their incredible contributions and commitment, and I'd like to thank all of our customers around the world for their excitement and loyalty, which ultimately drives these results.
On foreign exchange and original Apple TV content
Katie Huberty, Morgan Stanley: First, Luca, what are the factors that caused you to widen the gross margin guidance for the March quarter, and what are the one or two factors that put you at the low end, versus the tailwinds that might put you at the high end of that range?
Luca Maestri
If you look back at our history, 100 points range for gross margin is not unusual; clearly, during a period when foreign exchange is very volatile, we think it's more prudent to broaden the range of it. I mentioned that we expect, assuming that rates don't move too much, we expect foreign exchange to be a major negative as we move from the December to the March quarter. You know that the dollar appreciated significantly toward the end of the December quarter, and so we've got 80 basis points of sequential headwind from foreign exchange.
We also have the sequential loss of leverage, which is typical of our seasonality, but we expect to offset these two impacts with cost efficiencies and also with our mix of products and services.
So, y'know, obviously, if the dollar is a little less strong than it is today, we could do a bit better on gross margins; obviously, we continue to work very hard on our cost efficiency, so we'll see where we land.
Katie Huberty, Morgan Stanley: Tim, there's a reasonable probability that you may get access to the 200+ billion of cash that's been locked overseas, so I think it would be helpful to just get an update on your views around potentially larger M&A [mergers and acquisitions], and some of the areas of interest that you've noted in the past like owning more original content to penetrate more of the TV opportunity that the company has long talked about addressing?
Tim Cook
I am optimistic, given what I'm hearing, that there would likely be some sort of tax reform this year, and it does seem like there are people in both parties that would favor a repatriation as a part of that, so I think that's very good for the country and good for Apple. What we would do with it, let's wait and see exactly what it is. But, as I've said before, we are always looking at acquisitions; we acquired 15-20 companies per year for the last four years, and we look for companies of all sizes. There's not a size that we would not do based on just the size of it, it's more about the strategic value of it.
In terms of original content, we put our toe in the water — we have put our toe in the water with doing some original content for Apple Music, and that will be rolling out through the year; we're learning from that, and we'll go from there.
The way that we participate in the changes that are going on in the media industry — that I fully expect to accelerate, from the sort of cable bundle beginning to break down — one, we started the new Apple TV a year ago, and we're pleased with how that platform has come along. We have more things planned for it, but it's come a long way in a year, and it gives us a clear platform to build off of.
Two, embedded in the 150 million paid subscriptions that I mentioned in my opening comments, there are a number of third-party services that are a part of that where we participate economically in some of that by offering our platform and selling and distributing.
And then thirdly, we are obviously with our toe in the water, we're learning a lot about the original content business, and thinking about ways that we could play in that.
On the services business and China
Amit Daryanani, RBC Capital Markets: I really appreciate the information you guys are providing around your services business, which is up to 18% year-over-year. Can you just talk about — how much of that do you think is growth in your install base versus increased monetization on a per-iOS device basis? It's weird to think about those in two separate terms.
Luca Maestri
Those are the two key elements for us, and what's particularly interesting to us is to see the number of people that are transacting on our stores is increasingly strong double-digits, and we're also seeing that the ARPU [average revenue per user] per paying customer is increasing double-digits, right? So it's the combination of the two, obviously — the quality and the quantity of content that we make available in our services improves all the time, and we also see that as people get into the platform and start transacting on the platform and we keep track of their behavior over time, we actually see that they tend to spend more and more over time. And that's why we're excited about the future of the services business, and as Tim said, we have a goal — it's already become a very large business; it's going to be a Fortune 100 company this year — but we have a goal to double it over the next four years.
Amit Daryanani, RBC Capital Markets: There's been a fair amount of discussions around your market share in China and what's happening over there; your numbers actually look fairly impressive in Greater China, China specifically. So could you just talk about what are the demand trends you're seeing over there on the ground, and how do you see that transpire for the year?
Tim Cook
If you look at how we did in the quarter, as I think Luca shared, our Greater China revenue was down 12%, and about four points of that was currency-related, so it's an 8 point decline in constant currency. And then, within Greater China, if you look at the PRC [People's Republic of China], our revenue was flat year-over-year, and that was against the all-time record quarter; and if you look at that on a constant currency basis, it was actually up six. So it's a significantly better performance, on sort of every way you look at it versus what we had experienced the prior three quarters.
Underneath that, what we've seen is that iPhone 7 was the best-selling smartphone in China during the quarter according to Quantar; Singles Day — which is a huge day in China, as you know — we were the most popular U.S. brand on Alibaba.
We set a new record for services in China, as the company did, and Mac revenue was up double digits year over year. iPad units were also up double digits in mainland China which was, obviously different than the trend that we saw in the balance of the world.
We also saw 50% of our iPhone sales in China were to switchers and first-time buyers, which is a very high number that we're pleased with. Obviously, our total install base continues to grow there, in the strong double digits.
That said, the challenges that are there: One, the currency has devalued 6% year over year, and two, Hong Kong remains a very very difficult market. And so I look at it and I'm encouraged with the significant improvement, but we're not without challenges there, and I wouldn't want to imply that, although I do like many many things that I've seen and how broad-based the Pluses were across our product line.
On growing services
Shannon Cross, Cross Research: Can you talk a bit more about the services business? What I'm trying to figure out is: I think the number was, you're going to be doubling within the next four years — at least that's your expectation — so, what gets you there? I don't know, maybe if you talk about geography, and how penetrated you are in certain geographies, and as you grow your services business, is there anything we should keep in mind from a margin perspective? Would these be lower-margin services or similar, just so we can think about the trajectory and the contribution to the bottom line.
Luca Maestri
Within the services business, we have a number of categories: The App Store is the one that's driving significant growth right now, I said in my opening comments that it grew 43% — 13 weeks over 13 weeks, it grew even more for the quarter, right — and what we like about the App Store is that it's truly a global platform, so we are seeing significant growth not only in the developed markets where you expect to see a lot of transaction volume, but we see great growth in places like China, for example.
And we know that there are parts of the world where we can do better — that we can grow, for example, our developer community in a number of emerging markets — and so, as we look at the number of people that transact growing double-digits, we see the amount spent per paid account growing so well, we think that the App Store is going to be a significant driver of growth.
On the Music front, we are the market leader in digital music, and obviously now by having the combination of the download business with the streaming service — which we didn't have until recently — we've been able to bring our music business back to growth. We've grown over the last three quarters, and we feel very good about that. Tim has talked about original content, we've had very good success with exclusives, so we know it's another business that we can grow.
Our iCloud storage business is growing very quickly, and so that is a business that also, at a geographic level, we can continue to grow significantly. Our AppleCare business is growing very well.
A lot of it comes from the fact that our install base of devices around the world continues to grow very well — strong double digits — and as we've explained in the past, the vast majority of the services that we provide is not driven by what we sell during the last 90 days, it's much more driven by the install base, and that gives us a tailwind.
We're also opening up several new markets because we're accepting new forms of payment, and therefore it's easier for — particularly for international customers to take advantage of our services.
You were asking about the margin profile: We said it many times; in aggregate, our services business tends to have margins that are above company averages; they help us quite a bit from a margin standpoint. Within the services business, we have very different margin profiles; also, because as you know, we account for some of these services in different ways — in some cases we transact on a buy/sell basis, in other cases we perform as agents, for example, to our developers, right? — and that drives different margin percentages.
On emerging markets and currency issues
Shannon Cross, Cross Research: In terms of elasticity of demand, and some of the moves from a currency perspective: In the past, there was some concern in some of the emerging markets that you were basically not able to — you weren't getting the volumes because you had to raise the ASPs given the currency, but you talked about a lot of the emerging markets actually doing pretty well this quarter; so, I'm just curious. You've raised the price on the iPhone 7 Plus: What have you seen, and what are your customers saying about willingness to pay up?
Luca Maestri
I was looking back: Since June of 2014 — so, we're talking about two and a half years ago — the dollar has strengthened 25% against the basket of currencies where we do business. And so, obviously, it is a difficult situation for us. I mentioned that foreign exchange is a significant headwind for us, both at the revenue level and at the gross margin level.
In emerging markets, it's incredible: The level of interest for our products continues to be phenomenal; the brand continues to be very aspirational; there are more and more people that can afford our products around the world. The middle class is growing in places like China, India, Brazil — but certainly, a strong dollar doesn't help us. And therefore, when we make pricing decisions, we need to be very careful. We always want to find the optimal balance between units, revenue, and margin, and it becomes more difficult as the dollar appreciates.
On gross margin
Brian White, Drexel: I was wondering if you could talk a little bit about gross margins: Sales obviously beat the high end of your revenue range, it looks like gross margin was dead down the middle. Can you talk about the pushes and takes of the gross margins in the quarter, please?
Luca Maestri
We were actually at the high end of the range for gross margins; we had guided 38 to 38.5 [percent], and we came in at 38.5 exactly. And really, the slight improvement over the midpoint of the guidance range was due to the fact that our revenue was ahead of our expectations, and so we got a bit more leverage over the increased revenue levels.
We feel very good about the gross margins for the quarter. Again, keeping in mind the strong dollar, it doesn't help us on that front.
On India and the iPhone
Brian White, Drexel: I didn't hear much mentioned about India. How did India perform with the iPhone, and how should we think about it for 2017, especially with the 4G network going up?
Tim Cook
That's a really good question. Despite the de-monetization move in India that created lots of economic pressure there last quarter, despite that, we had all-time record revenue results. And so we were very happy about that. The de-monetization impact has not worked its way through yet; it's still definitely having some overhang, but I think in the longer term, it's a great move. I feel really good about how we're doing there. We are in discussions on a number of things, including retail stores and fully intend to invest significantly in the country and believe it's a great place to be.
On switchers and upgraders
Simona Jankowski, Goldman Sachs: I wanted to dig in a little bit more into the iPhone upside in the quarter, with record revenues in every region except for Greater China, I think you touched on the percentage of switchers in Greater China, but can you give a little more color on the split of upgrades and switchers in some of the other regions and overall as well?
Tim Cook
We did have an exceptional quarter with iPhone, and that was with the backdrop of not predicting the demand very well, and the iPhone 7 Plus, and therefore being in constraint on it through the quarter. If you look at the absolute number of upgraders, it was the highest that we've seen in any quarter, and if you look at the switcher number, it's the highest that we've seen in any quarter.
If you look at the upgrade rate, it's similar to last year, however I think the big asterisk — and I share all of this with you for transparency's sake — but I would tell you that the way we look at this is, in a quarter where you have a supply constraint, it's difficult to draw too many conclusions from it. But I wanted to share that with you anyway, so that you have the backdrop.
On the iPhone mix in mainland China
Simona Jankowski, Goldman Sachs: One follow-up on China, specifically: As your comps get easier this year, I was curious if you think you're going to be returning to growth in that region? And then, just to give us the context, I know that you talked about the 6% constant currency increase in revenue in mainland China, but I'm curious if you strip out the double-digit increase in iPad and MacBook, and potentially the mix-shift to the 7 Plus, I'm curious what underlying iPhone units did in mainland China.
Tim Cook
That's a big question, and I don't have the answer in front of me. [chuckles] If you look at 7 Plus, it was the most popular Plus model that we've ever had; it set a unit record, so that I can share.
In terms of how are we going to do… y'know, we don't provide guidance at the segment level, but sitting here today, for Q2, I wouldn't expect the year-over-year performance to be dramatically different than the year-over-year performance in Q1. The real, sort of, comp really begins in the following quarter to a more significant degree, and we'll have to see how that plays out as we get closer to it.
On iPhone upgrades
Toni Sacconaghi, Bernstein: I just wanted to better understand the upgrade rate dynamics. So I think iPhone units on a sell-through basis were about 8%; you had an extra week, which gave you about 8%; I understand there were differences of the timing of the launch, so — making all those adjustments, it looks like iPhone units were probably up low single digits. But Luca, you alluded to the fact that your install base is growing double-digits. So that would kind of suggest to me that the upgrade rate, the upgrade percentage is actually declining. More specifically, I'd just like your broader perspective on how investors should think about upgrade rates: It looks like they peaked in the iPhone 6 cycle, and it looks like they've been extending going lower, replacement cycles have been extending over the last couple years; I think some of the U.S. carriers alluded to that as well. So, I'm wondering if you could kind of step back and just talk a little bit more broadly about how investors should think about (or what the trajectory has been over the last two years) and how investors should think going forward. Do you believe that there opportunities for that upgrade rate to improve? Or replacement cycles to accelerate going forward? And what are some of the considerations we should think about?
Luca Maestri
I think that this is a good question. There are a number of points that I want to make, starting with the growth and install base of iPhone — seeing as it's growing strong double digits, and that's very good for us for a number of reasons, including the fact that it's a big driver for our services business.
When we look at it geographically, I think we see different developments. For example, we felt very very good about the unit growth that we had in many markets around the world. You've been quoting an overall total company growth rate, but when we look at it at a country-specific level, there were a lot of countries — actually, I would say the majority of the countries where iPhone units grew strong double digits, starting here in the United States. For example, the fact that annual upgrade programs are becoming more and more popular is proving to be a positive for us. The same happened in a number of countries around the world, starting with Canada and Australia, but also many places in western Europe as well; Japan grew double digits in terms of units.
So, I think geographically, we are seeing very very good performance. The point that I need to make when you think about upgrade rates: Clearly, this issue of the strong Dollar doesn't help us. Could we sell significantly more and significantly faster from an upgrade cycle standpoint in places outside the United States where we've had — we've been forced to increase prices by up to 20%, 30%, 40% percent in certain countries. And you think about the impact that this is adding on local demand, obviously that doesn't help us.
But overall, I would say, as Tim said, when we look at the upgrade rate for — and we look at it from the standpoint of the new phones, right, the new generation of phones — the upgrade rate, the percentage of people who have upgraded to the new phone has been very similar to what we've seen last year.
The 6 cycle was certainly a phenomenon cycle: There was pent-up demand for the larger-screen phones, and certainly as we look ahead, we have a role to play. The more we are able to innovate with new generations of products, clearly, that plays a role in the upgrade rate.
On the Qualcomm lawsuit
Toni Sacconaghi, Bernstein: Back in April 2012, [Tim] said on one of these earnings calls: "I've always hated litigation, and I continue to hate it, and I highly prefer to settle versus battle," yet you recently decided to initiate a lawsuit against Qualcomm. I'm wondering if you can comment on the ostensible change or departure from this viewpoint, and what would be a successful end result of this litigation, and whether you can confirm whether there's any potential gross margin risk in the future as a result of this litigation?
Tim Cook
I feel the same way I did in April of 2012; I don't like litigation and view it as a last resort. And so, you should take from our filing that we viewed it as — we didn't see another way forward. They were insisting on charging royalties for technologies that they had nothing to do with, and so we were in a situation where the more we innovated with unique features — like Touch ID, or advanced displays, or cameras just to name a few — the more money Qualcomm would collect for no reason, and the more expensive it would be, therefore, for us to innovate.
It's somewhat like buying a sofa and you charge somebody a different price depending on the price of the house that it goes into. From our point of view, this doesn't make sense, and we don't believe it will pass muster in the courts.
In addition to that, they as a part of their increasingly radical steps they were taking were trying to uphold that model, they withheld a billion dollars in payments that they owed us. And so, we felt like we had no choice was the net of it.
In terms of where it goes, we'll see. Y'know, I don't like litigation, and so if there's another way, then that would be great, but at this point I don't see it. I fully expect at this point in time that it will take some time, but in the end, I think common sense will prevail, and the courts will see it for what it is. So that's the way I see it.
On the enduring spirit of the iPad
Steve Milonovich, UBS: First I wanted to ask about the iPad: It looked like it was about to turn possibly even positive, and you said it was above your plan[ned guidance], but I think it was pretty well below the [Wall] Street's expectations, and the ASP deteriorated pretty significantly — I don't know if that's a mix shift — but maybe you can talk about the iPad and what you see going forward.
Tim Cook
The iPad, Steve, we had a 1.6 million unit swing on channel inventory between the years. In the year-ago quarter we increased by 900 [million], in this quarter, we decreased by 700. On top of that, and from an ASP point of view, in the year-ago quarter we launched the iPad Pro 13-inch — that would be the iPad with obviously the highest price on it — we would have done the channel fill plus the launch of the product, and so that would have bolstered the ASPs in that particular quarter. In addition to all of that, we did under-call the number of iPads that would be in demand for the quarter, and that compounded a shortage issue that we had with one of our suppliers. All in all, there was quite a few things going on there.
If I sort of zoom out of the 90-day clock and look at it, we've got some exciting things coming on iPad. I still feel very optimistic about where we can take the product. When we look at the number of people buying iPads for the first time — which is a good thing to look at from a point of view of whether things are reaching a penetration point or not — the numbers indicate that it's not close to that kind of thing. The customer sat numbers are through the roof; literally, the customer sat for the iPad Pro is 99%. It's stunning.
And so I see a lot of good things and hope for better results, but we are still currently in this shortage issue now, and I'm not projecting to get out of that totally during the quarter. It will damper this [upcoming] quarter somewhat. But again, beyond the 90-day clock, I'm very bullish on iPad.
On the iPhone surprising and delighting in the future
Steve Milonovich, UBS: Investors tend to think of the iPhone as mature and technology improvements as incremental, yet I believe you think there's plenty of runway left in terms of purely new features. Do you think there are future enhancements coming that will be viewed as material by users — and particularly changes beyond form factor, beyond the way the phone looks — are there functional things coming over time that you think could surprise people?
Tim Cook
I think the smartphone is still in the early innings of the game. I think there's lots more to do; I think it's become — every year, it becomes more important to people's lives. There's more things people are doing with it. I talked a little bit about home automation, but I could have talked about health, I could have talked more about CarPlay; the use of it in the enterprise is growing significantly.
When I look at all of these things — usage going up, app developers still innovating, we've got some exciting things in the pipeline — I feel really, really good about it.
So, this is one that we… We think different about a bunch of things; maybe this is just one more.
Thanks for tuning in this quarter, folks!
Master your iPhone in minutes
iMore offers spot-on advice and guidance from our team of experts, with decades of Apple device experience to lean on. Learn more with iMore!
Serenity was formerly the Managing Editor at iMore, and now works for Apple. She's been talking, writing about, and tinkering with Apple products since she was old enough to double-click. In her spare time, she sketches, sings, and in her secret superhero life, plays roller derby. Follow her on Twitter @settern.