Tim Cook fights back against WSJ report, calls it "absurd"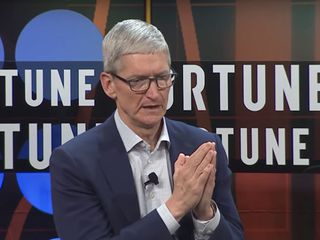 What you need to know
Tim Cooks has responded to the WSJ report of tension between Jony Ive and him.
He called the report "absurb" and that it lacked the proper understanding of how the Apple design team worked.
He pointed out Jony Ive stated the design team is as strong as ever.
There's been a lot of chatter regarding Jony Ive's shocking departure from Apple, a company he worked at for over two decades and helped usher a breakthrough era of design. Things were exacerbated with a report from the Wall Street Journal outlined reported tension between Ive and Cook about the focus of the company.
The report touched upon Ive's seeming disconnection from Apple after the release of the Apple Watch in 2015. One reason given was Ive's frustration that Cook was not focused on design and was more interested in operations.
Tim Cooks is pushing back against the report. In an email response to NBC News reporter Dylan Byers, Cook lambasted the WSJ report and called it "absurd."
Here are Tim Cook's full comments on the report:
Cook's strong rebuke of the report outlines the uphill battle Apple has been going through since news of Ive's departure broke. There have been a varying amount of reports focusing on the behind the scenes culture at Apple, but we will never really know everything that went inside that building. It'd be easy to point the finger at one particular issue as the root of all the problems, but that's rarely the case, especially for a multi-billion dollar company like Apple with a lot of people and personalities to manage.
Whether or not Tim Cook was a reason Jony Ive left Apple, the truth is we'll never find out or at the very least hear it from one of them. The best you can hope for from the two sides is to keep it amicable, and that's exactly what Cook and Ive are doing.
This is all VERY much ado about nothing. 22 years at any company is a long time. Most truly creative people would naturally want to move on. One person left, folks. It's not like the entire design department quit in frustration. Everyone is replaceable. Get over it already.

Exactly. Maybe now we will get something actually new from apple instead of the same regurgitated stuff over and over.

The WSJ article paints a worrisome picture of top designers seemingly paralyzed and unable to act without Ive's intervention. It's possible that these same people will flourish now that they're freed of the necessity of waiting for someone else's blessing. Let's hope that's the case. Time will tell.

Exactly. It will take 2 years before we see anything from apple thats truly new however. They have a couple of years of Jony's boring same ole, same ole left in the pipeline.

Lol of course. Tim saw what happened to the stock when Ive announced he was leaving and now is in damage control mode. Execs skipping meetings, and execs falling asleep at meetings. Solid culture they have going on at apple.

The only "exec" skipping meetings and falling asleep is the one that left.
Thank you for signing up to iMore. You will receive a verification email shortly.
There was a problem. Please refresh the page and try again.