Tim Cook at Goldman Sachs: Cash, growth, and the coming dominance of the tablet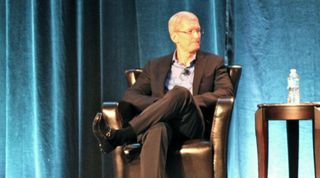 In an early morning San Francisco interview-style format, Tim Cook delivered his message at the Goldman Sachs Technology and Internet Conference. All said, I thought he said some pretty interesting things. Most of it wasn't brand new information, but some of it was. Here's a recap of the one hour presentation.
Apple's Cash: Cook is well aware that Apple has more cash than they need, but is sticking to the same line as before. Apple welcomes all ideas from all shareholders (including Greenlight) and is committed to finding the best ways to use cash or return cash to shareholders. Specifically, on the disagreement between Apple and Greenlight Capital, Cook says the lawsuit is a "silly sideshow". Apple wants to kill the board of director's capability to issue "blank cheque" preferred stock without shareholder approval. This is a shareholder friendly move. Of course Greenlight's response was reasonable. They simply want Apple to make this item a separate issue on the proxy that shareholders vote on rather than lump it in with other issues. Personally I think both sides have valuable arguments.
Acquisition strategy: Is Apple interested in doing larger acquisitions? Cook pointed out that Apple has averaged 1 acquisition about every two months over the last 3 years. They go after smart people or smart information technology when they make acquisitions. He explained the rationale behind buying PA Semi, where Apple wanted the brains of the people to supplement Apple's own design team who was building the next generation of chips for iOS devices, but where they also pivoted them from PowerPC architecture to ARM for iOS devices. Apple likes to control the primary technology behind the product. This makes sense.
Cook says Apple has looked at large acquisitions. But in each case, the possible deal hasn't passed their internal test. Will they look again? Yes. He says he's sure they will, and is sure they have the management talent to pull it off. But Apple is disciplined, and doesn't want to buy just revenue. They want to build amazing products, period.
On Innovation: Goldman asked "what's next?" This question is on a lot of people's minds. Cook pretty much told us that Apple's innovation isn't slowing down. It's deeply embedded in the culture of the company. Cook talks about how the real "magic" happens at the intersection of software, hardware and services rather than individually. This is why Apple is so vertically integrated. You can't just write a check to buy innovation.
On iPhone growth slowing: Goldman asked if Apple is approaching its limit on iPhone growth given that they're pretty much growing at the same rate of the smartphone industry, in terms of units. Cook says Apple doesn't have the word "limit" in its vocabulary. He says last year the smartphone market was about 700 million units and growing to 1.4 billion in the next 4 years. All phones will become smartphones, and people love to upgrade their phone. Clearly, this answer points to a long term focus by Apple. Cook also points out the fact that iPhone is only available to 50% of wireless subscribers around the world. This spells additional opportunity.
On getting price points down: Apple's "North star" is great products. That's what employees think about. The iPod started as a very expensive item but now you can buy a Shuffle for $49. When people asked for a Mac that was much cheaper, Apple concluded that it couldn't make a good netbook, but could create the iPad, and now the iPad mini which starts at $329, and is a great product. So Apple won't just look for ways to cheapen existing products. Read into this whatever you like, but it sounds like there isn't a less expensive iPhone coming anytime soon.
The distraction of specifications: Cook says he wants customers to enjoy an "aha!" moment each and every time they use an Apple product, and those moments don't come from specs or price points. Companies who can't deliver a great experience focus on specs instead. Does anyone really care how fast an A6 processor is? No. He goes on to slam OLED displays by describing t hem as having "awful color saturation" and being only half as bright as Apple's Retina Display.
On tablets and the iPad : Last year there were 120 million tablets sold. The projection is for this to more than triple in the next 3 years. Last quarter (and last year) Apple sold more iPads than HP sold of its entire PC lineup. There has been a sea change in the market, and the iPad is the poster child of the post-PC revolution. Cook explains how the ecosystem of built-for-iPad apps is a huge differentiator. Cook explained that on Black Friday, twice as much online shopping was done on iPads versus all Android devices in totality. So Apple doesn't just measure sales. They measure and deeply care about usage as an indicator of success.
On product cannibalization: Goldman asks about the iPad mini, which started out aggressively and appeals to a lot of people. It affects average selling prices and gross margins. Will this hurt Apple or help them through better growth? Cook reminds us how people worried about the iBook would cannibalize the PowerBook. Of course it just sparked more growth. The iPad pricing caused people to think Mac sales would plummet. Apple doesn't worry about this stuff. If they don't cannibalize, someone else will. Apple would rather the iPad cannibalize the Mac and the much larger Windows PC market than let fear get in their way.
So on the iPad mini specifically, Cook says over 50% of people who are buying iPads in places like China and Brazil do not own an Apple product. So the iPad Mini is another excellent way to showcase Apple products. Apple sees the halo effect as hugely synergistic, so it's not about a point product. It's about the total opportunity.
What about gross margins over the longer term? Cook says Apple will sometimes make margin concessions for strategic purposes. It sounds like they believe the iPad Mini is one such area where the market is so huge it makes sense. He reminds investors that Apple brought in $3.7 billion in software and services revenue (mostly from iTunes and the App Store). That's an incredible amount of revenue! Hardware is simply the first thing that customers experience with Apple. But it's all about the ongoing relationship.
My concluding thoughts: As an Apple shareholder, I was very pleased with Cook's presentation. He didn't deviate at all from past statements, but added some extra perspective and examples that demonstrate just how strong the Apple brand still is. When I listen to him talk, I don't get the idea that he believes some unannounced iWatch is going to be Apple's next huge product. Instead I get the impression that Apple's real energy is going into destroying Microsoft Windows by absolutely dominating in the tablet market on a global basis - not just in developed markets.
I'll close by saying this: Yesterday a major tech publication ran a guest-written story that said, in short, Tim Cook shouldn't bother attending Goldman events because Goldman people use BlackBerrys and the conference is a hedge fund audience. What a misguided point of view. Who cares what Goldman employees use? They probably use Windows PCs also, as does most of Wall Street. Should Apple attend no conferences?
And the audience was a mix of hedge funds, mutual funds and pension funds. These conferences always are. However, the whole presentation is webcast to the world. Conferences are opportunities for CEOs to address investors in a less formal setting. They're effective. Who cares what the stock does on the day of the conference. This is about Apple communicating its long term message.
Cook did a great job.
Image: Business Insider
Get more iMore in your inbox!
Our news, reviews, opinions, and easy to follow guides can turn any iPhone owner into an Apple aficionado
Former sell side analyst, out-of-box thinker, consultant, entrepreneur. Interests: Wife & kids, tech, NLP, fitness, travel, investing, 4HWW.