How to replace the iPhone 4 battery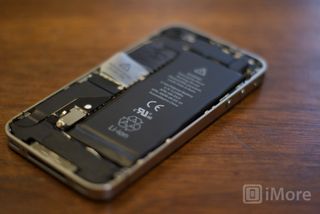 Let's tackle it together!
Disclaimer: As with any repair, iMore can not be held responsible for any damage you may do to your device. It's also worth considering that opening up your device to perform any repair or modification can and will void your Apple warranty. If you don't feel comfortable opening your device, don't. With this specific repair, please take care not to puncture or bend the battery in any way as it could be a potential fire hazard. Use extreme care and caution when performing a repair on any device.
What You need for a DIY battery swap
We recommend using only quality and genuine parts from a reputable supplier like iFixYouri. They have the parts, tools, and all your other repair needs.
Replacement battery
5-point security screwdriver
Standard #000 Phillips screwdriver
Spudger tool
iSesamo Opening tool (not necessary but awesome for prying up cables and getting under adhesive)
How to remove the back of your iPhone 4
First remove the bottom 2 dock connector screens in your iPhone 4. Use either your #00 screwdriver or the five point depending on whether or not your iPhone 4 has security screws in the dock connector. Almost all newer devices will have security screws.
To remove the back simply slide the back upwards and lift it off gently.
Set the back and 2 dock connector screws aside.
How to remove the old battery of your iPhone 4
To remove the old battery you'll need to remove the #00 screw holding the battery clip in place. Remove this screw located to the bottom left of the battery.
The metal clip on the battery is what clips the battery to the logic board. You'll need to pop this clip up with your plastic pry tool. Simply stick the end of your pry tool underneath the clip and gently pull upwards until it unfastens from the logic board.
To remove the battery, I do not recommend using the plastic pull tab. There is quite a bit of adhesive underneath the battery and the tab will normally just rip off or you can bend the battery. Instead, run your pry tool along the right side of the battery and break the adhesive that way. Once the battery is free from the adhesive, you can pull the old battery out of the phone. There are no other connectors holding it in.
As a side note, there is a tiny grounding clip that sits right where you unscrewed your battery from. Do NOT lose this clip. It grounds your cellular antenna. You will need to make sure it is in place before installing the new battery.
How to install a new battery in your iPhone 4
Make sure your grounding clip is in place. It should be lined up with your #00 screw hole for your battery. It goes under your battery clip.
Once your grounding clip is lined up you can snap your new battery in place. Just line up the clip on the battery to where it gets seated on the logic board and snap it down. You should hear it click into place.
Set the new battery in place and line it up.
Replace the #00 screw that holds the battery and grounding clip in place.
How to put the back cover back on your iPhone 4
Place your iPhone 4 back cover back on by lining up the clips and sliding it down into place. It should fall directly into the track. It should be easy to slide it into place.
Put the two dock connector screws back in.
And... done!
That's it. You now have a new battery inside your iPhone 4! Have you done this repair yourself? Let us know how it went!
Get the best of iMore in in your inbox, every day!
iMore senior editor from 2011 to 2015.
Apple wants $99 to do this.This is a smart thing to do yourself.
Should one apply new adhesive to the new battery? What kind is recommended, rubber cement?

Now how about adding battery life to my 4s...

Do you have this for a iPhone 3GS? Where do you order a new battery from?

Wondering since the iPhone 4s battery is bigger if you can add it to the 4

This is a nice post. Wished there were more posts like this on TiPB.

You should include a warning with this article as well. Punctured or damaged batteries can become a fire hazard and I have seen a tech cause this before.
It is worth noting that you should take the appropriate precautions when working with any type of battery due to the risk of fire or damage.

replacing a battery is a MOD?

How is it that the batteries need replacing already after 18 months (12 months if they're pentalope screws)? Is that really all they're getting with heavy use?

I would rather buy another iPhone, and I'm not even rich like everyone else on here

Rene, i am sorry if i sounded rude, i didnt mean to be...
i was just confused when i saw battery replacement under mod heading...

Ok cool, thank you for the info.

Hi! My battery drains like crazy (I'm on 5.0.1), but I realize it was also draining on 4.1, and most importantly, it gets REALLY hot (STEAMING HOT, sometimes rendering it un-usable, near the SIM area). It's an iPhone 4: would you say a battery replacement would fix the overheating and battery drain? Thanks
PS: I bought it used, so it could perfectly be an old battery anyways, that needs replacement.

I did as it is shown and it really worked well. I had to reset my 4s because it locked up and would not do anything including no shutdown. The disconnect from the battery for a short time fixed it. I lost no information. A little more detail about the antennae strap with more video about it would be a great idea. Thanks for your video....Warren

I am not sure where you are getting your info, but great topic. I needs to spend a while studying more or figuring out more. Thanks for wonderful info I used to be on the lookout for this information for my mission.

I just replaced it and it's charging. I had to connect it to power (dock) for it to turn on, weird. Besides that, I recommend this to all people that are very detailed and have patience to do it. It was very easy and straight forward to do, specially by pushing play and pause to the video while doing it. Total cost: $5.XX at eBay for the battery. I didn't know anything about internal parts of an iPhone, looking up to replace its home botton, too scare for it yet.

It is in reality a nice and helpful piece of info. I am happy that you shared this helpful information with us. Please stay us informed like this. Thanks for sharing.

Hi, can you recommend any eTechparts alternatives? They don't ship to my country (Poland) and I would really like to replace my battery. A trusted site would be welcome.

Thank you so very much! My wife would NOT let me complete the task of changing her battery even thought I'd gotten the battery and toolset from ifixit.com and had watched their how-to. She said I must watch your tutorial first due to the focus on the wifi antannae grounding clip. So once again Thank you for a thorough look at a repair a lot of people "assume" is a "no-brainier". Without it, I'd have my hands tied!
Thank you for signing up to iMore. You will receive a verification email shortly.
There was a problem. Please refresh the page and try again.