UPDATED: TomTom Turn-by-Turn Navigation for iPhone Beginning to Appear in International App Stores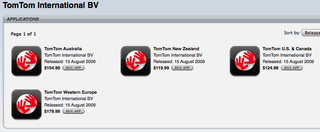 UPDATED: Here're the US deets: TomTom US & Canada [$99.99 - iTunes link (opens in new tab)], TomTom Australia [$79.99 - iTunes link (opens in new tab)], TomTom New Zealand [$94.99 - iTunes link (opens in new tab)]
TomTom [iTunes publisher link (opens in new tab)], the long-anticipated turn-by-turn navigation app for the iPhone is beginning to appear in international App Stores, starting with New Zealand and according to our tipsters, rolling across Australia and the UK.
Cost wise, the different versions (US & Canada, Western Europe, Australia, New Zealand) range in price from NZ$105 (US$70) to NZ$179 (US$120).
Hopefully it will hit all the stores, including the US (and Canada!) sooner rather than later. If you find it in your local App Store, drop us a note in the comments. (Still no word, however, on the accompanying dock that was announced at WWDC 2009...)
[Thanks to Tyler from App Advice, David, Niall everyone who sent this in!]
Rene Ritchie is one of the most respected Apple analysts in the business, reaching a combined audience of over 40 million readers a month. His YouTube channel, Vector, has over 90 thousand subscribers and 14 million views and his podcasts, including Debug, have been downloaded over 20 million times. He also regularly co-hosts MacBreak Weekly for the TWiT network and co-hosted CES Live! and Talk Mobile. Based in Montreal, Rene is a former director of product marketing, web developer, and graphic designer. He's authored several books and appeared on numerous television and radio segments to discuss Apple and the technology industry. When not working, he likes to cook, grapple, and spend time with his friends and family.
This is nice... Lets just hope the US version is not that faraway. i can't wait for this app to come tot he US.

At that price I would never buy it. That's so ridiculous. That's more ridiculous than more than $1000 for Adobe's creative suite. I'm literally pooping right now from reading this. LOL...

Available over here in the German App Store since 2 hours now. 100€ for the Western Europe version.

Hopefully this means we will see the hardware mount soon! I wonder how the combo of hardware software will work. Weren't they talking about discounts for buying both together?

Before you drop $100 on this, give http://itunes.com/app/roadee a try... $2 for spoken turn-by-turn instructions using OpenStreetMap (the wikipedia of maps). Yeah, coverage varies for OSM, but if you don't like it, you can always make it better. :)

Awesome! Will hopefully be able to ditch the TomTom one if this is as good :D

Downloading the Western Europe version now from the Swiss iTunes website - it's 1.4GBytes!

Why wouldn't TomTom have a big advertising push to correspond with these app releases?
On a side note (as I'm not a Apple Developer), can developers delay the release of their app or does Apple have full control to release as soon as they're done testing it?

OK I finished downloading and installing TomTom Western Europe .. there is no TomTom Traffic info included nor does there seem to be anything about Safety Camerea locations. Bit disappointing ...

Now live in the US, $99 for US and Canada.
Too pricey, but I'm still going to do it. :)

@kilsey... can you put the link up? can't find it yet...

@ben eubank as requested:http://itunes.apple.com/WebObjects/MZStore.woa/wa/viewSoftware?id=326075...
Enjoy!

There's no reviews for the US Tom Tom yet. I'm not buying without reviews :P. Plus, is there a discount for buying the mount with the app? If so then I'm waiting for sure.

@CJ, the Tom Tom mount has a supplementary GPS receptor inside it.

yeah i agree with some of the people here. I will wait for someone else to jump ship first & purchase it. I need a few reviews to read first before getting rid of my tomtom. Also like "heathsnow" said I am interested in the mount system just need more details. Too early no info. on tomtom's website yet.

way too expensive...for about 120 you can buy one garmin/tomtom with mount included...also you would have to plug the iphone with the power adapter all the time... #fail

They have TomTom in the App store here in Canada. $99. Nice app. I'd like to get but Too steep for my taste though, I'm still paying off my 3GS and it's $900 price tag!!

How much is this a joke really need some feedback before I buy the app.....

TomTom Western Europe / Amercia / UK etc all live in the UK App Store now.
UK/Ireland is £59 and Western Europe (including UK) is £79.

So much for signing up on the tomtom site to notification when it would be available. no e-mail and it is out. Pointless to sign up!

Tom Tom is in the US app store, $99.00.....

You should not compare prices with stand alone versions. This app means you need less devices. You can now navigate, phone,play music, internet, make pictures and so one. That is a surplus where you are paying for.
By the way this app lets you call POI's direct from the interface and navigate easily to all contacts from your Iphone's adresbook. Also good to know is that the Iphone makes TomTom calculate routes quicker.

I already have a Garmin, but this is a fantastic advancement for the iPhone (and mobility in general)!
I'm sure I'll be considering this app someday in the not-too-distant future.

Hopefully a Navigon vs. TomTom review is around the corner.

I've been waiting for this, but need more info:
1) When will the mount be available?
2) Will future map updates be free?
I just took advantage of a TomTom sale and got 40% off a downloaded map, so may wait and see what happens with price and mount.
I may jump quicker for a mount and App deal, but no info from TomTom on that yet.
What was the point of the email sign up!

I am very tempted. I have been holding off on buying a separate GPS unit and living with Google maps when required. This IQ Route feature looks nice, but I am to assume it requires data access. This is fine for me up here in Canada, but I usually have my data roaming off when I drive in the US (way too expensive). So, will TomTom revert back to traditional routing if there is no data access? Also, 1.2 Gb seems a bit low to have map data for all of the US and Canada. Maybe I'm wrong there.

Is the car mount adjustable? For those have have them, who wants to deal with taking the phone out of it's protective case every time you want to mount it?

Very quick video review I found.
http://www.engadget.com/2009/08/17/tomtom-navigation-for-iphone-3g-and-3...

Hope this is coming to South Africa soon....our app store here is pathetic, at least one decent app might brighten it up.

The Tom Tom Navigator app for Palm Treo 650 and the Windows based Palm Treo 750 both fit in a 1GB SD card for the entire map of N.America including Hawaii, and Puerto Rico. The software including car kit (bluetoothed GPS receiver, SD card, and window mount) cost $299. I still have both but use neither since my upgrade to the iPhone. Looking forward to this new app. 

@ Rick
I'm Canadian too.
Some areas around the rural areas of Ontario don't have great cellular reception so this app is great for that. Also great for US travel so you don't have to pay data fees. Packing a separate GPS device is a nuisance. You carry your iPhone everywhere anyways.

I downloaded the app yesterday and I traveled all over Brooklyn queens and the Bronx and Riverdale NY. I must tel you that not once did it lose the gps signal even btw. Tall buildings. I have the other gps programs and they dance around like a drunk. So if you are going to download a gps app. Download tom-tom
The map interface is simple but it works flawlessly.
It is more expensive but it works.
I paid for all of them and they are not worth .99 cents.
I hope with time tomtom is going to update this app without charging add. Money.
I think I don't need to buy the cradle because it's working fine without it.
If tom tom could add commercial veichels. and street names. and better way to work with contacts. then my life is complete

today was a clouwdy day it jumped around a lot

Does anybody know if real time traffic will be added to the software package, even for a monthly or yearly fee? I spoke to a rep at TomTom and he said he thinks it will be added but he wasn't sure. For me the real time traffic is the most important part of any GPS application

I have navigon on my iPhone already, and I have just dowloaded tomtom as yet tt is not very customisable, it has speed camera warnings but you can only select on or off, voices are restricted to just the standard preset ones, navigon also offers lane guidance for busy highway junctions, this is an option on the stand alone tt's but alas not on the iPhone version, I will be keeping both on my phone and I will use tt primarily, but navigon is there as a back up

blah blah, after all that they bring it out in like 1,6 countries, south africa please, come now its been months its such a waste.

Its already available on Rapidshare: http://rapidshare.com/files/286929030/TomTomSouthAfrica.ipa

Great blog.Thanks Again. Excellent.
Thank you for signing up to iMore. You will receive a verification email shortly.
There was a problem. Please refresh the page and try again.