Three apps to keep your brain from turning into meme mush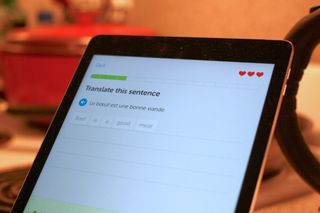 Much as I would like to pretend that I have all the time in the world to keep my grey matter working at a collegiate level, that's not true. We all have jobs. Errands. Hobbies. I've made peace with the fact that I'll never crack open that 1200-page "Master Your French" textbook sitting on my bookshelf or drop thousands of dollars on graduate studies; instead, I've taken to using third-party apps to keep my head in the game.
I spend less than thirty minutes a day in these apps—before I get out of bed, in-between errands, and sitting at the coffee shop—and that time alone keeps my poor brain from devolving into internet mush. It's about the same time I'd spend playing Threes or checking Facebook, but I get to walk away feeling like I've improved my critical thinking skills.
These are my favorites, but if you have others that you like in your daily routine, sound off in the comments.
Duolingo: Learning languages, one mini-game at a time
I've used Duolingo for several years now—I started right before a trip to Florence, so that I could drum up some semblance of "dumb tourist" Italian while abroad. Upon return, I ditched the app's Italian in favor of improving my (sadly neglected) French, and it's been a huge boon for reinstating phrases, vocabulary, tenses, and pronouns.
To help you practice the language of your choice, Duolingo runs you through a series of courses built off actual behind-the-scenes website translation. (This is how the app pays for itself—and why you don't have to pay any sort of subscription fee or deal with ads.) Every time you complete a course successfully, your knowledge meter for that subject goes up. It's much like putting points in a game skill tree—complete with unlockable checkpoints.
You can also practice your weak skills as a whole by tapping the Practice Weak Skills button, which appears at the bottom of the screen.
Because a bunch of its lessons are audio-based, I generally do most of my Duolingo practicing at home, but there's nothing to say you can't do it in public—just plug in some earphones and turn off Duolingo's mic prompts.
Elevate: Brain-training mini games!
I heard about Elevate recently through one of Apple's own App Store promotions, as it has a handy Notification Center widget to track your performance. After giving it a whirl last week, though, I'm hooked.
Elevate consists of a bunch of mini-games centered around various recall activities: Speaking, Writing, Reading, Listening, and Math. The games are short and build brain skills around activities you'll actually use in daily life—name recall, for example, or tipping. Moreover, they're fun—each game only lasts a few minutes, and it hooked me much the same way a session of Threes or Monument Valley puzzle might've.
At its base free level, Elevate lets you run through a set of "daily training," with options to repeat the day's games afterwards if you want some more practice. If you want to train further or unlock other games for the day, however, you'll have to subscribe to Elevate's monthly ($5) or yearly ($45) service. Not bad pricing if you plan to use Elevate daily, but I've so far been happy just using the free variation of the app.
Free with optional subscription - Download now

(opens in new tab)
NY Times Crossword
A relic from my college days, the New York Times Crossword is still something I try to do at least once a week (if not daily). Its puzzles are usually fun little head-scratchers, and I love being able to hack away at them from my iPhone or iPad.
If it's just crosswords you're after, there are plenty of free alternatives in the App Store, but I consider the NYT version the gold standard—and it's why I'm willing to shell out the $40/year for a crossword subscription. The puzzles are well-constructed; the themes excellent. And if you don't want to go all-in, you can always just pony up $7 for a month and see if they're for you.
Get more iMore in your inbox!
Our news, reviews, opinions, and easy to follow guides can turn any iPhone owner into an Apple aficionado
Serenity was formerly the Managing Editor at iMore, and now works for Apple. She's been talking, writing about, and tinkering with Apple products since she was old enough to double-click. In her spare time, she sketches, sings, and in her secret superhero life, plays roller derby. Follow her on Twitter @settern.
Y u no accept meme? Posted via the 5s I'm not ashamed of using in my home.

Meme is luv. Meme is life. Posted via the 5s I'm not ashamed of using in my home.

I can haz meme! Sent from the iMore App

Just an FYI: "mind games" have not been proven to improve cognitive functioning. You're better off getting some exercise, getting enough sleep at night or taking a nap, and eating well.

I am all for exercise, sleep, and eating well! But there are plenty of studies that say that crosswords can improve your mental health (especially re: dementia). http://www.cbsnews.com/news/alzheimers-brain-plaques-prevented-by-lifetime-of-puzzles-study-suggests/ As for the other two apps, they're more for learning new things than general brain stimulation. :)

Such memes. Very love. Many laugh. But brain training, also good. :)

I love duolingo and Elevate. I also throw in Lumosity. But now I gotta go find me a crossword app. I was in advanced English, but suck at crosswords. Therefore, I must conquer them!

Elevate and Duolingo are both great! I also use Fit Brains and I find apps for Sudoku and Chess also work well for exercising my brain.