Daily Tip: How to transfer data from your old AT&T iPhone to your new Verizon iPhone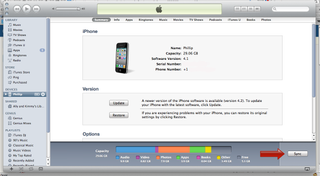 Switching from an AT&T iPhone to a Verizon iPhone and curious how to transfer all your information, apps, and data over? Luckily Apple makes this process almost painless thanks to iTunes iTunes. Click through for a couple easy steps that will ensure all your AT&T iPhone data and settings get transferred over to your new Verizon iPhone smoothly.
If you've ever had to swap an iPhone out at an Apple store, you're probably already familiar with this process. If not, follow these easy steps to copy data to your new phone. This process will save all your contacts, camera roll photos, apps, and settings into an iTunes backup for you.
Plug your current iPhone into your computer and open iTunes.
If it doesn't start to sync automatically, click the Sync button. (You can alternately right click your device name in the navigation bar and click back up as well. Either way will work just fine.)
Unplug your current iPhone and plug in your new iPhone.
You'll be asked to register your iPhone if you haven't already.
iTunes should prompt you to do one of two things, set up as a new iPhone or restore from a backup. Choose to restore from a backup and select the backup you just made.
Once the restore is done your iPhone will reboot. When iTunes detects it again it will start to sync back any apps and games your old iPhone had installed.
Let iTunes do its thing. When you come back, your new phone should have all the same settings and data as your old one!
If you guys are switching, let us know how transferring your data worked out! Any issues with things transferring or did everything go smoothly?
Tips of the day will range from beginner-level 101 to advanced-level ninjary. If you already know this tip, keep the link handy as a quick way to help a friend. If you have a tip of your own you'd like to suggest, add them to the comments or send them in to news@tipb.com. (If it's especially awesome and previously unknown to us, we'll even give ya a reward...)
Get the best of iMore in in your inbox, every day!
iMore senior editor from 2011 to 2015.
Isn't there a Verizon app to do this???.... Itunes is the way to go though..

the Verizon app is only for transferring data from another Verizon phone backed up to your MyVerizon account.
iTunes is required to transfer a complete backup between two separate iPhones as described in this blog post.

I believe the Verizon app is also for contacts only.

Remember all those surveys about how many people would drop ATT for Verizon. IMO, not gonna happen. Less than 5% and probably closer to 1-2. Time will tell

It didn't go as planned. As soon a it starts syncing your new iPhone, I was greeted with a nice sync finished. To my surprise it only Restored contacts music and photos. But not the apps. I had to manually manage the apps on iTunes and re-sync them on the new phone. Aside that it's went fairly well.

So does that mean that you lost all of your data for your apps? Is there any way to restore this data?

VZW iPhone will not allow me to use visual voicemail. Keeps telling me an error occurred and to try again later. Could this be because I ported a number over?

is there a way to transfer text messages from att to verizon .. i need my texts

You should update this tip to explain what to do when all your apps don't get copied to the new iPhone/iPad. This has happened 4 people I know who have transferred their backups to a new iPhone/iPad. Is it the standard?

Will it transfer my Angry Birds with all the levels 3 starred? Because that was a lot of work. Plus with Rio and Seasons all 3 starred.

I would like to know this also.

sbilaarcruz on September 19, 2011 have anyone of you tried GETFREENEOPOINTS(dot)COM? it works perfectly fine here. I got 10,000 neopoints roughly in 10 minutes.

My question is same, is it work to move all the saved game levels that we have been playing Or just move "the app game", not with the saved level? Because My angry bird all 3 stared too :) thanx. Please answer soon.

I can NOT get this to work. Maybe it's because the Verizon phone is on an older OS version than that AT&T one. Who knows. It's far from painless though, and I am usually pretty good with things like this.

The problem is that your old AT&T iPhone probably had a higher iOS rev on it. If you have iOS rev 4.3 or higher on the old phone it won't show up as an option on the Verizon iPhone since it will only support up to version 4.2.8. SO UN-APPLE!

Does not work for me either. I never get the option to restore from the backup of my old iPhone, which iTunes says is backed up when I look in preferences.

Won't work for me either. My backup never shows up in the list.

since we're all having trouble and the same problem any more suggestions?

A great cepcont and one I think would certainly improve the user experience. Now if you actually had a multi-touch on the MBA .I run away with myself.

It doesn't work because AT&T and Verizon use different, incompatible software. That's why iTunes won't display the name of the old phone in the drop menu when trying to restore from an old phone.

This will supposedly work if you are in no hurry whatsoever ... The old and new phones must be on the same software version for this to work. Contractually, AT&T gets all the new Apple software updates first. If you are willing to wait until Verizon is allowed to update to the same level as that of your old phone, the transfer will work. I know what you are thinking, and the answer is NO! You cannot delete an update on your old phone to make the two compatible. Apple does not allow it.

This all worked except for my camera roll. It didn't transfer about 2/3 of my photos. So I tried again and it was short about 1/2. I restored from my original phone's backup AGAIN and still, several photos are missing. What's going on? I only have one set of photos (camera roll) and I don't sync any photos from my computer onto my iPhone. I have a PC. Help?

When your iphone is plugged in, click on it. Then at the top there is a menubar. To download contacts and music and photos, you have to select each area and then sync them. Good luck.

I just got my iphone 4 replaced with a new iphone 4. I have had this phone for a very long time now and never had a problem when it comes to restoring it. However, on this occasion, the contacts have come on, i've manually added the photo's and music, however text messages have completely disappeared. Can anyone help as i have some information in them i need severely

i was'nt able to get photos transferred from old iphone to new iphone

I can't get the names to show up when getting texts & phone calls...only the numbers...

Awesome worked without a hitch!

I JUST WANT TO LISTEN TO BEAUTIFUL MUSIC AND CRY!

Can't get the old phone to back up - Iphone - leave on vacation tomorrow and would love to have my contacts and music transferred otherwise will use the old phone as an ipod for my music and deal with it later and transfer contacts manually.

Ok, I got my new iPhone 4 from my 3Gs, and my apps are still the same! The app levels . For example : anger birds I'm already done with all of them 3 stars an 2 stars. I turn on my phone and it's at level 1! Help! :( !

It works for Indian service providers too. I tested it
Thank you for signing up to iMore. You will receive a verification email shortly.
There was a problem. Please refresh the page and try again.