Doctor Who goes to twelve, catchup now with your iTunes TARDIS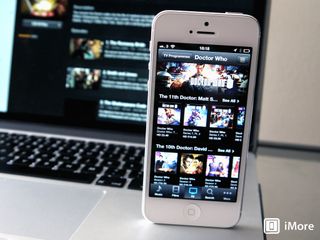 The Internet has been abuzz this past 24 hours with news of the Twelfth Doctor having been formally announced – Peter Capaldi, in case you missed it – taking over from current star Matt Smith starting with the Christmas Special later this year. Capaldi is an older gentleman than his predecessor, and it's pretty easy to get an early feeling for what kind of character he will bring to the show. The Doctor is one of the most high-profile science fiction TV characters, to the point the big unveil was televised live in several countries including the UK and the U.S. While you're waiting, you can get your Sonic Screwdrivers on a huge amount of Doctor Who content for your iPhone, iPod touch, iPad and Mac right within iTunes, today!
While many of us may first have discovered The Doctor through the newer series, first aired in 2005 starring Christopher Eccleston, it has actually been around for decades before that. There's too many to list, but here's a flavor of each of the first seven Doctors.
Then of course, in 2005 the show was resurrected by the BBC, and the new Doctor, Christopher Eccleston began his own journey through space and time accompanied by the lovely Rose Tyler. From there, he was replaced by David Tennant, who in turn made way for Matt Smith, who stars in all the most recent episodes.
So, plenty of viewing for the Doctor Who fans, young or old, human or Dalek. But, it doesn't stop there, as the iBooks Store has a whole host of Doctor Who novels for you to read between viewings. Here's just a taste of what's on offer
The Doctor even stars in his very own, official iOS game for iPhone, iPod touch and iPad. The Mazes of Time is a top-down, puzzle adventure game that sees you assume the role of The Doctor across various locations in space and time. It has authentic music, and authentic enemies; without Daleks it wouldn't be worth playing. A great time-waster for fans of the show.
I'm personally more of a fan of the recent seasons of the show, with Christopher Eccleston getting my vote for favorite Doctor. There was something about the way he played the character that was so different to those who came before, or indeed came after. The BBC favorite is showing no signs of slowing down, though, and it'll be pretty exciting to see Capaldi's interpretation of the famous Time Lord.
So, that's literally just a taste of the masses of content iTunes has to offer you if you're a fan of the show. If there's a particular favorite episode or season, book or app you think should be highlighted, let us know in the comments!
Get more iMore in your inbox!
Our news, reviews, opinions, and easy to follow guides can turn any iPhone owner into an Apple aficionado