Twelve South makes the BookBook case available as a little black book case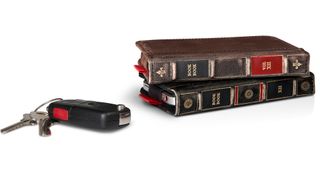 Twelve South has today unveiled a new classic black version of its hugely popular BookBook case for iPhone and iPhone 4S. The BookBook case was first made available back in 2011 and was a superb case that was also a fully functioning wallet. If you were looking for a converged case and wallet then you couldn't do much better than this.
One of the biggest criticisms aimed at the BookBook case was the lack of camera hole in the back of the case; Twelve South has taken these comments into account. Unfortunately, instead of giving us a cutout for the camera we find a tab that you need to pull to raise the iPhone 4 or 4S a quarter inch out of the case. This is still a clumsy way of taking pictures and one that will irritate a lot of buyers. The BookBook case is available for the iPhone 4 or iPhone 4S in Classic Black or the previously available vintage brown color too. If you fancy picking one of these up, Twelve South has them available for immediate shipping for $59.99.
Could you see yourself using a case like this? I personally like the look of it and think it looks extremely well made too but I am not sure how practical it would be in daily use. The strange pull tab to raise the iPhone out of the case to take a picture would drive me mad; what about you?
Source: Twelve South (opens in new tab)
UK editor at iMore, mobile technology lover and air conditioning design engineer.
I have this case and everyone that sees it talks about how cool it is. I Love it, it's the only case I have ever got that I use everyday.

I bought one a month ago and used it daily. It was truly convenient, however, I went back to my lifeproof case for the water protection during the summer. You get use to the camera use process. although on a few occasions I missed a shot. I would recommend it to those who want a all in one case.

I bought one of these when it was first reviewed by iMore (tipb). They have a 12-month warranty, but I had an issue in month 11 with the interior satin behind the card slots coming un-stitched. They shipped me a brand new one. Great case, great service. Everyone thinks it's a bible though, so good or bad, you'll hear that a lot.

I'm considering getting one of these for my iPad. The bigger case looks awesome. If I had an iPhone I would definitely pick up the wallet case since it means carrying one less thing around.

I like the classy look of the BookBook, but I think the design will only appeal to certain people. I'd definitely recommend checking out the Spigen Valentinus, which is a wallet case that's much more conservative.
Thank you for signing up to iMore. You will receive a verification email shortly.
There was a problem. Please refresh the page and try again.