Twitter, eBay, Reddit, Kickstarter and more formally back Apple in FBI fight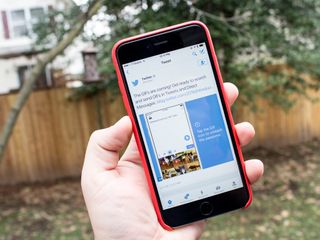 Another amicus brief, or "friend of the court" statement, has been filed in Apple's favor in its current legal fight with the FBI. This time the brief comes from a group of 16 major tech companies, including Twitter, ebay, Reddit and Kickstarter.
Apple is being ordered by the FBI an encrypted iPhone used by one of the San Bernardino shooting suspects. Apple has refused, stating that such a backdoor could set up a huge security risk for smartphones in the future. According to Re/code, the joint statement from the 16 companies said in part:
The other companies that joined in this brief included Airbnb, Atlassian, Automattic, Cloudflare, GitHub, LinkedIn, Mapbox, Meetup, Square, Squarespace, Twilio, and Wickr.
Get the best of iMore in in your inbox, every day!
I have been writing professionally about technology and gaming news for 14 years.
That's a good thing =) Sent from the iMore App

the more companies, the better.... This is probably bigger than a protest in the streets Keeps the news going at least.

It's come to a point now where it's almost bad PR if you DON'T side with Apple, so there will of course be a surge of support now. Sent from the iMore App

Well done tech companies!! Encourage them all to increase encryption and security on all our devices. Protect us from criminals/hackers and craziness of our governments.. Please, also, won't you join me in adding your name to the White House petition at http://1.usa.gov/1R9A4cM
Thank you for signing up to iMore. You will receive a verification email shortly.
There was a problem. Please refresh the page and try again.