Twitter hopes to replace usernames and passwords with Digits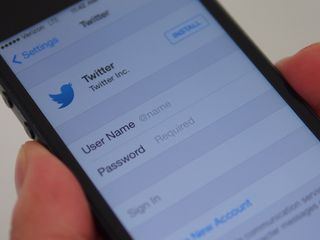 Twitter has just rolled out a new service for developers to integrate into their apps called Digits, which should make it more secure for consumers to sign into apps and services. Rather than complex usernames and passwords, Digits hopes to simplify the sign in process by using your phone number and an SMS verification to allow you to log in.
Announced at Twitter's Flight developer conference, Digits could be a good tool in the developing market where many don't possess a computer nor have an email address for a username to log in to services and apps. These people do have a mobile phone and a phone number, and Digits will tap that to make logins more secure. In a way, it's similar to two-step authentication.
TechCrunch says of the service:
Three apps are listed as supporting Digits at launch: Fitstar, Resy, and OneFootball.
Source: Digits, Twitter
"Win a new iPad Air 2 from iMore!"

I still prefer using my 100 character password on Twitter.

*140 Sent from the iMore App

Well, he did say "100 character password" so maybe he means password lol..

lol it was just a bad joke on my side. No harm no foul :-) Sent from the iMore App

Honestly I'm tired of services wanting to link my cell #. I see the convenience and maybe even security but it's just a little too intrusive (as if they didn't know everything about me anyways, but still). So I really hope this doesn't happen or at least third-party developers keep it out of their apps. Twitter is slowly becoming Facebook in terms of operation and consumer information, but we all knew it was just a matter of time :/ Sent from the iMore App
Get the best of iMore in in your inbox, every day!
Thank you for signing up to iMore. You will receive a verification email shortly.
There was a problem. Please refresh the page and try again.