Twitter now an integrated part of iOS 5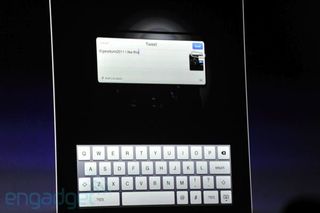 iOS 5 was recently rumored to have Twitter integration built-in. From what Apple is showing today at WWDC 2011, there will now be a new feature they're referring to as a "tweet sheet" that integrates into "Twitter friendly apps".
We aren't really sure what Apple is considering "Twitter friendly" at this point. I'm only assuming there will be available APIs that make it possible for developers to integrate Twitter into their apps natively (without third party permissions hopefully?). This functionality will be really amazing if it integrates with stock apps like Photos. Say goodbye to having to upload pics to Twitter via third party sites.
[Image via Engadget]
Get the best of iMore in in your inbox, every day!
iMore senior editor from 2011 to 2015.
yawn
I'll care when Facebook integration is announced

I'm happy there is no facebook, zuckberg is evil in my eyes.

What the hell is facebook?

Hopefully a jailbreak app will add an option to post to facebook instead of twitter

They should've kept copying and used intents like Android so you could share w/ anything. My peeps use Facebook so Twitter integration won't work for them at all.

I think FaceBook missed the boat when they couldn't agree to what Apple was working with them on last year.

Everyone is shifting from Facebook to Twitter anyway...Facebook is just a family reunion

Why Twitter? There are other services that are just as popular, why didn't they offer an API to allow 3rd party devs to write plug-ins for the "integration"

မ က တ ပ ဘ ဗ comming soon eiblarjak က တ ရ နပ ပ အဆင ပ ပသ ရ တ မ ပ
Thank you for signing up to iMore. You will receive a verification email shortly.
There was a problem. Please refresh the page and try again.