Twitter redesigns iPad web interface in HTML5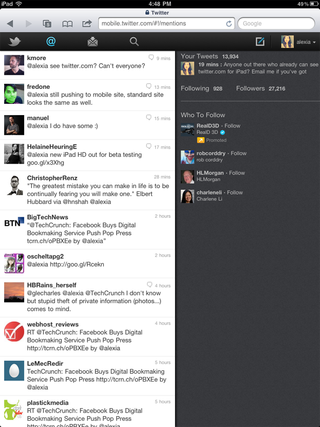 iPad users that use, 'twitter.com' in safari, instead of the downloadable iPad app will be getting a new HTML5 web app in the next few weeks
Currently, iPad users who navigate to 'twitter.com' are greeted with the old iPhone layout, with an option to switch to the default desktop UI. However Twitter announced on the 'Twitter Mobile' twitter account that they have begun rolling out a new HTML5 based web UI specifically for the iPad, which should reach all users in the coming weeks.
The screenshot above shows that the UI is similar to both the desktop design and the recently updated iPhone design.
I haven't had the updated web app yet, but I'm interested to know if any of you have had a chance to play with it yet.
Get the best of iMore in in your inbox, every day!
Writer for iMore, YouTube Vlogger, and Host for [TEChBrits]
Nice but why not just use the app?

If you create a Twitter account but don't use it for awhile, how long will it be before Twitter deletes it? And how often do you have to use the Twitter account in order to keep it active?

I have read a few just right stuff here. Certainly worth bookmarking for revisiting. I wonder how much effort you set to create this type of wonderful informative website.
Thank you for signing up to iMore. You will receive a verification email shortly.
There was a problem. Please refresh the page and try again.