U2's brand new album, 'Songs of Innocence' is free on iTunes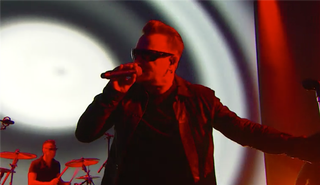 U2 had been rumored to be making an appearance at the iPhone event out in Cupertino today and they didn't disappoint. Not only did Bono and co show up and play their latest single for the gathered masses but they also had a gift for the "half a billion iTunes users" in the world. Their new album for free.
Until October 13 the new album will be exclusive to iTunes, iTunes Radio and Beats Music, and customers in 119 countries around the world will be able to download and keep a copy completely free. And that's not half bad.
Despite the on-stage messages we're not finding the download link live at the moment, but we'll update with it here as and when it appears.
Update: As pointed out in the comments (and now seen on our devices) the album should just show up as a purchased but not downloaded album for you in iTunes on your iOS device, Mac or Windows PC. It'll probably take some time for everyone to get their hands on it so be patient, you've got plenty of time!
Apple & U2 Release "Songs of Innocence" Exclusively for iTunes Store Customers Biggest Album Release Ever in History—Gifted to Over Half a Billion Music Fans by Apple
CUPERTINO, California—September 9, 2014—Apple®, Universal Music Group and legendary rock band U2 today announced the release of the album "Songs of Innocence," which Apple is gifting to iTunes Store® customers around the world, making it the largest album release ever with over half a billion copies distributed. The album features 11 new songs from the band and charts their earliest influences from 70s rock and punk rock to early 80s electronica and soul. The album is free for iTunes Store account holders in 119 countries and is available exclusively on iTunes® for the next five weeks.
"From the very beginning U2 have always wanted our music to reach as many people as possible, the clue is in our name I suppose—so today is kind of mind-blowing to us. The most personal album we've written could be shared with half a billion people… by hitting send. If only songwriting was that easy," said U2 lead singer Bono. "It's exciting and humbling to think that people who don't know U2 or listen to rock music for that matter might check us out. Working with Apple is always a blast. They only want to do things that haven't been done before—that's a thrill to be part of."
"U2 has been an important part of Apple's history in music and we're thrilled to make 'Songs of Innocence' the largest album release ever," said Eddy Cue, Apple's senior vice president of Internet Software and Services. "We get to share our love of music today by gifting this great new album to over half a billion iTunes customers around the world."
"Songs of Innocence" features 11 new songs from the band and is their most personal work to date, charting their earliest influences from 70s rock and punk rock to early 80s electronica and soul and giving insight into how and why the band came together and the relationships in and around them, their family and friendships. Recorded in New York, London, Los Angeles and Dublin the album is produced by Danger Mouse, along with Paul Epworth, Ryan Tedder, Declan Gaffney and Flood.
Apple is gifting "Songs of Innocence" to iTunes Store account holders.* Customers who sign up for an iTunes Store account in the next five weeks will get the album as a gift. "Songs of Innocence" is also available to stream via iTunes Radio℠ and will be available on Beats Music℠.
Apple and U2 share a special connection in music. U2 was an important partner for the opening of the iTunes Store in 2003. Apple worked with U2 on the iPod® U2 Special Edition and created "The Complete U2" box set together. U2 continues to be one of the most popular bands ever on the iTunes Store. Apple has partnered with Bono and (RED) to fight for an AIDS-free generation by creating (PRODUCT)RED merchandise. More than $75 million has been generated by Apple for the Global Fund.
"Songs of Innocence" is available to iTunes Store customers in the 119 countries featuring a music store, with an active account, and who are 13 years or older (or the equivalent minimum age in the relevant jurisdiction).
Apple designs Macs, the best personal computers in the world, along with OS X, iLife, iWork and professional software. Apple leads the digital music revolution with its iPods and iTunes online store. Apple has reinvented the mobile phone with its revolutionary iPhone and App Store, and is defining the future of mobile media and computing devices with iPad.
no download link needed just look in your iTunes library.

iTunes store app > More > Purchased > Music > Not on this (Apple) Device. You'll find it there to download immediately. So far, vintage U2 goodness (that is if U2 is goodness to you).

oooooooooo you are a Prince among men....thank you! (or a Princess among women!)

It does not show up on the iTunes Store "home page", but search for "U2" and it's the 1st album listed and it is free. Downloading now.

But i don't want the bloody album why can't i refuse it or delete it? We don't all like U2!

All YOU have to DO is to decide by October 13 if you want to DOWNLOAD or not. That is the question to ponder, my friend.

Oh excellent! Thanks Mandros!

How do I DELETE THE DARN U2 Crap? I am not a fan and have never been a fan. Please help! This is about the dumbest thing Apple could've done.

SAAAAAME. I only ever like KPOP and classical and imagine my shock and horror when I woke up to find those...those...THINGS on my iPod! Eeeee! The indignity! :O Okay, maybe that's slightly dramatized. But to all you netizens who think EVERYONE likes U2, stop. Think again. A lot of people around the world have never HEARD U2 - I hadn't, before this - and it's narrow-minded and insulting to assume that we're all fans (Apple, I'm looking at you >.>), if we even know what U2 is. So, assuming the songs are removable, no lasting harm done, but I was still pretty terrified when I first saw them on my iPod. It was a stupid idea, marketing potential or not. Apple should've just listed them for free download for the first 500K downloaders on iTunes or something. Not cool, Apple, not cool.

FYI, it showed up on my phone under iTunes store app > More > Purchased > Music > Not on this Phone > Various.

Thank you - ive been trying for half an hour to find it!

That did it for me. Crummy iTunes classification (needlessly splitting up your albums since 2003) at work again. Thanks!

Chances of this being a number one album round the world are huge! Sent from the iMore App

Meh Sent from the iMore App

I'm really digging this new record. U2 went a bit nuts there in the 90s after Achtung (intolerable music IMHO). But I've liked what they've done since All That You Can't Leave Behind. Songs of Innocence continues their winning streak. Excellent album. AND FREE!

How can we delete this ? Its not like we listen to u2 so this is kinda funny ... Any suggestions how. To get rid of this ?????
9 Sent from the iMore App

I know what you mean...if u figure it out let me know ok. Thanks

How can we delete this album from libray ? Its stupid cause we all dont listen to this band its kinda funny how stupid this is .. Any suggestions how to remove it from music app ?? Sent from the iMore App

How the hell do you delete these songs? Got rid of all the songs apart from Track 8 and it just won't delete, no matter what I try. It sticks out like a sore thumb in my music, and I'm NOT HAPPY about it. How the hell do I delete it!!!??

Lol... Apple copies Android
U2 copies Kanye Apple looks pathetic, and U2 will be playing the Michigan State Fair next year...on the Free Stage... Posted via the Android iMore App!

SoI has turned up as downloadable on my MAC but not on my iPhone or iPad so far. It is taking time, as you note in the editorial above.

Says it is "Purchased" but I can't find it and can't seem to download it.

How do I DELETE the U2 Album? I can't stand U2 and it stinks! PLEASE HELP! Thanks and I think this is the dumbest thing Apple could've done. It should've been an option to just download it and not automatically put in your Music

Automatically downloaded on my phone!!! Isnt that classified as Malware? Please delete this trash

U-Who?
I don't want this on my phone.
Get the best of iMore in in your inbox, every day!
Thank you for signing up to iMore. You will receive a verification email shortly.
There was a problem. Please refresh the page and try again.