Vaja Lucy Clutch Case for iPhone review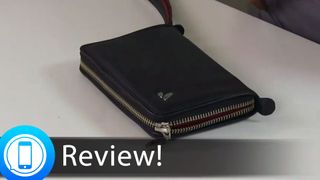 Oh yeah. This is totally decadent. Totally. But that's how Vaja does things,right? And the Lucy Clutch for iPhone is the opposite of an exception. A combination iPhone case, wallet, and carry bag, it's hand crafted like all of Vaja's creations, but is it practical?
The Vaja Lucy Clutch is small, easy to hold, easy to zip and unzip, and yet still has plenty of space for all of your cards, your money, and any other small item you may want to cary for example, lip gloss. There's a dedicated iPhone pocket, 2 general purpose pocket, and card holder good for 3 cards. None of the pockets zip or otherwise close, however, so loose change and other small items can tumble around as you go.
Taking your iPhone in and out is also easy. It slips into the dedicated inside pocket so you can keep it safe and secure, and slips right back out again when you want to use it. If you're the type of person who uses your iPhone constantly to game, text, etc., it might be inconvenient compared to a pocket case, but if you use your phone mostly as a phone — or you just want to enjoy a night out in style — it's perfect.
Now If you're worried that you might not hear your iPhone rings when it's inside the Vaja Lucy Clutch, don't. There's a special mesh on both sides designed to make Marimba -- or whatever ringtone you so wish -- come through loud and clear. And because it's on both sides, it doesn't matter which way you insert your iPhone.
The Vaja Lucy Clutch is made of premium Caterina leather with a distinctive quilted finish. It's well padded, so your precious iPhone and any other valuables are safe and secure. It's also available in a wide variety of colors so you can customize it pretty much anyway you like.
A sturdy strap lets you carry the Vaja Lucy Clutch easily, either in your hand or around your wrist. Unfortunately, it's not quite long enough to comfortably cary around your shoulder and keep your hands free, which I prefer. The zipper is also heavy duty, and works without a hitch. It does, however, open along the bottom of the clutch, which is a little worrisome -- if I leave it partially unzipped, I may not notice, and things may fall out.
The hand crafting results in spectacular quality as well, with every stitch contributing to a functional, long lasting design. The leather comes in azalea (pink), rosso (red), birch (off white), nautical blue, and black. The padded interior comes in over 20 different colors -- several shades of the entire rainbow. That means you can get the Vaja Lucy Clutch in just the right colors for you (or for your someone special.)
The Vaja Lucy Clutch is positively luxurious. It's soft, protective, easy to use, and offers space beyond what it's small size would suggest. If you're looking for a high-end, premium carrying bag for yourself or for someone you love, I highly recommend the The Vaja Lucy Clutch. Fashion may change but the Vaja Lucy Clutch is beautiful and built to last.
Master your iPhone in minutes
iMore offers spot-on advice and guidance from our team of experts, with decades of Apple device experience to lean on. Learn more with iMore!
Senior Editor at iMore and a practicing therapist specializing in stress and anxiety. She speaks everywhere from conferences to corporations, co-host of Vector and Isometric podcasts, follow her on Twitter @Georgia_Dow and check out her series at anxiety-videos.com.