Vectrex Regeneration makers seek Kickstarter backing for ColecoVision iOS project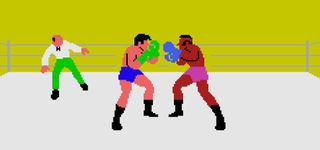 Rantmedia Games came onto the iOS games scene in 2012 with the release of Vectrex Regeneration, an iOS recreation of the Vectrex, a video game console from the 1980s. Now they've gone to Kickstarter for their next project: a recreation of another 1980s-era video game system, the ColecoVision.
Rantmedia has acquired the license to the ColecoVision system from Coleco Holdings, and has also acquired the rights to what it calls "a huge list of games" that will be included in the initial release:
Antarctic Adventure
BlackJack/Poker
Bump 'n' Jump
Brain Strainers
Destructor
Fortune Builder
Frenzy
Jumpman
Jumpman Junior
Jungle Hunt
Montezuma's Revenge
Ms. Space Fury
Pepper II
Space Fury
Super Action Boxing
Super Action Football
Super Action Baseball
Super Action Soccer
Zaxxon
The ColecoVision debuted in the summer of 1982. An 8-bit video game console designed to compete with products from Atari and Mattel, the ColecoVision was a runaway hit in its first year of release, moving more than 1 million units. But its release was ill-timed - the video game market would experience a devastating crash in 1983.
I have a special place in my heart for ColecoVision. While my friends had largely gotten Atari 2600 and Mattel Intellivision consoles, the ColecoVision was the first video game system I could call my own. I remember spending hours in front of it playing games like Donkey Kong (which came bundled with the system), Zaxxon and more.
I've played Vectrex Regeneration at length. It's one of the best emulators in the App Store, and really does a fantastic job of recreating the experience of using one of the most unusual consoles of the 80s era - the Vectrex was an entirely integrated system that included its own black and white screen and rendered vector graphics similar to coin-op games like Asteroids. I have little doubt that Rantmedia can develop a terrific ColecoVision emulator if they can get the scratch together to bring the product to fruition.
Get more iMore in your inbox!
Our news, reviews, opinions, and easy to follow guides can turn any iPhone owner into an Apple aficionado