How To: View Calendars Published to MobileMe on iPhone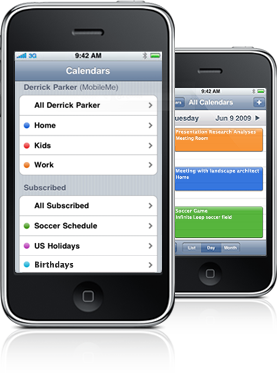 Apple's MobileMe News shares how to view calendars published to MobileMe on iPhone:
Subscribing to calendars is a great new feature in iPhone 3.0, but is buried in the Settings. This, however, looks like a much friendlier way to set them up. Hopefully commonly shared calendars, like holidays, sports team schedules, etc. will set up some similarly easy add options for iPhone users.
Get more iMore in your inbox!
Our news, reviews, opinions, and easy to follow guides can turn any iPhone owner into an Apple aficionado
Rene Ritchie is one of the most respected Apple analysts in the business, reaching a combined audience of over 40 million readers a month. His YouTube channel, Vector, has over 90 thousand subscribers and 14 million views and his podcasts, including Debug, have been downloaded over 20 million times. He also regularly co-hosts MacBreak Weekly for the TWiT network and co-hosted CES Live! and Talk Mobile. Based in Montreal, Rene is a former director of product marketing, web developer, and graphic designer. He's authored several books and appeared on numerous television and radio segments to discuss Apple and the technology industry. When not working, he likes to cook, grapple, and spend time with his friends and family.
So can this only be done if the "calendar-owner" uses a Mac? I could see this as being quite useful for keeping track of my wife's schedule, my daughter's soccer games, etc., but it would need to be more multi-platform (and ideally free) to make it universal. There used to be an app called WeSync for the Palm OS (which Palm later scaled down and called DualDate) which allowed for syncing up with other people's calendars, which I always thought was a great concept, even if the execution was somewhat lacking. In some ways, it was ahead of its time, as over-the-air syncing didn't work great. Now that we're no longer forced to sync via a desktop, these ideas can work so much better.

I have MobileMe.. can we ONLY publish our calendar if we have iCal??? =/

I really wish there was a "share event" option in iphone's Cal event edit. Anyone know why this can't be a easy option?

This picture is misleading. It shows Birthdays as a subscribed calendar on the iPhone but in the apple mobile me notes it says birthdays do not work this way and cannot be subscribed to?

Cool! Thank you for this article! I've always wondered how to have my US Holidays calendar appear on my iPhone like it does on iCal. This article was very helpful! Thanks again from Salt Lake!

I hope that the Calender App get some love in the incremental releases. The 3.0 upgrades are nice and lay a good foundation but are simply not enough. First, there needs to be better integration with the Calendar and other apps - API anyone? If Apple watched any of the Pre demos then they'll see it's a gap. How about more ways to send meeting/event notifications? Email would be nice. How about MMS, once AT&T activates it?
I like the Exchange support and use it with Google Calendar but don't like being limited to 5 calendars. And too much of the current iPhone Calendar is in settings rather than the app itself.
And how about a Week view for crying out loud. Time to step up and be more creative with calendars.

It's crappy. Why Apple just didn't add "+" button in iCal.app on the iPhone? You would just hit this button, enter address of the calendar and that's it.

@The Reptile, I think you should be more satisfied with what is offered.

There should also be the possibility to SHARE a calendar, not just view a subscription. I have a fmily MobileMe plan... Why can't my wife add events to our Family Activities Calendar??? Am I missing something?
Finally being able to push those events on her phone is very nice, I must say, but it is so overdue I can't rejoice from it.

This still confuses me and its maddening apple simply doesnt have step by step directions to do certain things. I have birthdays set up in my contacts, they show up in my ical on my powerbook. I then had them show up in the mobileme calender. BUT they still dont go to my iphone!!! what am I doing wrong?

@ alfagta
Go to Mail, Contacts, and Calendar settings. Choose to add an account. When faced with the options, choose other. You will then see the option to subscribe to a caldav calendar.
@Plasmanut
If the Family Activities Calendar is in MobileMe, can't your wife just set that account up on her iPhone to have full access?
I love this new Caldav support.
@ Scott R & @iPhoneMilk
The caldav support should be for any published caldav calendar. Just go into the settings I mentioned above and subscribe to the calendar you want.
If I have one issue, it is that the user still can't control the calendar colors. Why can't Apple let us decide what color we want the calendar to be?

I can't find an answer for this anywhere: I've now moved exclusively to Mobile Me and subscribed calendars. In the calendar app there is still a list of all of my calendars on my mac, called "On My IPhone." I'd love to get rid of this list because I don't sync those calendars anymore and would love my "All Calendars" list to reflect just my Mobile Me cals and my subscribed cals.
Anyone have any ideas? I've already reset the sync data on isync, relaunched itunes and made sure the calendar section on the info tab on itunes was unchecked but the calendars still show up.
Please help!!!

Finally figured it out by turning off calendar on Mobile Me. When turning back on I was able to delete all calendars on the iPhone. Nice!

This is how I configured CalDAV for Google Calendar:
Go to Settings > Mail, Contacts, Calendars
Tap "Add Account...", then "Other"
Under Calendars, "Add CalDAV Account"
Enter account information:
Server: www.google.com
User Name: [your username]
Password: [your password]
Description: [e.g. Personal]
Tap "Next"

Does anyone have a problem where if you publish your birthdays calendar this way it creates a "dot" on all of the days of your iPhone calendar in month view, indicating an event, even if there are no events listed on some days?

On the plus side, the subscriptions work well. If you go to the iCal Library (http://www.apple.com/downloads/macosx/calendars/) in your iPhone's Safari browser you can subscribe to some calendars simply buy hitting the 'Download' button. Works really well. They're good for national holidays and sports team schedules.

I could not do this in the way described in the Apple support article. Sent myself the email with the calendar URL, opened the email on iPhone, tapped on the URL - but this opened Safari which reported that it couldn't download the file.
But I did get it to work using the method described by jstrickland above in answer to alfagta.
Why all those instructions when the method doesn't work!

@Lauren7
I have the same problem with my Gmail calendar. It's annoying!!
Why does the CalDAV sync make all the days look like they have appointments in month view???

@Lauren7, mw:
The dots are caused by recurring events starting before Dec 12, 1932 (eg. birthdays for some elderly people).
Edit those events in gCal and the problem should be resolved. It worked for me.
See this thread:http://discussions.apple.com/thread.jspa?threadID=2049299&start=30&tstart=0

Strangely the browser I use doesn't show that page nicely... It looks like a significant part of it is missing and the structure of the page looks really weird. Are you sure this page has been tested with Google Chrome?

I tried to get the RSS Feed for this website but it is not showing up in Google Chrome. Does anyone have any ideas?

Cheers for this post. Quite often, the very best info come from the blog posts one would not expect.

dauidgkflctloawexvi, mattress toppers, HYDQsONI.

I just shared a calendar with my husband which he can view on the mobileme.com and his calendar on ical, but can he view the shared calendar on the iphone. If so, how?

iPhones are really future in self telephony...

You've got a good blog here! would you like to create some invite posts on my blog?