View multiple windows on your iPad with Quasar jailbreak tweak [Updated]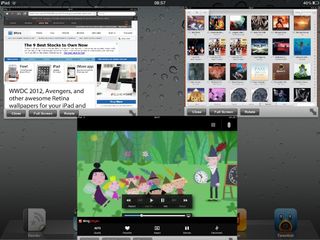 A new jailbreak tweak called Quasar will let you have multiple apps open and running at the same time. If you've always yearned for the opportunity to have your iPad work more like a desktop OS like Windows or OS X, Quasar could be just what you've been looking for.
Quasar is a version 1.0 jailbreak app and to be fair you can tell. It crashed the springboard a few times when I was playing with it and froze a couple of times too. There are weird rotations and portrait bugs as seen in the video are quite annoying too. Having said that, this could potentially be a game changer as and when it's quirks have been ironed out.
Quasar is available through Cydia for $9.99 and is for the iPad only running iOS 5 or higher.
Update The developer has already released an update and fixed some of the bugs that we experienced in the demo video. The orientation and rotation bugs are now fixed along with a few other things too. Good to see such speedy bug fixes!
Get the best of iMore in your inbox, every day!
UK editor at iMore, mobile technology lover and air conditioning design engineer.
Is anyone else disappointed that Monday brief comment section is closed? :( :((
:lol:

After the iTease, frankly, yes!

Oh man... Now I REALLY want a jailbreak released for the iPad 3 :-(

I'm with you. This is one of those jailbreak apps/tweaks that I could make use out of.
What would be interesting is if these guys can make it so the tweak allows you to pin apps like widgets to different home screens. Then just toss in GridLock to position app icons where I want them, and then place apps like tweet bot and others around the screen. What would be even cooler is if it could force Universal apps to run as the iPhone version when window, then launch the iPad version when taking it full screen.

Most apps in Cydia are so buggy , even the ones that aren't conflict with other Cydia apps and cause constant crashes , jail breaking has become too much of a hassle . Until cydia starts cleaning up and policing the apps and making the user experience more enjoyable and process easier it will continue to be a gimmick. There are some really usefull apps and tools in there but they all cause crashes and conflicts with other apps. Some of the apps in there are professionally done and operate beautiful but 99% are garbage and have zero customer support or updates and ruin the experience for everyone .

There isn't much Cydia can do without everything being moderated and code signed, basically becoming the App Store. Tweaks, apps, and hacks are far too numerous and diverse to be regulated anyway.

I do not even know the way I ended up here, however I thought this publish used to be great. I don't recognize who you're however certainly you're going to a well-known blogger in the event you are not already. Cheers!