Into the VOID: the Ghostbusters Dimension VR experience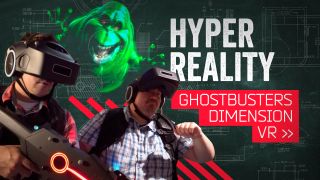 I had one ambition as a child: to become a Ghostbuster. Life then taught me that it wasn't a possibility (sadly), and I gave up on it... in this dimension. Turns out, if I swap dimensions, I can become what I was always meant to be. The Ghostbusters Dimension VR experience at Madame Tussaud's in NYC allows visitors to step in and bust ghosts with the best of them.
MrMobile got a chance to check out the future of VR experiences this past August with the team from VRHeads. Together, they took down the Stay Puft Marshmallow Man and got a nice, toasty, s'more-like smell as a reward. Michael Fisher lets you in on all the incredible details in this video above.
Also, check out this article here for more about this experience!
Stay social, my friends
Justus Perry is a producer for MrMobile. He still likes Match 3 games, despite their ubiquity. He's also a comedian and actor.
Thank you for signing up to iMore. You will receive a verification email shortly.
There was a problem. Please refresh the page and try again.