Waiting for Godot, HomeKit edition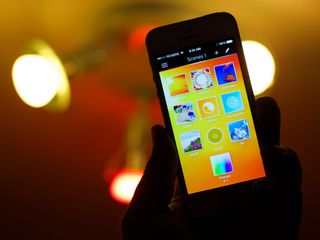 About a year ago, Apple unveiled HomeKit, its take on home automation, and announced that the framework would ship in the fall with iOS 8. Which it apparently did. And then... nothing happened.
Truthfully, we heard hardly anything about HomeKit until this past January at CES, where a bunch of companies showed off HomeKit-enabled devices, coming "this spring" or "soon." It's been four months since, and spring is almost over.
But the fever is, fortunately, about to break: HomeKit has pulled off its blankets and is about to rise from its nap. Last week, Apple told the Wall Street journal that the first HomeKit devices will appear in June, a year after the original announcement.
So what took this so long?
Where are you, HomeKit?
HomeKit was announced with fanfare at last year's Apple Worldwide Developer Conference as Apple's entry into the exciting new world of home automation. HomeKit promised to connect iOS and Siri with third-party devices in our homes, as stated in Apple's press release (opens in new tab):
Sounds simple enough. But when you take into account the underlying technologies, there are a lot of reasons for HomeKit's surprisingly sluggish roll-out. Just as those CES "coming soon" announcements were appearing, so too was Re/code's report that HomeKit chips made by Broadcom were delayed. In addition, all HomeKit-compatible devices are required to be a part of Apple's MFi licensing program (opens in new tab), which trades licensing and certification for an unknown amount of money per third-party device sold.
The competition
Elsewhere, there are a bunch of other emerging home-automation approaches, including Z-Wave, Belkin's WeMo, and Google's Thread, the last of which is kind of like another standard called Zigbee... Sigh. None of these have yet made any significant headway, but they're all cranking — and at some point this mess is going to start clearing up.
However, the threat of a standards war seems to be lurking in the distance. I own a Nest thermostat, and Nest is owned by Google. Is Google going to pay Apple a royalty for every Nest sold? That seems unlikely. But you know, I'm not looking forward to a world where my chosen smartphone platform has to inform every buying decision I make about light bulbs, smart thermostats, and other smart-home products.
In theory, companies could build bridges to connect devices that use different home-automation standards, but Apple seems to have put the kibosh on that approach. According to 9to5 Mac, home-automation products that use Wi-Fi must license HomeKit (and presumably pay Apple a fee), or they won't be allowed to connect to HomeKit even via a bridge.
The real hat trick of home automation: voice control
Why might manufacturers buy into HomeKit? One word: Siri. After spending a few days visiting a friend with an Amazon Echo connected to a single Belkin WeMo switch, I've come to realize that Siri is truly the potential star of HomeKit. I was able to switch a light on and off with just my voice, using the Echo. It was really, undeniably cool.
Apple has generally kept Siri locked down. Third-party apps still can't hook into the voice assistant, and if Apple doesn't provide Siri a particular information source or a certain kind of integration, that's it. But with HomeKit, Siri gets an outlet to your real world — and that's exciting. The idea that we can use Siri to control stuff in our homes, to integrate our lights and garage-door openers and whatever else into Apple's world, that has power. That's the promise of HomeKit.
The 2015 do-over
Either way, it looks like we're finally going to see the promise or the pain of HomeKit and its unifying devices, now that compatible hardware is on the horizon for June. And of course, there's a not-so-little event also happening in June: Apple's Worldwide Developer Conference, an opportunity to kick HomeKit into gear at last. This week, 9to5Mac's Mark Gurman reported that iOS 9 will include a Home app to help manage all those forthcoming accessories.
It's strange to see such a prominent Apple announcement lead to so little for so long, but perhaps last June's pre-announcement was what was required to crank the home-automation hardware ecosystem into gear. (You might say the same thing about CarPlay, too — another announcement in a slow-moving industry that needs time to get some momentum.)
Maybe the inclusion of HomeKit in iOS 8 was more useful as a starting pistol for Apple's home-automation initiatives, rather than being a product unto itself. And after a year of waiting, it seems as though hardware is about to arrive, while Apple seems primed to give HomeKit another boost with some prominent stage time.
I look forward to hearing what Apple has to say about it at WWDC. Second time's the charm?
Get the best of iMore in in your inbox, every day!
Great post, Jason. My concern is that Homekit goes the way of interoperable iMessage/FaceTime: we were promised it would be a platform open to all, but instead it's a niche player open to none other than Apple. Apple's failure to open the platform means it has lost to Whatsapp, Slack, et al., forever. It sure looks like Homekit is heading down the same road to nowhere.

Exactly my thoughts. I got started with Nest thermostats and liked them so much that I looked at other options for home automation. My one absolute requirement was interoperability. The whole Z-wave, Zigbee, whatever stuff does not interest me in the least. What does matter is that I can get a Wink Hub that speaks to Cree bulbs, GE bulbs, Hue bulbs, and a bunch of other non-lightbulb stuff that I can't remember. It can also speak with my Nest thermostats and smoke detectors. Wink is easy. When I had a problem connecting something a few weeks ago, I hit Wink up on Twitter and they helped me get it working... on a Sunday evening. No warranty checks or anything like that, just helped out a customer that tweeted them. If Apple decides that everyone has to play by their rules without publishing open APIs, then they will have to have some absurdly easy and good options and support. The whole "it just works" thing has already been done by companies like Nest and Wink, so Apple will have to do better than them to get my dollars and my time.

"Truthfully, we heard hardly anything about HomeKit until this past January at CES, where a bunch of companies showed off HomeKit-enabled devices, coming "this spring" or "soon." It's been four months since, and spring is almost over." If it doesn't pertain to the Kardashians or Bruce Jenner... smh! I have been waiting for "Home Automation" with my phone for a long time. This isn't rocket science!? We have self learning AI, and we can't make a fucking app to start the god damn coffee machine yet!!!!!!!!!!!!!!!!!!!!!!?

Relevant XKCD comic: http://xkcd.com/927/

I'm really looking forward to getting more details about how Hue will use HomeKit. I'm hoping that I'll be able to say "goodnight siri" and the lights shut off since it seems more natural than "Hey Siri, goodnight".

I just hope that kits like Phillips Hue that have already been installed in homes can just have a software update to take advantage of homekit. I'd hate to have to buy all new bulbs just because it's the way it has to be with Apple.

Yea, screw Apple on this. Might better to go through Cortana on this one.
Thank you for signing up to iMore. You will receive a verification email shortly.
There was a problem. Please refresh the page and try again.