Warhammer 40K: Carnage Dark Angel update impressions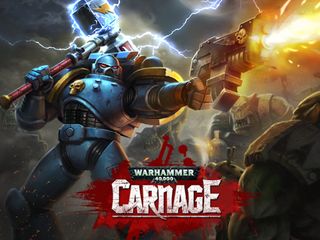 Warhammer 40K: Carnage is an intense side-scrolling action game from Roadhouse Interactive set within the futuristic Warhammer 40,000 universe. It rings up a bit on the expensive side at seven dollars, but gives players a lot of bang for their bucks with two separate campaigns, alternate versions of every level, and endless loot with which to equip the playable space marines.
Scratch that two campaigns part. Now the game has three, thanks to today's Dark Angel Content Update. The update introduces a third playable character the turquoise-suited Dark Angel. Along with the new character and campaign come a new gun type, more loot, and other fixes. The game just got a lot bigger, but unlocking the new content might be a problem for some players. Find out more with our detailed look at the update.
Team of three
In Warhammer 40K: Carnage's main campaign, players take on the role of a blue-suited Ultramarine. The second campaign stars a red-clad Blood Angel. The Blood Angel unlocks after reaching 75 stars in the main campaign. Players receive can earn up to three star per level, depending on factors like completion time and damage taken.
With the new update, the Characters tab appears on the title and map screens even if you haven't unlocked the Blood Angel yet. The Dark Angel now appears in the center of Characters menu along with a brief description of his origin.
Unchained and ready for revenge
In the new story, some enemies called the Fallen have kept him trapped in a pit for many years. At last, our new hero breaks free from his chains and embarks on a quest of vengeance. Like the other campaigns, this story is delivered in an offhand manner as simple pre-mission text blurbs. Don't expect it to keep you on the edge of your seat.
Still, the Dark Angel's levels are actually quite cool. They take place on the same map as everyone else's, but the layouts and challenges differ greatly from previous levels. Our new hero must safely jump across plentiful pits and navigate falling platforms as he hunts down his oppressors.
The most significant new element of Dark Angel's levels is arena combat. Instead of constantly running and gunning, the new hero will often find himself locked on a single screen for parts of a level. Enemies will swarm in from both sides, forcing players to rely more heavily on melee attacks and blocking than in the other characters' campaigns. After killing enough enemies in an arena, the Dark Angel can proceed onward.
The Dark Angel starts with a Plasma gun, the new weapon type that all characters can use. Plasma Guns are essentially burst-fire versions of the Plasma pistols that were already in the game. Holding down the fire button with either type of Plasma weapon will charge up a devastating shot. The new guns can fire more rapidly than Plasma pistols. They also ignore armor, meaning that enemy armor has no impact on the damage they can do.
The final addition in this update is the ability to buy Supply Caches with gold. These caches provide a random mix of loot, with the more expensive caches offering better equipment. After buying a cache, players can toggle between the mission cache (items discovered during the previous level) and the premium cache.
Unlocking the Dark Angel
The new character costs 30 gold to unlock, which could prove contentious. Gold is the game's premium currency. Players will unlock some gold by reaching different star milestones in the two existing campaigns, so it's certainly possible that you could earn enough gold to unlock the Dark Angel without paying. But it's also possible for a player to have spent all of that gold and run out of ways to earn it.
Gold is not a renewable resource, but it can be bought with real money. If you find yourself without enough gold to unlock the new campaign, you can go the in-app purchase route. A pack of 50 Gold sells for the odd amount of $4.57.
Warhammer 40K: Carnage is a long and challenging mobile take on the Warhammer universe. I consider it well worth the $6.99 asking price… Just be sure you don't blow your gold on anything else before you unlock the Dark Angel!
Master your iPhone in minutes
iMore offers spot-on advice and guidance from our team of experts, with decades of Apple device experience to lean on. Learn more with iMore!
Paul started writing about games in 2003 with his first strategy guide (Bomberman Land 2) for GameFAQs. He continued writing guides while earning his B.A. in Literature. When Windows Phone launched in late 2010, the Xbox integration lead our hero to jump on board the platform. He joined Windows Phone Central as Games Editor at the beginning of 2011, going on to review over 125 mobile Xbox titles over the years. He now leads Windows Central's Xbox One coverage, personally specializing in developer interviews, indie games, controllers and accessories, and Twitch broadcasts. Paul loves games on all platforms; he goes where the games are. Although very busy with console coverage, he sometimes contributes gaming articles to iMore and Android Central.