We chat with Kabam about their new iPhone and iPad RPG Star Wars: Uprising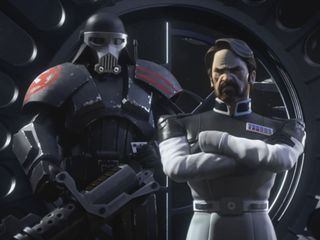 You can't get away from seeing something Star Wars related these days, and today is no different as developer and publisher Kabam has just launched Star Wars: Uprising. It's a new free-to-play massively multiplayer RPG for the iPhone and iPad that takes place just after the events in the movie Return of the Jedi. We got a chance to ask some questions, via email, to Daniel Erickson, the senior director of game design at Kabam, about their efforts on Star Wars: Uprising.
First, how did the opportunity come about for Kabam to work on a Star Wars mobile game?
We already had an existing relationship with Disney through Marvel: Contest of Champions and we enthusiastically wanted to do a Star Wars RPG. The rest was negotiations.
Star Wars Uprising is a third person RPG. How hard was it to develop such a game for mobile devices?
Making an MMO on mobile devices, it's important to remember how much more powerful our phones are than many of the PCs we played on ten years ago. The real problems are just making sure that the buttons are big enough, everything is readable, etc.
What can you tell us about the basic storyline for the game and how it links to the Star Wars movies?
Uprising takes place just after the events of Return of the Jedi. The Emperor is dead but the governor of the Anoat Sector is repressing that news and has locked the entire sector behind the Iron Blockade. The player starts as a small-time criminal and gets swept up in a very different type of rebellion.
Can you tell us more about the character creation system for Star Wars Uprising?
Players can choose from either gender, four different species and numerous customization options.
What sorts of characters can a player control in the game and can you tell us what kinds of skills and abilities they can have?
Uprising is a fully open-class system that has trainers representing all of the primary types of characters in Star Wars. Players can learn as much or as little from each trainer and fully customize their characters on the fly choosing from Smuggler abilities one run and Rebel Guerilla abilities the next.
What kinds of missions can the player take part in during Star Wars Uprising and what kinds of locations will be seen?
There are both missions for the player's main character and missions for the player's crew that happen off-screen. In Chapter 1 players go to Burnin Konn, Mataou, Hoth, Anoat and an unrevealed locale players have not found yet.
What can you tell us about the combat in the game?
Combat is action-RPG and built from the ground up to be specifically for the touch screen. Everything is gesture controlled, works fluidly and players can play synchronous multiplayer, running dungeons with multiple friends at the same time.
What is one single feature in Star Wars Uprising that you think stands out from the rest?
The Sector Battle system, which brings the entire community together to organically open new content and decide the shape of the sector.
As we get closer to the release of Star Wars The Force Awakens, will we see any direct crossovers or references to the movie in the game?
Not anything we can talk about at this time.
How has it been working with Lucasfilm and Disney on Star Wars Uprising?
Amazing. Lucasfilm is treating the new canon with extreme care, carefully lining up all the various storylines and interweaving them when appropriate. It's an exciting time to be making Star Wars!
What kinds of plans are there for additional content after the game goes live?
Huge plans! This is a multi-year effort. Worldwide launch is Chapter 1 and it's far bigger than most RPGs you'll find on mobile. Chapter 2 is already well into development.
There are a ton of official Star Wars mobile games already available and more are coming soon. Is Kabam worried that there might be a glut of games when Star Wars is released?
There can never be too much Star Wars and we are confident we bring something unique to the table that fans have been calling for, namely new Star Wars story and a full MMORPG for mobile.
Finally, is there anything else you wish to say about Star Wars Uprising?
It's coming out worldwide on September 10th. See for yourself!
We would like to thank Daniel for answering our questions!
Get more iMore in your inbox!
Our news, reviews, opinions, and easy to follow guides can turn any iPhone owner into an Apple aficionado
I have been writing professionally about technology and gaming news for 14 years.