How to choose the best iPhone 4 color mod parts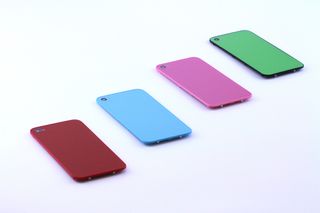 If you have an iPhone 4 and you want to swap out the standard Apple black or white backplate for something more colorful — like red or blue — it can be a challenge to find the best, high quality parts. Backplate swaps especially are an easy DIY project, but you want to pay careful attention to the supplier, the materials they're using, the specific model of iPhone 4 you're ordering for (AT&T/GSM is different than Verizon/Sprint/CDMA), and that you have all the tools you need for the job.
Only order iPhone 4 parts from a reputable supplier
As tempting as it can be to order colored parts on eBay or Amazon because of the low price tag, keep in mind that it'll cost you more to replace your iPhone 4 if faulty parts cause something to go wrong. Spending a couple extra bucks for parts that are high quality and backed with a warranty is always your best bet.
Not to say there aren't some reputable sellers on both websites. Just make sure you're reading comments and customer reviews. If you see negative ones that should be a red flag and you should steer away from that seller altogether.
The best place to get colored or replacement parts is from a supplier that specializes in iPhone or iPad repair.
Some suppliers only sell colored parts to businesses and repair shops. If you plan on ordering colored parts from a repair center or online supplier in the form of a DIY kit, don't be afraid to ask them who they get their parts from and if they back them with a warranty. If they are hesitant to give you that information, I'd probably find somewhere else to order them.
What to look for when buying colored parts
Several websites offer a variety of DIY color kits. There are certain things you're going to want to look for before ordering so you're sure you get the best parts you can.
Backplate checklist
If you are DIY replacing a back panel, you'll want to make sure you pay close attention to the following when buying parts.
Make sure the back is made of glass and not plastic.
Order the correct back replacement as GSM and CDMA backs are different. The hinges are placed differently and they are not interchangeable. This goes for both a back and a front assembly.
Check the screw holes on back replacements and make sure they are assembled from metal. These should ALWAYS be metal, not plastic as shown in the picture above. It's much higher quality and decreases the chance that they will strip over time. The back I've pictured above with plastic screw holes was stripped after removing the screws only 2-3 times.
Watch out for aluminum or brushed metal backs. They can mess with your reception.
Front assembly checklist
If you're swapping out or repairing an iPhone 4 screen, you'll definitely want to make sure your parts are high quality as you'll be ordering a whole new digitizer and LCD assembly.
Just as with the back, the brackets "are" different for CDMA and GSM models. Make sure you're ordering the correct part.
There are brackets that run along both sides of the assembly. These should be made of metal, not plastic. You have to screw these down with washers and plastic is brittle and normally too thick. You'll have issues getting the screen to sit flush.
Check sensors and make sure they look how they're supposed to. A good guide is that any colored parts should have visible sensors similar to the stock white iPhone 4. If they look different than that, don't buy them.
What to look for after you have your parts
Once you receive your colored replacement parts you'll want to check all of the following before attempting a full-color swap or any modification.
Check the sensors and cables on the front digitizer assembly. A good way to gauge the quality of colored parts is to examine the cables and sensors on your stock digitizer assembly to the new parts. Make sure they feel similar in thickness and that the sensors are located in the same spots. It is common that replacement fronts won't come with the plastic front-facing camera ring or the speaker mesh. That's okay. You'll just remove them from your stock assembly and place them on your colored assembly.
Also, check the back panel for blemishes on the lens cover. Run your finger over it and make sure it sits flush with the glass backing. This is a common problem with many knocks offs. They are either scratched or don't sit flush. This will affect image quality greatly. Most quality parts will come with a plastic protector on the inside and outside of the glass panel to protect the lens.
Wrap-up
Even though colored iPhone parts aren't available from Apple doesn't mean you can't find good ones if you know what you're looking for. The ones I order for my clients are just as good as the OEM parts Apple uses in most regards. I just made sure I chose wisely when selecting a supplier.
As long as you do the same, you'll be sporting a colored iPhone that should serve you well for a long time to come. If you're considering a color swap and need detailed walkthroughs on how to replace your front assembly, rear panel, and home button, be sure to check out our other DIY guides.
Get the best of iMore in in your inbox, every day!
iMore senior editor from 2011 to 2015.
Awesome post!!! Been thinking about doing this...but can't find a red back glass with black apple logo... any suggestions anyone?

The etech link looks like a referral link... wonder if you were commissioned to advertise for them.

No, just like you weren't paid by a competitor to ask that.
It's what Ally likes best, so an affiliate account was created. We do that for iTunes, Think Geek, Amazon and others. It's how we keep the lights on.
If you like something else, recommend it.

Rene,
I hate how you have to come on the comments and lecture ignorant people... Why can't we all just post helpful and educated comments? By the way, I love iMore... Keep up the good work!
Ian Eberle, Senior Writer of 1 Tech Portal

They are my supplier. I order all parts from them when I can. Of course I'll give them the business as I know the quality of their parts and have been using them for a long time

I can't find color mods anywhere on eTech's website. Where are they?

A lot of suppliers will only sell to business accounts. eTech makes colors available for wholesale customers only. If anyone wants to use eTech they'd have to go through me or another one of their business customers. There are places online that sell colors directly but I didn't link them as I can't vouch for their authenticity or build quality.

eTech Parts sell colored backs as indicated in the article but they will not have the Apple logo on them.

Www.ifixdirect.com has done 3 phones for myself and will continue to go to them. Quality parts no plastic all metal. And the return time is 24hrs

Never mind,...i stand corrected..they have them in colors...but DANG...they are 40 bucks?...

@Commercial
But do they have color back plates? No

What should a quality back color glass plate cost?

you get what you pay for. But this article is a little of a tease if etech isn't going to sell to average consumers. HOWEVER, I was on their website and seen the price of $50. It didn't appear as though it was business only customers but I didn't go through the checkout process.
What I am looking to buy is a back panel that looks like a mirror. Haven't seen it anywhere but amazon and there people kept stating that the flash difuser was bad. I'm not sure though.

I recently ordered a metal back off of cnn.cn, they had good reviews from what I could find, haven't put the back on yet. Anyone have opinions on cnn.cn and their parts? Article was good timing before I start toying with my phone.

Jon, I've found most of their stuff to be ok. I've ordered housings and replacement oem parts for all types of phones, and have never really had any issue. I would, however, scrutinize their color/modded pieces. I have noticed that some of those are of poor quality.
I always seek out a review of those types of parts for durability and fit. If a part is going to be bad, it'll be in one of those areas.

Oh--and I too ordered the back for my i4 a while ago. If memory serves correct, it was perfectly fine.

Yes, my back went on without a hitch and looked great. The only bummer is, it then prevented the phone from sitting in my Speck case that I like. I thought the phone seemed thinner with the metal back, but guess not. Anyways...back to original glass back and Speck case. Once I get a scratch or chip in it and give up babying it, I'll put the metal back on.

I'm developing a site site and I was thinking of switching the template.Yours looks pretty decent! You could visit my website and tell me your viewpoint!

Great , i remember seeing somewhere else to do with this. Made me want to do another search in google for more info and came across your blog post. Great post

I am not really sure what TCT stands for and Cisco doesn't really identify it in any of their documentation. However, SEP stands for Selsius Ethernet Phone. Selsius is the company that originally developed some of the first IP telephony gear and was acquired by Cisco in 1998.

So I just had my screen replaced with a colored one and now my phone powers off and on by itself I had a business do it for me

So what could that mean???

Definitely the best quality and largest selection is at iphone4parts.com Aftermarket custom replacement parts and accessories for all iPhone and iPad models!
Thank you for signing up to iMore. You will receive a verification email shortly.
There was a problem. Please refresh the page and try again.