This is what the Apple Card looks like without the white coating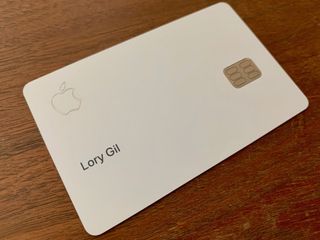 What you need to know
A person polished off the white coating on his Apple Card.
The result is a very metallic and odd-looking card.
The project was a result of a curiousity to see what a pure metal Apple Card looked like.
By now you probably have an Apple Card or at the very least have seen an image of one. It's been the talk of the town in the tech world, which isn't surprising; it is an Apple product and the Apple Card looks amazing with its sleek all-white finish and minimalist look.
Have you ever wondered what it looks like without the white coating?
According to 9to5Mac, one intrepid reader did and decided to polish off the white coating to get to the metal underneath. He revealed he used a watch polishing machine to remove the multiple coatings Apple puts on the card.
The end product is a slab of metal. With the coating gone, so is the name that was lasered on. However, the Apple logo was milled into the metal itself, so it still remains as does the chip. After the whole process, the person reported the card still works just fine.
The project stems from a desire to differentiate the Apple Card and a slight curiosity about what a bare Apple Card looks like, said the person.
We doubt many people will want to do something similar. After all, you'll need an industrial watch polisher to get the job done. However, this is one of those fun experiments people like to see from a distance.
What do you think, is the pure metal Apple Card something that intrigues you?
For 1% cash back, I don't ever use the physical card. Just for Apple Pay (2%) and Apple-related things (iCloud, subscriptions, apps, etc.).

I agree with you on that one. My apple services like iCloud storage and Apple Music go on it automatically for the 3% back and I use it with my phone on ApplePay for the 2% as well. My main daily card is a card that gets me milage flights. I do have to admit though that the white Apple Card does look cool so it's in my wallet. One issue with that thing is. The fact that it is metal makes it very stiff and hard to get out of my wallet if it's not in a top slot.
Thank you for signing up to iMore. You will receive a verification email shortly.
There was a problem. Please refresh the page and try again.