What colors does the Kodak Printomatic come in?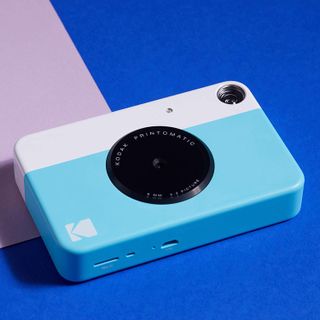 What colors does the Kodak Printomatic come in?
Best answer: The Kodak Printomatic comes in six bright, eye-catching colors: black, gray, pink, yellow, blue, and green. You have plenty of different options to choose from when you're picking out your new instant printing camera.Instant pictures: Kodak Printomatic (opens in new tab) ($70 at Amazon)The whole package: Kodak Printomatic Gift Bundle (opens in new tab) ($110 at Amazon)
Pick and choose your Kodak Printomatic
Whether you're someone who prefers a classic camera color, a fan of neon pops of blue, green, and yellow, or a photographer who loves a soft, subtle pastel like a baby pink, the Kodak Printomatic has a variety of color options.
Regardless of the color you decide to go with, the numerous shades that Kodak allows really lets you customize your instant camera aesthetic.
Of course, if you wanted to keep it classic Kodak, you should definitely check out the yellow Printomatic. However, if you're on the hunt for a color that'll stand out against the dark contours of your bag, the bright green and blue, along with the soft pink, are great choices, too.
If you're someone who wants to stick to classic camera shades, the striking black and gray Printomatics are bound to match with your other camera gear. This option still displays a fun design that this new little instant camera is known for.
Classic style
(opens in new tab)
Shoot and print in style

A mighty reliable instant camera, the Kodiak Printomatic packs a lot of punch into its colorful frame: a 10-megapixel device that prints your memories in both black and white, and color. Perfect for travelling, comes with a rechargeable battery, and comes various colors and zinc sheets to stick photos anywhere!
More bang for your buck
(opens in new tab)
Kodak Printomatic Gift Bundle
Give the gift that keeps on giving — and shooting!

Investing in the Kodak Printomatic Gift Bundle will certainly give you more creative photography options in the long run! With the gift bundle, you get a Kodak Printomatic in your favorite color, plus a travel pouch, decorative stickers and pens, a photo album, and 20 additional zink printer sheets. Truly customize your Printomatic memories!
Get the best of iMore in in your inbox, every day!
Cella writes for iMore on social and photography. She's a true crime enthusiast, bestselling horror author, lipstick collector, buzzkill, and Sicilian. Follow her on Twitter and Instagram: @hellorousseau
Thank you for signing up to iMore. You will receive a verification email shortly.
There was a problem. Please refresh the page and try again.