What I want to see in watchOS 9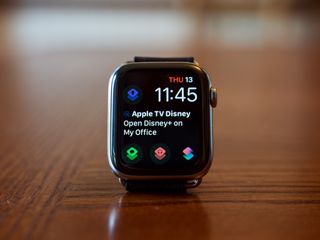 (Image credit: Joseph Keller / iMore)
As WWDC 2022 approaches, it's hard not to think about what we might see in Apple's new software. When Tim Cook and company hit the proverbial, no doubt they will be beaming with joy as they tell us all about the changes coming to all the devices.
Last year's watchOS 8 wasn't a super significant update, but it did focus on letting your get more done from your wrist than ever before. In watchOS 9, not only do I expect some new features, but I believe it's time for Apple to improve some long-overlooked aspects of the software.
New home screen/app view
Perhaps the home screen/app view is the oldest part of watchOS that has never been touched. It hasn't really been changed since its inception on the original Apple Watch, which means that not only does it look dated, but it's also the worst UI Apple has ever created, in my opinion.
The grid view (as they called it), where all your Apple Watch apps are clumped up in this annoying web of tiny icons, desperately needs an upgrade. It may have made sense once upon a time when the selection of Apple Watch apps was very limited; however, nowadays that's not the case.
Since Apple Watch apps are now so much more available and prevalent, it doesn't take long for that little grid to expand into something that looks like a toddler tried to organize. It's a mess and far too easy to accidentally open an app you don't want — if you can even find the app you're looking for in the first place.
The list view is less chaotic and more organized but also super annoying to scroll through when you have a lot of apps. What Apple needs to do is make something that's more streamlined. I don't think it would be that difficult to improve either. Something as simple as making the list view a scrolling three-by-three grid of icons would be infinitely easier to find the app you want to launch when you're using your Apple Watch.
As for the grid view, I'd like it to look completely different, but if Apple insists on keeping it (god forbid), then I think it should be customizable. Let us choose which apps to display in the grid view, and maybe even let us resize the app icon so we can keep our most-used apps from getting lost in all the noise. Then, give us the option to swipe to the list view to find all our apps if we need to open something different. My own kingdom for a new Home screen, app view, or whatever Apple calls it.
Rest days in Activity
Ever since Activity was released with Apple Watch, closing your rings has become almost an obsession for some people. It's fun to get the little notifications that tell you you've reached your stand goal or exercise goal every day — especially when you're wrapped up in an Activity challenge with a friend — however, bodies are meant to rest, go on vacation, and take a break from the grind now and then. Apple should allow us to set rest days in Activity.
Rest days are important to include in anyone's workout schedule, but they would also go a long way toward helping people who feel overwhelmed by the constant need to close their rings. It can feel a little daunting, especially in our busy lives, when at the end of the day you realize you didn't get that green exercise ring closed.
Giving us the ability to set rest days in Activity will offer so much more flexibility in people's lives. They will not have to worry about closing the rings when they know they can't or don't want to.
Low-power mode
While obviously, a bigger battery would be the easiest way to increase battery life, the software could use some tweaks. Like iOS has had for years, a low—power mode would be a welcome addition to any Apple Watch user.
Maybe low-power mode will give us the option to mute notifications from a select number of apps or maybe we'll be able to adjust all the system settings to the most battery-friendly options they can possibly be.
The good news is that this seems to be a rumored feature, so I'm excited to see what might come of it.
More sleep tracking
It was watchOS7 that introduced us to the Sleep app and sleep tracking; however, it's arguable that the Apple Watch does a better job at helping you with a bedtime routine than it does tracking your sleep. Yes, watchOS 8 did improve it by adding the ability to track your sleep respiratory rate, but so many other trackers can do even more in-depth sleep tracking.
It would be nice to wake up to a more detailed graph that tells me information like what sleep stage I was in, the exact amount of time I was in said sleep stage, how many times I woke up, etc. Other trackers have been doing a lot more sleep tracking for a few years now, and it's time Apple jumps into the fold.
Mental health support
I appreciate what Apple tried to do with Reflect in watchOS 8, but I would love it if it would jump headfirst into more mental health features.
I've written about how I use my Apple Watch to help me with my anxiety, so this is something near and dear to my heart. I think a good start would be a simple mood tracker. Mood tracking is a beneficial tool for many people because it allows you to be honest with yourself about how you feel at any given moment and start to analyze what in your life might be causing unwanted stress or anxiety. On top of that, once you've been doing it for a while, you can take a step back and look at a period of time — say a month — and see even more patterns in your mood fluctuations. Knowing when you feel bad or when you feel good can really help, and why you feel that way at certain times can help you start to put some of the puzzle pieces together and manage your mental health much more effectively.
That's not all I think would be helpful for Apple to add in watchOS 9; I think they could start treating mental health more like physical health on the Apple Watch. I don't know if having a mental health ring — like the Activity rings — would be the best answer, but it would be nice to have some way to track how much time you've spent working on your mental health every day. Much like the Activity rings, you could set different goals, and every little bit helps. Did you use the Breathe app for one minute? That's a minute you took out of your day to manage your mental health. Mental health and physical health don't always have to be separate. In a lot of ways, they are one and the same.
Hope for the stars but only expect the sky
While I have high hopes for watchOS 9 to make the best Apple Watch even better, I also have been in this position before, where I hyped myself up only to be let down when the software came out.
I'm trying to keep my actual expectations in check before WWDC. Still, I generally think these improvements would make the Apple Watch a much better and more friendly user experience for everyone.
Luke Filipowicz has been a writer at iMore, covering Apple for nearly a decade now. He writes a lot about Apple Watch and iPad but covers the iPhone and Mac as well. He often describes himself as an "Apple user on a budget" and firmly believes that great technology can be affordable if you know where to look. Luke also heads up the iMore Show — a weekly podcast focusing on Apple news, rumors, and products but likes to have some fun along the way.
Luke knows he spends more time on Twitter than he probably should, so feel free to follow him or give him a shout on social media @LukeFilipowicz.
I'm sorry but I just think (almost) all of these things are dumb. Maybe the home view is not the greatest, but the idea that it is because there are so many apps to install is ridiculous. There are and always have been only about two or three apps that make any sense at all on the AppleWatch. "Rest days" can be had by just ... resting? I do it all the time. There is no one forcing you to close the rings every day, or even wear the watch for that matter. Battery life has always been excellent and doesn't need to be improved at all. Sleep tracking is just navel gazing, unscientific nonsense and Mental Health has absolutely nothing to do with your watch, nor should it. Maybe you need your watch to spray out some aromatherapy mist as well? Or perhaps you can hold it one foot over your tummy to cure your upset stomach as in Riki?

I wonder if the author has ever actually "used" an Apple Watch. I mean actually "USED" an Apple Watch. "Grid View" is not the "Home Screen, it is called, "App View", and there is an alternative to "Grid View". It's called "List View". I prefer List View and have used it since day one. Your "Home Screen" is your "Watch Face".

Why does using an Apple Watch remind me of early windows? Does it really need to be so complicated? I appreciate the health tracking/sensors and wallet functions are great as well. But why can't it be simplified? For example I put on a workout strap and items used for working out are prominent.. why do I need to MANUALLY change and optimize watch faces? Why can't I throw on a brown leather band and my watch face changes to match.. I've got a display that has amazing colors and even hi resolution and yet I'm locked out into changing looks by changing bands BUT faces I need to do manually with effort a smart watch band with either rfid, low power Bluetooth or even a QR code on genuine apple or licensed bands that instantly loaded faces that looked the best would be ideal… even better as you changed to a designated evening band well it set the watch not notify work related items.. EVEN better apple sports teams and universities straps with faces to match and alerts/sounds for sports teams fight songs.. if NOTHING else official bands/straps would provide something knockoffs couldn't… Last but not least what about a low resolution grayscale display. Perfect to create a simplified low cost watch for seniors and young kids..should provide longer battery life but also be easier to make more durable… after all how many Apple Watch users have their whole family young and old wearing an Apple Watch? Especially since you could build in cellular and have a plan similar to those old school phones where you could only call like 2 numbers.. After all a Watch tells time, in many cases was a fashion statement, A smart watch that monitors your health and encourages activity BENEFITS all NOT to mention fall detection emergency services calling… notifications if your phone isn't accessible.. Those are CORE valuable features and benefits.. installing a bunch of apps or manual customization may appeal to some BUT not all. Truly sad almost 30 years after the swatch and Apple has made NO real improvements to changing Watch bands/straps
Thank you for signing up to iMore. You will receive a verification email shortly.
There was a problem. Please refresh the page and try again.