You can use your gear S3 with the iPhone (but you shouldn't)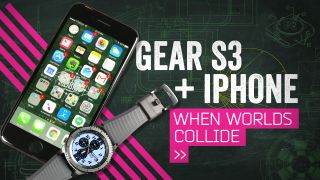 There's more than one smartwatch out there (despite Fitbit's best efforts to buy up all the competition), and more than one that works with your iPhone. Well, "works" is a relative term. The Samsung Gear S3 does indeed work with your iPhone, but what it can do is limited. This isn't the fault of the Gear S3 though.
In this video, MrMobile looks at what you can do with your iPhone-paired Gear S3, and what you ought to be able to do, but simply can't. Give it a watch (pun intended) to see exactly how frustrated you should expect to be when dealing with this situation, and why you should probably look into an Apple Watch instead.
Stay social, my friends
Justus Perry is a producer for MrMobile. He still likes Match 3 games, despite their ubiquity. He's also a comedian and actor.
The watch is amazing with my Moto Z, which is an incredible enough phone for the $130 it cost at best buy. Using it with an iPhone seems pointless, since the best part, Samsung Pay, wouldn't work. Posted via the iMore App for Android

100% agree. Although I prefer the look of the s3 and the battery lasts for 3 days, without the added benefit of using the MST interface on Samsung pay, iPhone users are best to stay with an apple watch. Posted via the iMore App for Android

Why do you prefer an illogically round smartwatch? Round analog watches make sense.

I love my Apple Watch with the exception of two things. First, its square, a round watch would look way better, 2nd, no 3rd party watch faces. There are only 2 Apple ones I use, the rest are crap.

Gear S3 is the best smart watch to date. Use it with my Samsung Galaxy S7. Was going to buy the Apple Watch but it's too small for me & it's square. So I switch back and forth between my iPhone 7 & Samsung Galaxy S7. Samsung Pay is fantastic and being able to make calls without having my phone is a great option. Go jogging leave the phone at home. Very convenient!!

Hm, I know the article is about the S3, however, my S2 on my iPhone 7+ works pretty well. Not experiencing many of the quirky things MM mentioned in this article. My wife and I BOTH left our Samsung's and got iPhone's when the Gear S2 was officially supported on the iPhone a week or so ago. I have bought quite a few more watch faces (BOUGHT) while on my iPhone and of course pretty much all of my 430 watch-faces from when I was on Sammy are loadable (I loaded quite a few more). When I paired my wife's and mine, we only had to pair once, not twice separately like in the S3 video here. I DO agree that S-Health is pretty scaled down and a lot of the Samsung native apps (liek the music player) are not on the Apple Gear app, and the official Apple Music app is not supported. I figured these things going in, so I wasn't disappointed. I pretty much just wanted notifications, the bare bones step counter and heart rate monitor from S-Health. So for me, it works great. I'm interested to see, though, if when I upgrade to the S3, if I'll experience all the things MM did... hm...

I'd love to have an Apple Watch, if they weren't so **** small! Sent from the iMore App

I have the G2. Only a little issue can't respond to notifications on Watch. I left Samsung the moment I heard Samsung would work because been nothing but issues with note 5. Samsung is aware of hiccups and hopeful will fix. I can use away from phone too. I did get an Apple Watch too. Just the series 1 though. I plan to use both. Sent from the iMore App
Thank you for signing up to iMore. You will receive a verification email shortly.
There was a problem. Please refresh the page and try again.