What we want to see from new Apple Watch bands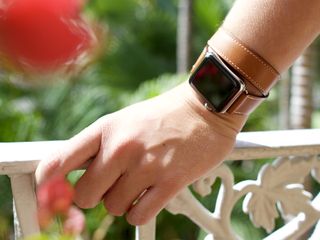 (Image credit: iMore)
While we may not be getting new Apple Watch hardware until the end of the year, speculation is we will get some new Watch bands this spring. That happened last September, when we got not only gold and rose gold sport finishes, but new sport bands, new leather looks, and Apple Watch Hermes. So what might this March bring?
Apple Watch Sport bands
Ren: More colors, alternative materials, and a clasp that doesn't stick to my skin. I have a ridiculous number of Sport bands, and while I like them, the fleuroelastic material is just sweat-resistant enough that it makes them really itchy to wear long-term. And while I doubt they'll redesign the hidden band tail, part of me wishes they would: As a small-wristed watch-wearer, I end up having to stuff half of the Sm/Med band under the other band, which can be a huge pain if your skin is already sweating or wet in any way.
Georgia: I think the Apple Watch sports bands are already well formed and I like the existing variety of colors. Perhaps Apple could do something more trendy — Burberry-style plaid, Angela? — but otherwise I'm happy.
Lory: I am actually disappointed with the material that the sport band is made from. It makes my wrist sweat too much when I'm exercising. I'd love to see a sport band made from something more breathable; some kind of web material like the kind that military belts are made from.
Daniel: Sport band choices for the Apple Watch already run the gamut; there is a colour for almost everyone, and the bands themselves are cheap enough to justify buying a couple.
I'm interested in seeing Apple design a hybrid sport band that can be considered somewhat dressed up — more along the lines of the leather loop, sans cow.
Rene: I'm happy with the current colors of the Apple Watch sport band. While stripes and polka dots and other designs might be fun for some, they wouldn't high on my list. Instead, I'm wondering if Marc Newson could come up with a new sporty design.
We don't need it, of course, but I'm curious to see what else he can come up with. Maybe something without a buckle at all? Of course, that might need to wait for Apple Watch 2...
Apple Watch (steel) bands
Georgia: The Apple Watch bands should be available in all sizes for all styles. Like Rene, I would love to have the Milanese Loop in black. I would also really appreciate more bands that are delicate and able to be worn with a fancy dress.
Lory: I've always been a fan of bangle style watches. I'd love to see a line of stainless steel bangles that compliment the watch face while still looking like a nice piece of jewelry. I'd also like to see more options for the black stainless steel case.
Ren: Georgia and Lory have the right idea — dressy bands! It'd be really fun to see how Marc Newson can stretch the idea of "watch band" into "dressy wrist wear"; I saw a cheap Android display built into a bangle bracelet, and now I'm kind of obsessed with the idea.
I also want more Modern Buckle colors and sizes, because that band is oh-so-comfortable.
Daniel: I've fallen in love with the Saddle Brown Classic Buckle band that was unveiled back in September. Like the black equivalent released alongside the Apple Watch, it's low-profile and incredibly hardy. I'd love to see a couple more colors, such as the same blue stain on the Leather Loop, or a deep red, that would look a bit more casual.
Rene: I'm with Georgia. Highest on my list in getting all the Apple Watch straps in both 38mm and 42mm sizes. Tiny wrists deserve the Leather Loop too! Since I own a space black, though, I'll buy a space black the moment it's announced. Rumor has it some prototypes have been spotted on some wrists going back a year now, so if the DLC has been sorted, my order is pending.
Apple Watch designer bands
Ren: The concept of the designer Apple Watch line is fascinating to me, and I think it's the right tack to take on the watch market. But I really, really wish they'd have a band-only option. For those of us who already have a casing, buying a whole new watch just to get that Hermes Double Tour feels wasteful and ridiculous. But I also don't particularly want to support the Chinese knockoffs lurking around Amazon. Give me a middle ground, Apple, and I'll gladly pay for a high-end watch band. Just don't make me buy a new watch, too.
Georgia: I am not really into designer bands as I'm guessing they'd continue to be high-priced and only affordable towards the more premium end of the market. That being said, if there was a Swarovski band I — take my money!
Lory: I think it would be fun to have pop culture-themed designer watch bands, like Disney characters, or Star Wars themes. Of course, I'd pick those two, but my point is that I would love to show off my obsessions with a watch band that matches.
Daniel: I appreciated how measured Apple is being with its brand partnerships, and I wouldn't be surprised to see just one more unveiled at the March event. It would be great to see Apple separate the designer from the Watch itself, so a Rolex- or Tudor-branded offering would be accessible to everyone.
Rene: I love Apple Watch Hermes and already own a cuff. It's brown, the only color it was available in. I might love it enough to buy a new style or color if one is made available. If it sticks to being a whole-watch purchase, and no provision is made for current Hermes owners, I'll be super sad. So here's to some separates.
As to other designers, I'm not sure. If readers have ideas, please let me know!
One more… bands?
Ren: I'm crossing my fingers for the rumored NATO strap. I'm also hoping, in general, for increasing sizing ranges across the band lines. Apple did an amazing job with the dual casing options for sizing wrists appropriately, but there's still a lot of work to be done on the band front. Plus-sized wrists won't fit into pretty much any band except the Link Bracelet, and only when it's supplied with extra links. And there are ladies and men alike who would love to own a 38mm-only band like the Modern Buckle for 42mm, or for larger wrists.
Georgia: I would like to have a battery band for my Apple Watch for those times when I am camping, traveling, or otherwise away from my charger for extended periods. Just please, no hump!
Lory: Waterproofing my Apple Watch would make me very happy, even though it might make the whole thing look a little chunky on my wrist. when I go camping and hiking I leave my Apple Watch behind for fear of ruining it. I want a fully enclosed case that will protect it from dust, water, and melted marshmallows.
Daniel: I'm a big fan of nylon bands, and already own a third-party version from Monowear Design. Nylon or canvas is super hardy and water repellent and, depending on the color, fits with most styles, both dressed-up or casual.
Rene: There are rumors of a NATO strap, which would be cool. Like with the Sport bands, though, I'm most curious to see what Ive and Newson can come up with next. If that takes until the fall, so be it!
What would you like to see from new Apple Watch bands this March?
Master your iPhone in minutes
iMore offers spot-on advice and guidance from our team of experts, with decades of Apple device experience to lean on. Learn more with iMore!
Daniel Bader is a Senior Editor at iMore, offering his Canadian analysis on Apple and its awesome products. In addition to writing and producing, Daniel regularly appears on Canadian networks CBC and CTV as a technology analyst.