What's on Rene's iPad right now!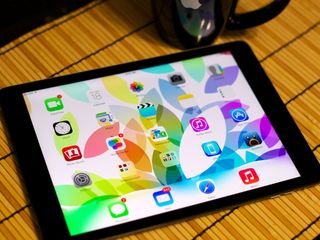 Since there aren't a ton of iOS devices — like there are Android or smartwatches — the staff at iMore has traditionally shared our favorite apps instead. We didn't get to it at the end of last year, what with the best app awards and CES and all, so we decided to do it now, as a way to ring in the new year. Last week I shared what's on my iPhone for The Sweet Setup, so I'm going to focus on the iPad now. Here's my current iPad Air Home screen, and a few words on why I have it just exactly that way...
Okay. So... Yes, boring. My iPad Home screen is pretty much stock as the day it was unboxed. That's because I'm Captain Default. I keep all my stuff as close to stock as possible. It makes things simple when I reinstall, it makes things familiar for people when I do screen or hero shots, and, frankly, this way I'm never more than a new device or a reset away from knowing exactly where everything is. I have gotten in the habit of swapping the wallpaper occasionally, and filling the extra slots on the Home screen. Currently those include:
Wallpaper: Recreation of Apple's 2013 iPad and Mac event invitation design by our own Derek Kessler.
Entertainment folder: I watch a lot of video on my iPad. Netflix

(opens in new tab)

gives me all the catalog content, Global Go

(opens in new tab)

, the Bell-ruined-and-now-almost-unwatchable-CTV Go

(opens in new tab)

, and City Video

(opens in new tab)

give me the local broadcast stuff, and Air Video HD

(opens in new tab)

lets me stream just about anything from my Mac. With the exception of CTV Go, they're all easily beam-able to my Apple TV as well, thanks to AirPlay.
Reading folder: My eyes weren't made for viewing alone! iBooks

(opens in new tab)

, Kindle

(opens in new tab)

, Comics

(opens in new tab)

, and Marvel Unlimited

(opens in new tab)

are where I read my —surprise — comic books. (Thanks to pricing and regional restrictions, they're spread all over.) Flipboard

(opens in new tab)

lets me read social, and Storehouse

(opens in new tab)

is new and interesting.
iMore

(opens in new tab)

: Yes, it's not iPad optimized (yet!), but it's iMore!
Tweetbot

(opens in new tab)

: Yes, it's not iOS 7 optimized (yet!), and I try not to Tweet from iPad, but it's still the fastest way I've found to triage Twitter.
To make up for the lack of excitement on the main Home page, I'll swipe on over to the right and share what's on screen two as well.
Extras folder: An ode to the default Extras folder on iPhone, I throw the Apple utilities into here. Airport Utility

(opens in new tab)

to configure my router, Remote

(opens in new tab)

to control my Apple TV, Find my iPhone

(opens in new tab)

in case of emergency, and WWDC

(opens in new tab)

for the session videos. (Since Apple doesn't make Calculator for iPad, and Apple Store for iPad isn't available in Canada (yet!), it's a little under-filled for now...)
iApps folder: I vastly prefer my MacBook for productivity but if I ever have to edit a file on my iPad, Keynote

(opens in new tab)

, Pages

(opens in new tab)

, Numbers

(opens in new tab)

, GarageBand

(opens in new tab)

, iPhoto

(opens in new tab)

, and iMovie

(opens in new tab)

are there for me.
Social folder: I like Twitterrific

(opens in new tab)

as a reading experience, I have to use Google+

(opens in new tab)

and Google Hangouts

(opens in new tab)

for work, and I keep Facebook

(opens in new tab)

around for friends and family.
Podcasts

(opens in new tab)

: I mostly listen to podcasts on my iPhone when I'm driving between malls and coffee shops, but since it syncs, and just in case I want some late night listening material, it's here for me.
Instagram

(opens in new tab)

: There's no iPad version (yet!) so I'm stuck with the iPhone version.
Hue

(opens in new tab)

: Phillips Hue app lets me control the lights in my podcast studio, kitchen, living room, and hall, bulb by bulb, color by color.
Sonos

(opens in new tab)

: My home theater, at my finger tips. (And in desperate need of an iOS 7 make-over!)
TV Remote 2

(opens in new tab)

: Panasonic makes the app, and while it's not great, it's there in case I'm desperate to control my TV.
Google Drive

(opens in new tab)

: Whether its for Mobile Nations's day-to-day management, or TWiT's podcast prep, or the stuff we partner with Geek Beat for, it all lives in Google Docs, which means I need the Google Drive app.
Dropbox

(opens in new tab)

: My Document folder is in Dropbox. Mobile Nations' shared folders are in Dropbox. My synced files and databases are in Dropbox. Which... kinda makes it feel like, for better or for worse, a whole chunk of my life is in Dropbox... After logging into iCloud, it's the first thing I install on any new device.
1Password

(opens in new tab)

: All my web logins and licenses, all in one place. Security, meet convenience!
Screens

(opens in new tab)

: For whenever I can't — or simply don't want to — get to my Mac, this is the VNC client that best takes me back. I've said it before, I'll say it again, you haven't lived until you've administered your servers from poolside!
Editorial

(opens in new tab)

: Again, I prefer writing on my MacBook, but when I'm ultra-mobile, and I'm working in Text and Markdown, I'm working in Editorial.
Flint

(opens in new tab)

: We use Campfire for our virtual office and Flint is the best client for it on iOS.
Procreate

(opens in new tab)

: I like to pretend I still have time to draw, and Procreate has the most granular, deep drawing tools on the iPad.
Paper

(opens in new tab)

: Goofy rewind control and a palette that pops up whenever I draw up not withstanding, the pencil tool in Paper by 53 is incredible.
And... that's it! At least for the first two pages! Is there more? Is my Retina iPad mini setup any different? What's on my Mac dock? If you're interested, let me know, and I'll address all of that, and more, in the future. In the meantime, do check out my Sweet iPhone Setup, and let me know in the comments — are your go-to iPad apps very similar or incredibly different?
Get the best of iMore in your inbox, every day!
Rene Ritchie is one of the most respected Apple analysts in the business, reaching a combined audience of over 40 million readers a month. His YouTube channel, Vector, has over 90 thousand subscribers and 14 million views and his podcasts, including Debug, have been downloaded over 20 million times. He also regularly co-hosts MacBreak Weekly for the TWiT network and co-hosted CES Live! and Talk Mobile. Based in Montreal, Rene is a former director of product marketing, web developer, and graphic designer. He's authored several books and appeared on numerous television and radio segments to discuss Apple and the technology industry. When not working, he likes to cook, grapple, and spend time with his friends and family.
Cool! Thanks for sharing! Will iMore be adding a forum for readers to share what they use?

Ask and ye shall receive! http://forums.imore.com/ipad-air/276995-show-us-your-ipad-air-home-screens.html

You should check out DIGG, really great app that collects a lot of interesting stories and really good videos. One of the apps I use on a daily baisis, I think you would enjoy it.

Yes, Digg is a great app. Sent from the iMore App

This is a really fun read. It's one thing when tech news sources recommend certain apps, software, and gear, but to see what these people we turn are actually using themselves speaks more volumes about how much their recommendations actually mean to them and how they relay that to their readers.
Thank you, Rene! Sent from the iMore App

It's a good audit as well. I deleted and moved a bunch of stuff based on what I actually use recently, and it ended up being a much smaller, denser subset than what had built up over time.

Very slow day in the world of tech-news...

We're not a news site, so that's great for us! Most creative comment I've ever seen! However did you dream it up! Congrats! :)

Very nice setup you got there, Rene. It's like you can control your whole house with just your iPad. And the wallpaper you're using, I really like it. (And yes, I already copied and saved it thanks to the link you posted.)
I don't have my own iPad so if it's ok I'll just share what's on my iPod Touch. Like you, I also prefer to keep my things the way I got them. So for the first page on my device, the apps and its arrangement is almost exactly the same as the ones you'll find on a new device with some minor additions (iBook, Apple Store). On the next page, it's all folders. The folders are classified by categories like games, utilities, connectivity, entertainment, etc so it's easier to search for the apps I'm looking for. Third page holds the apps I used the most like Camera+, Fantastical 2, Clear+, Mailbox/CloudMagic/Boxer, Clumsy Ninja, iMore (though when I'm at home I don't use it as much because I'm pretty clumsy when it comes to typing on a small display and I'm still saving up for an iPad Mini). That's it!

Man, I wish I was that well organized! Thanks for sharing!

I really appreciate this and your iPhone interview, thanks. It's very interesting and informative to see what y'all have on your devices and why. Might be a few apps there I'll pick up later today.

Questions! 1. Why do you have both Twitterrific and Tweetbot? You mentioned the "reading experience" but I don't really get what you mean. I use Twitterrific but have never used Tweetbot so I don't have much to go on there.
2. Any idea when we'll get that iPad optimized iMore app? I'm eager for that one. Thanks!

Twitterrific has a unified timeline so I can see everything, tweets, mentions, and DMs all in one long list. Sometimes I'm just interested in reading through Twitter to half browse, half catch up, and for that I use Twitterrific. We're working on it!

Nice read, thanks for the willingness to share what's on your idevices. It's interesting to see what others use and in what prioritization.
Mine is nowhere close to stock. I arrange things according to how frequently I use them. I'm all about convenience I guess. :-) Sent from the iMore App

Most surprised by 1) no RSS or read-later (Instapaper/Pocket) app and 2) no third party podcast app (either Instacast or Pocketcast).

I used to use Instapaper, but since Apple pushed out Reading Lists, and a lot of the apps I use support it natively, I've defaulted to that. Even then, I save way more articles than I have time to get to. I need to declare read later bankruptcy. :( I don't have time to listen to a lot of podcasts anymore either. (It's the consequence of not commuting to work anymore, and recording so damn many of my own!). Apple's Podcasts handles a few shows fine, probably better than anything else. If I had a ton of subscriptions, I'd use something else.

Very boring if you ask me, my iPad mini got more fun on it! (; Thanks for sharing, amazing Wallpaper btw.

Boring is defined by the user, not the tool. (I know, TWSS...) :p

Would love to see the rest of the pages as well as the rest of the staff's iPad configuration. Personally I think posts like these are by far the most interesting. It's truly a virtual look into your personal digital life. More please!

So does that mean we're getting an imore iPad version? Because that would be amazing. Posted via the Android iMore App!

I like how Rene's been "Captain Default" for so long he apparently hasn't experienced the magic of a restored iOS device putting all of your icons back right where you left them. And wastes valuable first-screen real estate on apps like Camera, Contacts, Clock, Videos, and Photo Booth.

From time to time I install games, but I'm not a huge gamer any more. Part of that is simply time — I'm exhausted at the end of the day! — part is that I'm enjoying video and comics more these days. That might change though!

Have you tried "Flow" as an Instagram alternative? It's what I've been using. Looks really nice, I think you would like it Rene.

I have not! I'll check it out!

Rene, you need to check out Padgram for instagram. Highly recommend it.

Or in other words: There are several Instagram apps for the iPad (I use FlickStackr with In-App). It is not possible to upload pictures in third party Instagram apps, but the displaying your stream functionality is sometimes better than the original. Might be an idea for an iMore article.

Besides the most hideous background I've ever seen? I'm sorry Rene, but eww. :)

On my iPhone and iPad my homescreen is mostly default apps with a few additions. My second screen is all folders, arranged alphabetically before switching names too emoji icons (bar a few were no icons are relevant.) Inside the folders all the apps are in alphabetical order, except a few exception which are arranged otherwise, e.g. BBC iPlayer, ITV Player, STV Player, 4OD etc, witch I have arrangers by the way they are organised on the tv. The wallpaper changes constantly. Currently my iPhone screen is my car (new and first car; that is why) and my iPad is one of built wallpapers of tress and stuff. :)

Yeah do an iPad mini one please. Sent from the iMore App

Hey! You should check out Zite (alternative to FlipBoard). Its fantastic and I use it instead of FlipBoard now! And also Padgram (Instagram for ipad). You log in using your instagram account and its free! You can remove ads for 2$. And also manage multiple accounts, etc. Its a great app!! Sent from the iMore App

I've tried Zite. Flipboard just seems to fit my brain better. 3rd party Instagram clients for iPad are okay, but I want 1st party already! :)

I really enjoyed seeing what's on your iPad at least the first 2 screens. Great Article. I try to put what I use most often on first screen and others on 2nd & 3rd screens. Your folder ideas might be useful helping to reduce numbers of screens. I've tried to line up apps the same on my iPhone and iPad so the locations of the apps are in a sense location based. The problem is I use iPhone mostly in Portrait and iPad mostly in Landscape. But if I have the same apps on screen 1,2, etc., then it is not too bad. My question is how do you deal with 843 unread Mail messages in your inbox?

I sometimes have thousands! I either turn off the badge, mark all as read, or simply learn to live with them!

I can't help but asking, do you use AssistiveTouch?

I do not, do you find it helpful?

In my case, it is. I like the idea of being able to do a screenshot without pressing the home and sleep/wake buttons and being able to avoid the Mute/Lock Rotation switch in the iPad as well. On my iPhone, it's not much of a help aside from the fact that I'm actively reducing wear and tear on the buttons.

I started using it on my 5 as a way to save the home button from over use. Now it's like second nature and I love it. Sent from the iMore App

I like Assistive Touch very much. I find it much more comfortable to get back to the Home Screen than mashing a button or stepping back they apps to get there. I used to think it took an extra step to get to the Home screen but find tapping the screen a couple times just as fast. At one point, I was having trouble with Home button with Otterbox Dedender case but solved the problem with Otterbox 5s case which gives direct contact with the button.

I love this feature. You guys should do more of this. It's always exciting to see what apps others are using. Please bring more if this type of stories. I would like to see other developers and experts. ***** five stars Sent from the iMore App

We plan too! We've done them about once a year for a few years, but they're always fun!

Yes share your iPad mini retina apps if they are different Sent from the iMore App

I have a iPad retina mini ( upgraded from an iPad 3rd gen) I love the mini but still find myself using the 10 inch and was considering getting the air. Is this a good idea and how to you use your mini and air differently. I said I like the mini as my kindle/reading device and my commute device but is this plausible? Sent from the iMore App

The air is more for creating and the mini is for consumption. Sent from the iMore App

Thanks for sharing Rene, my home screen is a little more cluttered. But it's organised chaos haha. http://d.pr/i/kfET I agree with you about Dropbox and 1Password, they are the first apps I download on a new device.

Wow, forget what's on your iPad; I can't get past the fact that you have 843 unread e-mails. I'm too anal retentive for that; I can't stand unread e-mails.

Funny that you use the default Instagram. I'm using Flow on the iPad. It doesn't have all the functions but the layout is very nice.

Do an iPad mini too, please! ;) Sent from the iMore App

This post (and Ally's) inspired me to do my own blog about my own iPhone Home screen & set-up. You can read it here: http://steverp.wordpress.com/2014/01/29/my-iphone-home-screen-and-set-up/

Guess you don't need TWIT app since you are always on the other side of the screen.