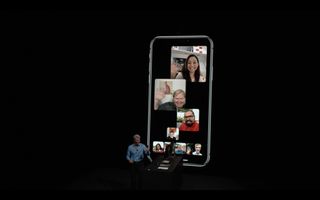 (Image credit: Apple)
FaceTime is more useful than ever before. With iOS 12, you could add filters, stickers, and fun Animoji and Memoji live animations to your video chats. With iOS 12.1, group FaceTime is a reality with up to 32 participants in one big remote party.
A chat for you and all your friends... and acquaintances
FaceTime's group chat feature allows for up to 32 participants in one chat at a time. When one person speaks, their floating chat square will become the largest on the screen, so you know who's talking, or you can manually tap or click someone to focus on their square.
How to make group FaceTime calls on iPhone and iPad
Integration with Messages
If you have a group chat going in Messages and want to talk to everyone at once and at the same time, you can start a FaceTime call to all participants in that particular conversation. This makes it perfect for conference calls, making quick plans, and getting all your high school buddies in the same room for some reminiscing (or something — whatever old friends do).
Filters and fun
Of course, where would Apple be without its gimmicky lighthearted additions to messaging — you can add live filters you FaceTime, including Animoji and Memoji, so, as the demo showed, you can be a comic book-style koala or a spooky ghost, tongue sticking out and all.
How to use Animoji, Memoji, and stickers in FaceTime
One more thing
You can even use FaceTime audio on your Apple Watch to participate in a group chat.
Updated October 2018: Updated for iOS 12.1.
Get the best of iMore in your inbox, every day!
Mick is a staff writer who's as frugal as they come, so he always does extensive research (much to the exhaustion of his wife) before making a purchase. If it's not worth the price, Mick ain't buying.
How about Apple spend some time fixing some significant, basic design flaws in the product:
1. You are currently unable to move the call status window, while making a voice call, in FaceTime.
2. When initiating a FaceTime call, using Siri, FaceTime will always default to making the call using FaceTime, as opposed to using your iPhone, even if the number is clearly not a mobile, so has exactly zero chance of ever working! How many calls does the average person make, per day, to multiple people, all of whom will be contacted via an Apple device? Now, how many people use their computer to initiate calls to people on land lines and non-Apple mobiles? Seriously makes you wonder where Apple's focus is, these days? The next big whooping opportunity for a dev con or making everyday life tasks simpler and more productive, for its users? It's these, seemingly small things, that would make real differences, not multi-FaceTime calls that rarely happen!