What's new for HomeKit coming this fall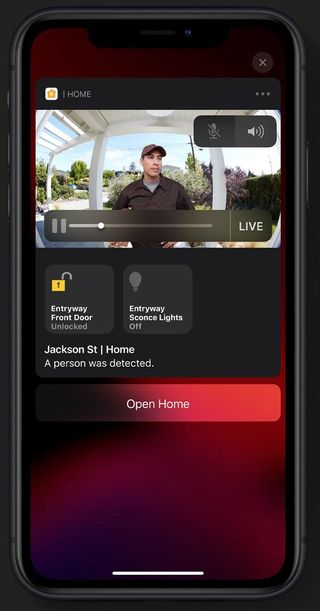 What's new for HomeKit?
Several major additions are coming this year to HomeKit for all of Apple's platforms. Features such as HomeKit Secure Video and HomeKit enabled router support focus on protecting the privacy and security of its users and their devices. Visual changes have also been made to the Home App, creating new ways to interact with your gear and help to streamline the way that we control our devices. Automations and Siri Shortcuts have been upgraded, enabling devices such as the HomePod and Apple TV to finally be a part of our favorite scenes. Here are the details regarding each of these new features.
Apple is continuing its focus on privacy with a new feature called HomeKit Secure Video for HomeKit enabled cameras. HomeKit Secure Video processes the videos captured by your camera locally to determine what caused a motion event and can distinguish between people, pets or cars. Videos are then encrypted and sent to iCloud, and only the owner of the camera or those invited to the owner's home can view the recordings. This means that not even Apple can see your videos.
Is there a subscription fee for HomeKit Secure Video?
No. Apple provides 10 days of recordings completely free for owners of HomeKit cameras. However, HomeKit Secure Video is only available to those that have purchased an iCloud storage plan either at the 200gb level for $2.99 a month, or the 2tb plan for $9.99 a month.
Will my video recordings use my iCloud storage?
No. Despite an iCloud storage plan being required, HomeKit secure video recordings do not count towards your monthly iCloud storage.
Which cameras work with HomeKit Secure Video today?
Since the feature was just announced, and will not be available until the release of iOS 13 in the fall, there are no cameras on the market that support the feature as of now. However, Apple announced that several manufacturers will be supporting the feature in the fall, including Netatmo, Logitech, and Eufy.
Will my existing HomeKit cameras work with HomeKit Secure Video?
Maybe, depending on the manufacturer. Netatmo has announced that their Smart Indoor and Smart Outdoor cameras will receive an update when HomeKit Secure Video is released. Netatmo also stated that its upcoming Smart Video Doorbell will also support the feature. Robin Telecom, makers of the only HomeKit enabled Video Doorbell on the market, has also announced that their ProLine Doorbell will be receiving an update to enable the feature as well. Logitech has only stated that they are committed to supporting HomeKit with their Circle 2 camera, but they have not confirmed whether or not their existing camera would receive an update enabled the functionality. Eufy is new to HomeKit and has not announced their plans at this time.
HomeKit enabled routers
Apple has also announced that HomeKit enabled routers will be making their debut sometime soon. Just like with HomeKit Secure Video, Apple is pushing to increase the level of privacy and security for its users. HomeKit enabled routers will automatically create a firewall between devices on your network, decreasing the likelihood of one of your light bulbs becoming wrapped up in a large scale attack. Options to manually control which devices communicate with each other, as well as with the internet are also available for those that want additional controls.
Which routers currently support HomeKit?
There currently are no existing routers that support HomeKit as of yet, due to the feature not going live until sometime after iOS 13 ships later this year. Apple has announced that routers from LinkSys, eero, and Charter Spectrum will be supporting HomeKit, and are coming soon.
Will my existing router work with HomeKit?
Specifics such as whether or not existing routers can be updated to support HomeKit have been announced, although we suspect that this will be the case. Eero has teased that their 2nd generation Home Wi-Fi System may be receiving an update to enable the support, but no specific models from the other manufacturers have been revealed.
Will HomeKit routers act as a home hub for HomeKit devices?
Unfortunately, Apple has not provided any further details regarding what additional features having a HomeKit will provide. To act as a HomeKit hub, routers will have to feature not just Wi-Fi connectivity, but also Bluetooth, which is typically not included in home routers, so we suspect that this may not be the case.
What else is new with HomeKit?
Other additions to HomeKit include expanded automations, which can now include devices such as Apple TV, HomePod, and AirPlay 2 speakers. These devices can now be apart of automations such as playing a song when you arrive home and even opening a specific App on your Apple TV as part of a "movie night" scene.
Siri Shortcuts can now be added alongside HomeKit automations, enabling things such as turning off Wi-Fi when your "leaving home" scene is activated.
Contextual based HomeKit actions have been added to CarPlay. This means that a scene to open a garage door may be shown when you arrive at your home.
The Home App has seen several visual changes, including revamped control screens for colored lights, and thermostats. Devices that have multiple sensors, such as a Hue motion sensor, will now have all of their functions grouped together, instead of having an icon for each metric. When viewing a camera feed, options have been added to toggle things such as lights that are within the same "room" as the camera.
When can I get my hands on these new features?
As of now, these changes and features are only available to developers with the release of developer betas for their respective operating systems. Features such as HomeKit Secure Video and support for HomeKit enabled routers is not yet available in the betas, but the updated Home App and HomeKit related Siri Shortcuts are.
If you are a developer and wish to try out the developer beta, we recommend that you only install it on a device that is not your main device. Of course, you should always backup your data before installing if you wish to give it a shot.
Just like with previous iOS and macOS releases over the past few years, Apple will be providing a public beta sometime next month. The public beta is generally more stable than the first few developer releases, but again should be installed only on devices that are not critical.
For everyone else, iOS 13, iPadOS, macOS Catalina, and tvOS 13 will be released sometime in the fall. No official release date has been set, but Apple typically announces its operating systems release dates during their event for the latest iPhones in the fall.
What are your thoughts on the upcoming additions to HomeKit?
With just a few meaningful updates to HomeKit, Apple has fundamentally changed how cameras are managed and how connections are made. Which HomeKit features are you most excited about? Will you be running out to pick up a HomeKit enabled camera with Apple's privacy push for recordings? Let us know your thoughts in the comments below.
Master your iPhone in minutes
iMore offers spot-on advice and guidance from our team of experts, with decades of Apple device experience to lean on. Learn more with iMore!
Christopher spends most of his time writing and dreaming about all things HomeKit and the Home app. Whether it is installing smart light switches, testing the latest door locks, or automating his households daily routines, Christopher has done it all.