What's on Peter's iPhone right now!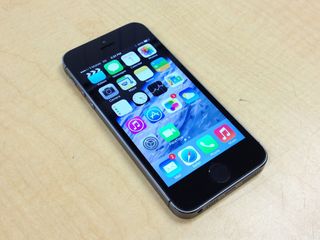 Following my Mac dock inventory, I thought I'd share with you what my iPhone looks like. If you want more of this sort of thing, check out how Ally has her iPhone set up and how Rene has configured his iPad Air.
Just like Rene, I'm something of a Mr. Default for my home screen. I can't blame taking screenshots and not wanting to confuse people as the reason. I just like the "standard" app configuration. Beyond that, though, I'm a big believer in using folders to keep my iPhone organized.
Wallpaper: I turned off dynamic wallpapers almost immediately after I started using iOS 7 because I find the animation distracting. I found this shot of the Earth in the default wallpapers folder and have stuck with it ever since.
Stock apps: Surprisingly, I do use most of the stock apps. Stocks is probably the old one I don't use with any regularity — all the rest of them are crucial to my workflow. It's muscle memory to pull them up, so I leave them where they are.
Utilities: This folder contains an assortment of apps that I can't really find a better place for — Contacts, Calculator, Compass, Voice Memos, Find My iPhone, and a lot of third party tools like XfinityConnect, which I use because I'm a Comcast customer, Ookla's Speedtest

(opens in new tab)

app, which I keep handy when I'm testing network speeds, and a few other tools.
Games: While I find that I have a lot less time than I used to to play games, I still keep a few favorits around for those spare moments. I have Puzzlejuice

(opens in new tab)

, the Tetris-meets-Scrabble game from the makers of Threes, Color Zen

(opens in new tab)

, Pocket Trains

(opens in new tab)

, Hay Day

(opens in new tab)

and a few others around.
Passbook Apps: I try to use Passbook apps whenever I can. My two most frequently-used Passbook-capable apps are Starbucks

(opens in new tab)

and Dunkin' Donuts

(opens in new tab)

, because coffee.
Social: I like to stay in touch with my social networks on my phone, so I've grouped all my social networking tools together. Echofon Pro

(opens in new tab)

is my go-to Twitter client. I also keep Skype and Facebook handy, occasionally check Klout and LinkedIn, view Vine videos, keep Flint handy for Campfire-based conversations with other iMore staff, and use Avocado

(opens in new tab)

, a social networking app for couples, to send kisses and hugs to my wife from time to time.
Travel: I usually stay close to home but when I travel I like to keep a few apps handy just in case. Transit

(opens in new tab)

helps me figure out how to get around using public transportation — something that Apple's own Maps app doesn't do. I also have Google Maps

(opens in new tab)

if Apple's Maps comes up short. I love the Uber

(opens in new tab)

car service — not something I use all the time, but something that's handy to have in a pinch. And Guidebook

(opens in new tab)

is a cool app that's useful for finding your way around conventions and other gatherings.
Photography: I love taking pictures on my iPhone. I have an Olloclip photo lens kit, and their free app

(opens in new tab)

helps me make adjustments to images that I take with those lenses. iPhoto is absolutely crucial for me for effective photo management. Big Lens

(opens in new tab)

is a cool tool for adding depth of field effects to images, to help me highlight what I'm taking a picture of. I also keep Readdle's phenomenal Scanner Pro

(opens in new tab)

in here for when I need to scan a document; between the iPhone 5s's great camera and Scanner Pro, I no longer need to use the flatbed scanner on my multifunction printer.
Entertainment: I occasionally need to program the TiVo

(opens in new tab)

to record something when I'm out, so I keep the app handy in this folder. I also use Spotify

(opens in new tab)

when iTunes Radio comes up short, and occasionally hear music I'd like to know more about, so I keep Shazam

(opens in new tab)

handy for figuring it out.
Payment Tools: I do a fair amount of purchasing on my iPhone. Cumberland Farms is a local convenience store chain that I buy gas from; using their iPhone app saves me 10 cents per gallon. I also order pizzas from Dominos, pay my T-Mobile bill, buy concert tickets via TicketMaster and check my bank account balance.
Lifestyle: The iPhone came up with this description when I created this folder and I've been too lazy to rename it. Pages is in here, along with the Day One

(opens in new tab)

journaling app, Nike+ Move, Pocket, iBooks and iTunes U.
iMore: The most important app on my phone! You must download this immediately!

(opens in new tab)

Doge Weather: Ally Kazmucha and I are big fans of the doge meme that's been bouncing around the Internet the last few months. Doge Weather

(opens in new tab)

is a fun little weather app that shows Doge (a shiba inu with a curiously round head) in various weather gear (a yellow slicker when it's raining, sunglasses when it's sunny) with doge-like observations about the weather, like "much numb" and "many popsicle" for the wintry conditions we've been suffering with.
That's my iPhone, in a nutshell. How about yours? Do you use any of the same apps? Let me know, let hop onto our forums and [show us what's on your Home screen.
Get the best of iMore in in your inbox, every day!
My question is what phenomenal camera did you use to snap that pic of your Black Pearl 5S? ;)

Hah! Believe it or not, I took it with my coworker's iPhone 4S!

The 4s is still quite the solid performer. Sent from the iMore App

how many gb is you iphone?

I have a bunch of the apps you're using. To lazy to write all out tho. :)

It's not that the apps are default, but that you took the time to rearrange them just so that makes it so perfect. What's Doge?

Interesting choices, Peter although I'm surprised you have such a limited number of apps. I'm pretty selective myself but at the moment, I have 89 apps. I suppose by Mr. Default you are referring to the absence of third party apps from your home screen. I totally agree with that but I take it one step further. I always make sure apps are in the default order. It just makes me mad to look for scattered apps in friends' iPhones. I also use the standard nomenclature for my folders and naturally, I keep them in alphabetical order. I guess I'm more of a Mr. Default than you are!

I'm surprised you have such a limited number of apps

I simply don't have a lot of time to use the phone. I work from home so have little need of it when I'm around the house, and most of the time I'm out I'm driving or otherwise engaged in such a way that I can't use it. What's more, I

do

keep a fair amount of music on the phone, which gobbles up the space more than apps.

About the only place in my life I am organized. ;)

No cydia? Sent from the iMore App

Nope. I've actually never jailbroken any of my devices. I leave that deviltry to Ally Kazmucha.

It's really too bad we can share photos of our phone's screen here too.
I have 3 screens:
(1) Top Apps
(2) "Folder Ville"
(3) Gaming
Only 3 things in the Dock - "Phone", "Apple" [folder of Stock apps], & "Messages" (for quick access from any screen)
Thanks for the share, Peter!
:D

The best thing to do is...? Just factory reset the iphone and work through the day and see what do you really need and start installing app after app! Always ask yourself do I need it? Sent from the iMore App

Your first screenshot shows 3 dots/pages. Then the second screenshot, 40 minutes later, shows 2 dots/pages. What's on the mythical third page?

I got rid of a bunch of apps that I'd downloaded for screenshots and other iMore-related tasks which I don't actually use.

Downloaded "Big Lens" and I love it!! Thx for these articles, as it is not only interesting, but informative for app discovery! Sent from the iMore App

I love these type of posts! Sent from the iMore App

Fun list, Peter.
Quick question regarding Doge Weather. I love the simplicity and the "awe-adorable" affect. But does it have a "settings" option: 5-day projections, alerts, add/delete locations?

I forgot to mention that Doge Weather reminds me of Whiskers Weather :)
https://itunes.apple.com/us/app/weatherwhiskers/id733003244?mt=&at=10l3Vy
Thank you for signing up to iMore. You will receive a verification email shortly.
There was a problem. Please refresh the page and try again.