Where are the international iPad minis with LTE?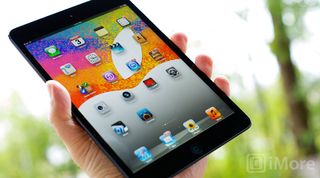 Literally seconds after Apple opened pre-orders for the iPad mini I bought a 32GB model in white. That was on October 26. A month ago. Not only hasn't it arrived yet, it hasn't even shipped yet. U.S. iPad minis + LTE began arriving weeks ago but international iPad minis + LTE aren't being treated equally. That's nothing new. Apple famously (or infamously) delayed the release of the original iPad and iPad 2 almost a month outside the U.S., both online and at retail. With the iPad mini, the international Wi-Fi only versions were available for delivery and purchase day and date with U.S. versions. It's only the LTE (or cellular, if your carrier doesn't support LTE) versions that seem to be MIA.
The iPad Mini Wi-Fi + cellular was advertised here as available to ship in late November. That now leaves 4 days, and and means that, once it arrives (presumably 7-10 days later) time from pre-order to fulfillment will be over a month. Staging the rollout makes sense, and prioritizing the U.S. also makes sense. It simply shows that no company, not even Apple, can do everything at once, everywhere at once.
It took Apple an embarrassingly, outrageously, incomprehensibly long time to get Lightning cables and adapters into stores. During that painful period, early device adopters were left without connectivity, sometimes without even charging solutions for their brand new iPhone 5 handsets (especially those who lost or damaged the original, lone Lightning cable that came in the box). It was a rare and disappointing gaffe by a company that's usually the best in the business when it comes to getting product onto shelves.
The lack of international iPad mini + LTE shipments is nowhere near as bad as that. Apple still has a few more days left in November to at least ship the devices. And to get iTunes 11 done, and a few more weeks to get the new, wafer-thin iMacs out the door.
But that's a lot of product to leave to the last Holiday minute. And that's the problem with doing so much -- covering a lot of ground spreads anyone, even Apple, thin.
Anyone else outside the U.S. order an iPad mini + LTE? If so, what's your shipment status?
Get the best of iMore in in your inbox, every day!
Rene Ritchie is one of the most respected Apple analysts in the business, reaching a combined audience of over 40 million readers a month. His YouTube channel, Vector, has over 90 thousand subscribers and 14 million views and his podcasts, including Debug, have been downloaded over 20 million times. He also regularly co-hosts MacBreak Weekly for the TWiT network and co-hosted CES Live! and Talk Mobile. Based in Montreal, Rene is a former director of product marketing, web developer, and graphic designer. He's authored several books and appeared on numerous television and radio segments to discuss Apple and the technology industry. When not working, he likes to cook, grapple, and spend time with his friends and family.
I live in Vancouver. Ordered the same model as you (white 32GB w/ LTE) in early November (so not as early as you). Still waiting for mine to ship, though it now says "Preparing for shipment" instead of "Processing Items" like it did up until this morning.

as Eric implied I'm in shock that any one able to profit $4673 in 1 month on the computer. have you seen this website PIE21.ℂOℳ

I live in WhiteRock,BC. Same order as yours.
It just updated that the stuff will arrived at my place on Nov30th while now I think it is on board the FEDEX aeroplane.

Yay, mine finally shipped this morning. Supposed to arrive at the latest by Dec. 4

There's plenty of Android devices on the shelves, maybe that would be a better choice -- they could use the business ;-)

I've never understood why people go to user sites for competing products to post stuff like that--do they really need to amuse themselves that bad?! I can't imagine spending my time trolling around the other Mobile Nations sites, for example, just to look for an opportunity to post some sarcastic comment...Go figure.....

Just because some types something that differs with your opinion doesn't make them a troll. If anything, you're sarcastic response is that of a troll -- guess you're feeding yourself... ;-)

No, benjitek. You really are a troll.

Ordered LTE 32gb Nov 8 preparing for shipment now- ships late November
Ordered WiFi 16gb Nov13 preparing for shipment - for Dec 7th delivery? Ontario Canada

Ok the WiFi Version has now shipped, no update on the LTE yet :-(

My iPad Mini LTE 32 GB Slate is marked as "Available to ship: 28nov - 05 dec".
I'm hoping it will come tomorrow :)

As long as it doesn't say "Shipped", I think I'll have bad news for you...

With time, you'll get over it -- try not to let it bother you too much ;-)

It's been 3 weeks for me now,I check everyday for some kind of sign that they have been shipped to Canada,I gave my iPad 3 to my wife thinking I would have had my new one by now and of course she won't let me use it anymore..lol

I've ordered from Germany on October 26th, ca. 0:15 PST. On November 16th, my order status changed to "Available to ship: 1 - 2 Weeks Delivers 30 Nov, 2012 - 07 Dec, 2012" and nothing changed ever since. As it is the 27th already, I don't think I will get it this friday.
I also heard from guys in Germany that their earlier delivery timeframe has been changed to a later one. :-(

Yesterday, the state of my order changed from "Available to ship" to "Preparing for Shipment". However, the dates are unchanged, even the "1 - 2 Weeks" is still there.

In Switzerland, iPhone 5's that have been ordered more than a month ago aren't even shipping yet. The carriers just don't get any new ones from Apple.

I work for an official reseller in Australia. We only just received the LTE 4th gen iPad, and Apple is being stingy with supply of the Wi-Fi mini at the moment (if they'd given us as much stock as they did for the third gen iPad launch, we'd have plenty sitting around doing nothing, but as is, nowhere has stock, which is pushing demand). It reeks horribly of deliberate withholding of supply to us. A nearby Apple store has been telling customers November 29th is when they'll start appearing in LTE variations, but we're not so hopeful. Our purchasing department has suggested to us that "probably this year" is a more accurate time frame. Unfortunately, everyone is very vague.

London, UK here. Delivery ETA on order page is 30th Nov to 7th Dec. As frustrating as the wait may be, until the 7th Dec has passed, I don't see a need to worry/complain.

Guys,
Went into the 5 Ave NYC store last evening just to ask when the LTE Mimi will be in stock, and they said there in, so I perchased a back 32 LTE Mini!
BTW the Apple online store still says unavalible in NYC?

Rene
I am in Gatineau Quebec and got my shipment notification (iPad min wifi cellular 64G) from Apple at 1:43 am today. Like you, I had ordered as soon as the Apple site allowed. Hope this unleashes a flood for all the rest of you.

Adding on: delivery is said to be De ember 2.

BC, Canada. Ordered a Black cell version on 26th October, soon after the Apple Store opened. As of this morning, it has not been shipped, which means that I have been waiting for just over a month. Ironically, I ordered a Kobo Arc over the weekend, and the ship date is 1 to 2 weeks. I wonder which I will receive first...

Here in Finland, I placed the order as soon as I could, on 4 Nov. The "promise" made in the order confirmation was that the order would be delivered between 28 Nov - 5 Dec. However, no news of shipping came until yesterday when the order status was changed into "preparing for shipment". Today, I finally received a shipping notification according to which the iPad will be delivered "on or before" 13 Dec. That's a delay of 1-2 weeks. In the greater scheme of things, it is nothing much, but nevertheless ...

Munich, Germany...
Not shipped (expected delivery Monday Dec, 3rd)

Apple will ship them whit iOS 6.1.
iOS 6.1 beta opens LTE on iPhone 5 in a lot of places and the new iPads will need iOS 6.1 to support LTE in the same places

Singapore:
Ordered white 32 gig LTE on day 1
Currently showing as Ships 1-2 weeks, Delivers 26 Nov - 3 Dec
I'm assuming it's going to be later than that given lack of firm shipping confirmation

Updated - Just got mail from Apple to say it's been shipped for delivery 4th Dec.

Update - mine arrived this morning so I stand corrected, delivered within the stated timeframe afterall.

I ordered my iPad Mini Cellular in Sweden the minute they released them online. Just now the money has been reserved on my account and the order details says "preparing for shipment". I really hope I will have it on friday. Otherwise it will be a looong weekend. :(

NZ : Ordered 64Gb LTE on 11/11, delivers 27/11/2012 - 04/12/2012. Not bad considering it's the 29th here and it hasn't shipped yet...

Now marked as Shipped. No tracking id yet though. Latest delivery date pushed forward to 13 december :( A little bummed out about this. (Sweden).

My LTE iPad mini got delivered to my home in Gatineau Quebec Canada today. Does that make me the first international delivery? I ordered mine at 3 am eastern to the 26th of October, minutes after Apple raised the curtain. It shipped on the 27th from Shanghai, so that was a really quick delivery.

My 32 Gb cellular iPad, ordered on 4 Nov, arrived yesterday (as originally estimated and despite the estimate at shipment, 13 Dec) to me in Finland.

My iPad Mini 32 Cellular black also arrived yesterday. Also with 13th as deliverydate. :)
Thank you for signing up to iMore. You will receive a verification email shortly.
There was a problem. Please refresh the page and try again.