Why I'm getting the 12.9-inch iPad Pro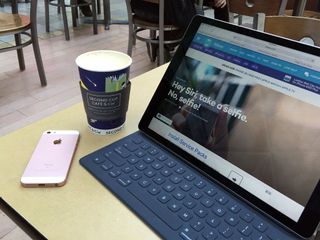 Apple just launched the 10.5-inch iPad Pro alongside an updated 12.9-inch model. I've always been a proponent of the smaller-is-better campaign, but this time I'm trading up. Why am I switching to the 12.9-inch iPad Pro? It's all about productivity.
See at Apple (opens in new tab)
Because the 'Biggie Pro' now has all the same stuff as the 'Baby Pro,' but it's bigger!
When the 9.7-inch iPad Pro launch about a year ago, it had a couple of sweet features that weren't available on the 12.9-inch model, namely the True Tone display and front and back-facing cameras.
True Tone, which is the internal system that naturally adjusts the screen to the light around you, making everything look more like soft paper instead of a harsh, electronic screen, is now available on both models of iPad Pro. We no longer have to choose between a smaller screen with True Tone or a larger screen without.
The iSight cameras are both now 12 megapixels with a 1.8 aperture f-stop with five times digital zoom. They are both capable of 4K video recording at 30 fps and both have a 7-megapixel front-facing camera that supports 1080p HD video recording.
Almost everything about the 10.5-inch and 12.9-inch iPad Pro tablets are exactly the same, the only real difference being their physical sizes. You can't even say that about the iPhone lineup.
So, when it comes to choosing an iPad Pro, size becomes the only deciding factor.
Because productivity hits maximum overdrive with the 12.9-inch iPad Pro
Thanks to its size, the 12.9-inch iPad pro is capable of running full apps side-by-side in Split View mode instead of running an iPhone UI the way the 10.5-inch model does. Full apps means more productivity.
The screen runs natively at 2732 x 2048, which also runs video smooth as butter thanks to ProMotion technology and HDR support. We're talking about a pretty robust bit of technology that is the same screen size as the smaller MacBook Pro, but about one-third the thickness because all the guts and goodies are packed tightly behind the screen. Plus, it's got a touch screen.
The new iPad Pro line is now capable of up to 120 Hz refresh rate, which is also smart-adjustable down to as low as 24 Hz for those apps that don't need as much computing power. This means more power when needed without using up a lot of battery.
This amazing new display technology also lowers the Apple Pencil's latency to about 20 milliseconds, which is going to come in really handy when handwriting notes in the Notes app.
Basically, the advancements in technology now found in the iPad Pro devices make them a replacement for a laptop on paper (I've yet to test this in practice). So, why not get a screen that's the actual size of a laptop and get to work?
Because, why not?
I've always had an iPad with a 9.7-inch screen. I never even went in for the iPad mini. I've always thought the size was the perfect fit. It's portable, yet big enough to work on, less expensive, but not quite an entry-level device, and was Apple's initial screen size when the iPad first launched seven years ago.
So, this time around, it's time for a change. I'm ready to give a different iPad screen size a chance. I'd like to know what it's like to work in Pages, or actually manage the iMore site (Trello, Slack, and all of our back-end website tools) on it with nearly the same level of ease as working on my 13-inch MacBook Pro.
To be honest, the real reason I'm going with the 12.9-inch iPad Pro is that I already have a 9.7-inch model. Sure, I could trade it in for a 10.5-inch iPad Pro, but the physical screen real-estate increase is only about an inch and the speedy upgrade to the guts won't make it seem like enough of a change. If I'm going to get another iPad Pro only a year after my last one, I might as well make it completely different.
That's not to say the 'Baby Pro' isn't still my fav...
Some of the things I said about the 9.7-inch iPad Pro a year ago still hold true today for the 10.5-inch model. It is better as far as portability is concerned and it costs about $150 less than it's larger sibling.
I'm always going to love the "Baby Pro" form factor. Its size is just right, it is spec-for-spec nearly identical to the 12.9-inch model, and it costs less. What's not to love?
After thinking it over
I'll be picking up my 12.9-inch iPad Pro from my local Apple store on launch day. Though I won't be able to get one in Rose Gold to match my 9.7-inch iPad Pro and iPhone SE, I'll be getting it in Space Gray to match my MacBook Pro.
What about you? Are you thinking about getting the 12.9-inch or 10.5-inch iPad Pro? Do you have the previous model of either? Tell me why you're buying (or not buying) a new iPad Pro in the comments.
Get More iPad
(opens in new tab)
Get the best of iMore in your inbox, every day!
Lory is a renaissance woman, writing news, reviews, and how-to guides for iMore. She also fancies herself a bit of a rock star in her town and spends too much time reading comic books. If she's not typing away at her keyboard, you can probably find her at Disneyland or watching Star Wars (or both).
Another fine article by Lory; because, why not, exactly! I have been using my gen.1 since its launch in November 2015 and I have really grown fond of it. I use it as my main computer for work, and leisure and I am getting the gen. 2, but closer to iOS 11 launch date. Good luck!

Because, why not? Because in Canada the cheapest one is $1049!!!! I would sure love one... but not ever going to happen... :-(

Oh, I agree, but the Pro has always had the premium tag since day one; Apple Pencil is $129 here! However, you can pull some serious mileage with a device like that, so it all comes down the terms you wish to proceed with. I would not be considering the new one if it were not for that updated screen - a must in my line of work. Cheers!

I will buy the 12.9" to get the largest tablet in the Apple echo system as a 2nd screen to consume media in the family room and on the treadmill.
No productivity needed here. I won't get any added keyboards or pens.
I wish Apple had a stripped down iPad of this size (but with the same high quality screen)
I kept my iPad 3 for 5 years. This one will have to suffice for the next 5.

I would be surprised it if didn't last at least three; let's remember that software (iOS), in general, is picking a lot of functionality that we did not even envision five years ago. Overall, you will not be disappointed, that a sure thing!

The cost is a big drawback, unless you can justify the need/use. If I was able to trade in my Air2 and get it at a big discount, I'd consider the smaller model.

Depending where you are located, you may be eligible for trading in your Air 2 through Apple's Reuse & Recycle program, online. Have a look!

Took a while to find, but I found the link. Not really worth the value, to me. Thanks though!

Yes - I'll probably upgrade from an ipad Air. I do a lot of reading of technical documents which are generally produced for reading on paper about the size of the 12.9 screen so the bigger screen will make viewing a lot more pleasant.

I had the first 12.9 iPad Pro. Then I stupidly sold it and got the 9.7. Now I'm wishing and trying to get the 12.9 back but it's just not possible for me this year. Ugh why was I so stupid, the bigger screen is a sweet spot for multimedia and a lot of productivity apps. I want it mainly for remote control via teamviewer and other apps. I have the red iPhone 7 and I'll be getting the iPhone 8 so unfortunately no iPad upgrade for me this year. Perhaps next year I'll be able to buy the first gen 12.9 once everyone is using the new gen ones.

I had the original 12.9" model but ended up doing some horse trading for a 9.7" Pro. I find myself missing the big screen at times but there are other times I remember how unweildy it is and how it's foot print was as big as my wife's 13" MacBook Pro. I literally just talked to a friend who bought the 10.5" model 5 hours ago so my question is, do I upgrade from my 9.7" Pro or or save my cash and ride it for another year? If so, which size do I go with? So many decisions...

Interesting question. Do you have a need to upgrade? Is there some feature you NEED out of this generation of Pro's, or could you wait for next's year's "Fastest iPads ever!"?

Hahaha!!! Good questions. I don't need any of them. Call it just wanting all the latest toys!

Any idea when the new iPads become available at Sam's or Costco? Anyone keeping track of past releases and when they become available at any type of discount (at Best Buy, Walmart, warehouse stores)? Hopefully by Black Friday .....

I like using my current 12.9 inch screen as another display with my laptop.