Why the iPhone SE is the phone for me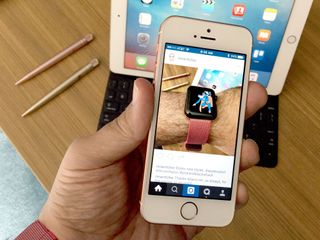 The iPhone SE, Apple's newest handset, is very much like the iPhone 6s on the inside in practically every way (I know, I know, no 3D Touch). The beauty of this model? It looks exactly like the iPhone 5s on the outside, four-inch screen and all.
I can't wait to pre-order and pick up my new iPhone SE the moment it is available. It's what I've been waiting for since 2014.
That perfect size!
As I've previously mentioned, I've got small-ish hands and never felt particularly comfortable holding the larger iPhone 6s — annd let's just forget about trying to grip the iPhone 6s Plus. I also have small pockets, and a small pouch to carry my phone around in. I've stubbornly resisted getting the larger device in part because of this restriction; why should I have to get a new wardrobe and bag just so that I can carry a new iPhone? (Yes, it's a slight exaggeration, but you get my meaning.)
But it goes beyond clothing choice: When it comes to feel in the hand, daily use, and overall comfort, I've just felt that the four-inch iPhone was the perfect size for me. I don't need anything larger, and I'm overjoyed to know that Apple cares enough about pleasing the four-inch iPhone user to bring back the size I love.
And as a bonus, my most favorite case in all the world (they don't even make it anymore) will fit my new iPhone SE!
That speedy A9 processor!
Oh, the speed! With the A9 64-bit processor, the iPhone SE promises to be more than twice as fast as my iPhone 5s, with three times faster graphics. It also will have better speed when connecting to cellular data, faster Wi-Fi, and it supports Wi-Fi calling. iMore editor-in-chief Rene Ritchie, says "it feels like an F1 race car." All of that, and I don't even have to compromise with a screen that's too big for me?
I'm sold.
That fancy camera!
The iSight camera is getting a huge boost over the iPhone 5s: It will now take 12-megapixel photos instead of eight. I can now take higher-res slow-motion shots, 4K 30FPS video, and my low-light concert photos are going to look so much better. Plus, with Retina Flash on the FaceTime camera, I can take selfies on stage without completely fading into the background.
That awesome color!
Rose Gold, anyone? I've always invested in the Black or Space Gray iPhone models in the past, but this time around, I'm going with Rose Gold. Because: Rose Gold.
That price!
Not only does the iPhone SE start as low as $399, but if, like me, you have an iPhone 5s in your possession, you can trade it in for your new four-inch handset and pay as little as $10 per month.
That's more than I spend on apps and games for my iPhone in that time span. To get a whole iPhone for that price? I'm in.
And, in conclusion
I'll be preordering the iPhone SE in Rose Gold on March 24. I may just spend the night outside of my local Apple Store on March 31 — just to make sure I'm there the very moment it arrives. (What if it's already there, just waiting for me in the back room? Maybe I should head over now... just in case.)
What about you, iMore? Is the SE the phone for you? Or have you converted to the big-phone phenomenon? Let's chat.
Lory is a renaissance woman, writing news, reviews, and how-to guides for iMore. She also fancies herself a bit of a rock star in her town and spends too much time reading comic books. If she's not typing away at her keyboard, you can probably find her at Disneyland or watching Star Wars (or both).
how can you pre-order AND get the trade-in discount? dont you have to pay when you order?
My son and I are going to upgrade from our 5s iphones , but we want the $150 discount when we trade in.
Can I pre-order but pay at the apple store when we pick them up?

Unfortunately, to get the trade-in, you will have to go to a store.

I just called my local Apple retail store and was told that if you pre-order the iPhone SE for in-store pickup, you can have your local Apple Store refund your credit card for the trade-in value of your iPhone 5s. If you are planning on picking up your iPhone SE in-store after you pre-order, you should call your local Apple store to make sure that policy is in place for your location..

The more you know. This is good to know.

I so want to switch back to a smaller phone, but I think I'm going to sit this one out and wait for the next iteration, which is probably two years out. Hopefully there's a big enough demand for this smaller phone, that Apple decides to release a true 4" flagship at some point. Like say a 4" iPhone 7.

That's probably not going to happen.

How much more flagship do you need? It has the internals of a 6s.

It was hard for me to move from the iPhone 5 to iPhone 6 because of the bigger screen. I give that a lot of thought before buying it. So finally I bought the iPhone 6 and then moved to the iPhone 6S, the hardware and new features forced me to move to newer versions with a bigger screen. I'm pretty sure though that if Apple had released an iPhone SE at that point (when the 6 was released) I would had go directly to the iPhone SE, to keep the screen size. Now I got used to it, and it feels small an iPhone SE. :p

I came from a 4s and had the 'too big' feeling when I got the 6. I used the Zoom function for a couple of weeks to get acclimatised.

Your reasons are pretty much mine Lory! I will be getting it, and I can see myself hanging on to it for years! Probably also going to get the rose gold too, because come on, rose gold!

Definitely looking forward to the SE. I've always like small phones, going back to the flip phone days. It's good to see that Apple is bringing the specs up to date for this form factor. I'm going to give rose gold a whirl this time. Sent from the iMore App

A9 with no 3D Touch available? Anyone know the reason why? Since its specs is as good as 6s, why no 3D Touch? Pricing factor perhaps?

Size. The 3D Touch machinery takes room.

I'm honestly glad there is no 3D touch. That would make the price jump $100 just for something that most people don't like.

Already have 6S so nope.....

Perfect phone for our daughter.

Get rid of the giant bezels and it would be more practical.

**** straight! Why the huge bezels Apple. Why the long and narrow form factor. I would like the feel and size of the 3GS with no bezels. They could put the home button on the back or make it virtual. Sent from the iMore App

I upgraded from a 5s to a 6s and have never really been able to get used to the size. I'm strongly considering selling the 6s and getting the SE. My hesitations are the first-gen TouchID sensor and the lack of 3D Touch. 3D Touch isn't a big deal to me now, but I wonder what Apple will do with it in the future. Decisions, decisions...

My wife is very excited about the phone. Because of the size of the phones, she had no interest in the 6 or 6s series for many of the same reasons Lory mentioned.

Less bezel more screen and i would have loved one. Sent from the iMore App

it is missing one killer feature for me - the iPhone upgrade plan. I really want to get this but I don't have the cash outlay and I don't want to be stuck at a carrier. Does anyone know if the SE is plagued by the 5's connectivity problems or do the upgraded bands solve that problem? Still holding onto my 5 for now until I can figure out what my options are for upgrading at a later date. The phone itself is great, exactly what I asked for. Agree about the bezel but i suppose Apple saving design money for iPhone 7.

Already have a 6s+ and loving it and its size and don't plan on going back to 4 inches as its far too small for me now. Sent from the iMore App

I think I am going to go from the 6S+ to the SE. I like the big screen and all that. but I really do love the one handed use. I can go back up with iPhone 7 in 7 months, if I want to.

I have had all sizes of the iPhone for me 4,7" is the perfect size. Sent from the iMore App

Bang on! Size, the Proc, the camera, the color and above all, the price, They seem to have nailed it. Having said that, am not too sure about it's commercial success. Only time will tell...

Simply put, the best product design in iPhone for Apple. It is going to sell like hot cakes. Will get 2 for my self. A great upgrade from 5s. Posted via the iMore App for Android
Get the best of iMore in in your inbox, every day!
Thank you for signing up to iMore. You will receive a verification email shortly.
There was a problem. Please refresh the page and try again.