Will Face ID support multi-user authentication? Craig Federighi responds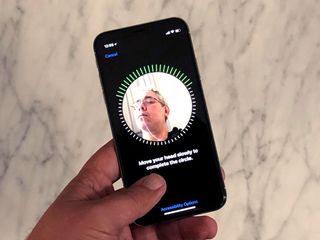 (Image credit: iMore)
Yesterday, Reddit user Steve Sheridan posted a thread to /r/apple stating that he emailed Craig Federighi, Apple's Vice President of Software Engineering, regarding Apple's future plans for Face ID on the iPhone X. In the email, Sheridan praised Face ID's strengths, saying that he recently purchased the X and that he finds the controversial feature to be "very fast and accurate." He then, however, went on to inquire whether or not multi-user authentication is in Face ID's future, as he and his wife prefer to share access to one another's mobile devices.
Federighi's response was essentially a "not right now, but maybe eventually," pointing out that even Touch ID wasn't meant for more than one person to use:
Though many individuals do prefer to keep their phones private — so much so that attempting to gain access to one's significant other's device has become a pervasive running joke — focusing strictly on single-user authentication could pose a problem if Apple plans to extend Face ID to its entire family of products. Many families or couples gravitate toward sharing tablets as it's more cost-effective, so once Touch ID has been phased out, multiple users having the ability to unlock a single device using Face ID may become a necessity. However, given that some are still uncertain about the security of Face ID, it makes sense that Apple is attempting to perfect it before adding multi-user support.
Thoughts?
Would you like to see multi-user authentication with Face ID in the future? Let us know in the comments!
Get the best of iMore in in your inbox, every day!
Tory Foulk is a writer at Mobile Nations. She lives at the intersection of technology and sorcery and enjoys radio, bees, and houses in small towns. When she isn't working on articles, you'll likely find her listening to her favorite podcasts in a carefully curated blanket nest. You can follow her on Twitter at @tsfoulk.
Many people seem to be confusing Touch ID's ability to recognise multiple fingers as multi-user support, when that was not the intention. If Apple were to support multi-user, they would do it across the whole OS, so you'd essentially have user accounts like you do on the Mac. This would be a prerequisite before enabling Face ID to work with multiple people.

Touch ID on MacBook Pro is certainly intended for multi-user support.

That'd make sense, given that macOS supports multiple users :)

Let's be frank. Having two people able to access Face ID would mean that Apple would sell less iPhone X's. That wouldn't make (financial) sense to the company. That's the why they will eventually put an end to Touch ID on the iPhones and replace it with Face ID only...

I highly doubt that's the reason… if people want to use an iPhone with multiple people, they can. Just share the passcode. Apple isn't stopping anyone, really, plus I know loads of families that share an iPad which follows the same restrictions.

I agree. You don't need to multi-user touchID to share a phone. Just share the passcode if you gotta. That's a minor inconvenience compared to sharing the phone. My wife and I know each other's codes and passwords. It's my phone, but she can get into it if she needs to, and vice versa.

I have a feeling Apple will introduce user accounts at least to the iPad at some point. That's when there will be proper multi-user authentication. But yeah, I don't think it's making any kind of significant difference to Apple financially

Mobile phones are personal devices, meant to be used on the pockets of people, not shared. Nobody buys an iPhone X for two!
Thank you for signing up to iMore. You will receive a verification email shortly.
There was a problem. Please refresh the page and try again.