Will your iPad mini cases fit the new iPad mini 4?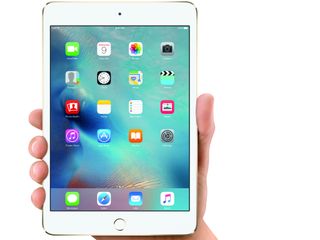 Earlier we determined that many cases for the iPhone 6 would still be compatible with the iPhone 6s, with the exception of tight fitting covers such as waterproof cases. Hoping we could say the same for the iPad mini 4 was a tall order, however. There's a considerable difference in dimensions between both current versions and the iPad mini 4 that would make any case you currently own just a bit too short in height and roomy in thickness.
That said, there are a couple cases for the iPad mini 4 available from Apple including the Smart Cover (opens in new tab) and Silicone Case (opens in new tab) in a variety of color options. Get the full lowdown on size specs below.
Swipe to scroll horizontally
Category
iPad mini 2
iPad mini 3
iPad mini 4
Thickness
0.29 inches
(7.5 mm)
0.30 inches
(7.4 mm)
0.24 inches
(6.1 mm)
Weight
0.73 lbs
(331 grams)
0.75 lbs
(341 grams)
0.65 lbs
(298.8 grams)
Height
7.87 inches
(200 mm)
7.87 inches
(200 mm)
8 inches
(203.2 mm)
Width
5.3 inches
(134.7 mm)
5.3 inches
(134.7 mm)
5.3 inches
(134.8 mm)
Your friendly neighborhood accessories guru
Kills the chances of me upgrading my Mini 2. I have far too many cases to dump them now. Guess I'm in for the long haul until this thing dies...

Why would they make it taller, yet thinner, could they not have just kept it the same size and thickness? This seems like a bit of a dufus move that requires explanation. Sent from the iMore App

They could have... but it was a strategic yet "typical apple" move. They changed the dimensions so you're "forced" to buy new covers/cases...thereby extracting more money out of you. Especially for those people who love using the apple smart covers. I'm really pissed about this too bc i have a bookbook from twelve south that will no longer fit this iPad mini 4. Ridiculous.

The good news is that they finally have some new (and fairly nice) colours for the covers.

yea they have some nice new colours but at least before the case version came with a back and front cover for £55 - now you have to buy them seperately for £78. I'll just wait until the knock off sellers have caught up and manage to make some

I need to locate a supplier of covers other than apple for my new mini iPad 4. In reside in Victoria Australia

Yeah, this is a bummer.... I have a nice $100 leather Pad and Quill case for my Mini 2. I guess I'll have to just show up at a retail location and confirm it will not fit.

Actually iPad mini 2 and iPad mini 3 are (at least officially) the exact same physical dimensions, so you're chart is a bit off.
Thank you for signing up to iMore. You will receive a verification email shortly.
There was a problem. Please refresh the page and try again.