Willow's wearable is the discreet way to pump breast milk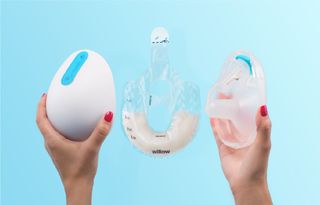 (opens in new tab)
Willow (opens in new tab) introduced the Willow Pump at CES 2017, and it aims to revolutionize the way women pump their breast milk, allowing the user to wear it under her bra and pump on the go!
The classic pumping method usually involves a somewhat cumbersome device that features a dangling bottle, and it requires constant attention — not the easiest thing to do when out and about.
As you can see from the above Instagram video, the unit is self-contained, with a disposable bag inside that slides out so you can fill bottles. The bags feature a one-way valve so that milk goes in, but doesn't come out, and the milk tracking app keeps tabs on your volume.
The flanges are dishwasher-safe, and everything else is easy to clean and take apart. You get two pumps in the box (you know, symmetry and all that), as well as 24 milk bags, as starter guide, and more.
Willow isn't shipping yet, but you can sign-up via email (opens in new tab) to be notified when it does!
What do you think? Awesome gadget or more subversion of breastfeeding advocacy? Let us know your thoughts in the comments below!
Get the best of iMore in your inbox, every day!
Mick is a staff writer who's as frugal as they come, so he always does extensive research (much to the exhaustion of his wife) before making a purchase. If it's not worth the price, Mick ain't buying.
I'm pretty sure it should be "discreet," not "discrete." If you're using this thing to pump for breast milk under your shirt, that's being done discreetly, as in a way so that nobody else notices.

My opinion here may be invalid being a man and whatnot, but I feel like there is no way in **** a woman could wear that under her bra and someone not notice. The thing is huge. And looks like it would only work for women with maybe a B cup at most.

Compared to other pumping methods that involve the bottle basically being held up to or attached to your breast this thing is definitely more discreet and you would be able to use it much more easily if you had an office job or just around the house. It also has a lot less parts which would make it easier for women to be able to keep it clean.