WolframAlpha for iPad - app review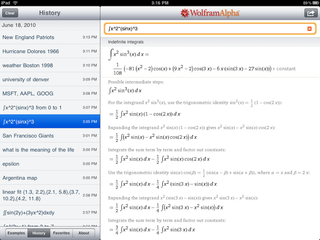 WolframAlpha is a computational knowledge engine on the web, and with their iPad application, you can perform calculations and look up information even easier. WolframAlpha is a universal application, so you pay once but receive the optimum experience on both your iPhone and iPad.
Using WolframAlpha is simple. Just type what you're interested in and WolframAlpha will provide you information about it. For mathematical expressions, the keyboard has an additional 3 rows of numbers and symbols. Tapping "more" on the keyboard will expand the keyboarding adding 4 more rows of symbols.
When solving advanced problems like integrals and derivatives, WolframAlpha not only provides the answers, but displays the steps taken to find it. The steps are very clearly written with sentences describing the procedure. This is my favorite feature of WolframAlpha because it is an excellent learning tool and because it is a feature missing from calculators.
Although the mathematical computing power of WolframAlpha is extremely impressive, I don't find it to be a good calculator replacement. For example, calculators are often used when making multiple calculations and being able to see previous results and quickly access them is something I've found invaluable. However, I view WolframAlpha as a separate tool in itself because it offers some features (like showing steps) that calculators do not.
The mathematical abilities of WolframAlpha are excellent, but it's not all the app has to offer. You can look up information on anything scientific, stocks, weather, health, linguistics, people, organizations, sports, music, and much more. There are very few things that WolframAlpha does not have information about. For example, when typing in the word "apple", WolframAlpha initially provides the stock information on Apple (AAPL), but at the top, there is a yellow bar that says "assuming "apple" is a financial entity". Tapping this gives alternative interpretations of the word "apple", including food. Using this meaning of the word, WolframAlpha provides an ample amount of nutritional information on apples.
The only disappointing thing about WolframAlpha is that you must have an internet connection to use it. So if you're somewhere without wifi or cell reception (for iPad 3G users), this application is useless. This is understandable because of the vast amount of information that WolframAlpha contains; however, it would be nice if the calculator-like functions were available offline. I would also like to see the ability to save certain pages for offline viewing.
WolframAlpha is a very powerful application despite it's inability to do anything offline. If you're a student, scientist, or someone who enjoys discovering information, I recommend adding WolframAlpha to your collection of iPad applications.
Video and screenshots after the break!
[$1.99 - iTunes link (opens in new tab)]
Pros
Show steps of complicated math problems
Huge knowledge of information
Universal binary so that it includes iPhone version
Cons
Must have internet connection
[gallery link="file" columns="2"]
Get the best of iMore in your inbox, every day!
Former app and photography editor at iMore, Leanna has since moved on to other endeavors. Mother, wife, mathamagician, even though she no longer writes for iMore you can still follow her on Twitter @llofte.
Since an internet connection is required, you are better off using the web app and saving $2. You will not have the mathematical symbols, but Wolfram Alpha understands math in pure English.

I disagree. The experience is much better with the app and totally worth $2 in my opinion.

Wait- you're complaining about a tool similar to google search being online only?

So, what are its advantages over the web app?

@ Grant C
haha google search can't even solve simple differential equations let alone functions containing integrals... personally I love this app (and the web app), I bought it when the price was reduced about 10-20$ half a year ago (20something$ for the app was clearly too much!!). The reason I stopped using their web app and bought the app is because its faster in my opinion (also due to the "math keyboard") and the layout is pretty neat. I often use it for calculations or homework at the University and wouldn't switch back to the web app... but its really your choice... i can only recommend it AND the web app for all types of science related homework ;)

Terrific work! This is the kind of information that are supposed to be shared across the net. Disgrace on Google for now not positioning this post upper! Come on over and consult with my web site . Thank you =)