WWDC 2014 from an AAPL shareholder's perspective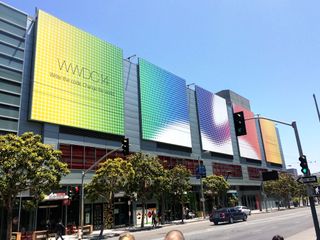 After WWDC 2014's keynote I went to sleep feeling quite optimistic about AAPL's future. The stock market didn't seem to share my enthusiasm, but as an investor I could hardly care about the short term opinions of Wall Street. I think that to successfully invest in a stock like Apple you need to adopt the same long term thinking that the management team does. You can't get stuck worrying about this quarter's results or the next particular hardware release.
So this morning I woke up and read a comment from a smart investor friend of mine. He was frustrated at Apple referring to new icons and transparent sidebars as "magical", which is fine. I get that. It's Apple's somewhat hyperbolic style and it turns some people off. But more to the point, he didn't see how anything Apple announced would increment their market position.
That's the point of view that, if shared by Wall Street, has me excited about being a shareholder. Why? Because I believe the comment is wrong and that shareholder value will be enhanced in the years to come as the iOS 8 and OSX Yosemite features unlock more profit potential.
Airdrop between iOS and OSX seems like a no brainer, but it's the kind of feature that will further enhance the stickiness of the platform. The same argument applies to much of the iCloud integration that Apple announced yesterday. Heck, even if you are not a Mac user the iCloud stuff will likely keep you hooked on Apple. But if you are a Mac user you're (hopefully happy to be) stuck with them. You'll be hopelessly addicted to getting SMS on your Mac and using many of the other continuity features such as taking over an email draft on your Mac when you walk into your office, or using the Mac as a speakerphone.
I've been testing out Android for several months, and I'm also a Chromebook user. I have to say that there isn't anything compelling me to stick with Android at this point. All of the Google features I love are available on iOS and none of the awesome OSX integration is available on Android.
Feature-wise, I think Apple did a great job of showing the world why they should continue to be willing to pay a premium for their brand. As Rene said yesterday, "iOS was secure and Android was flexible. Now iOS is secure and flexible." Apple very much appears to be willing to open the doors to new flexibility features like widgets, actionable notification and third party keyboards. Apple just killed a whole bunch of reasons that some Android lovers might not want to use their products.
But beyond features, Apple also launched a whole new programming language (Swift) that can seamlessly work alongside old code (Objective C) and they implemented a new graphics rendering technology called Metal. These two initiatives promise to make it easier and faster to program for iOS while also letting console-class games run on the Apple's mobile platform.
Last week at the Code Conference (put on by re/code) Mary Meeker unleashed her "Internet Trends" report for 2014 and one key point she made was about how mobile platforms are heavily monetized by apps. Apple just dropped a ton of new stuff on developers to that will probably have many of them continuing to code for iOS first. Ultimately, this is good for shareholders.
Beyond apps, I also have to wonder when or if Apple will start to monetize mobile search. They're already disintermediating Google with Siri, and the new Spotlight search suggestions tell me that Apple is pushing deeper into offering up alternatives the old fashioned Google search. Could Apple sell ads directly here? Or monetize search in some other way? Of course they can. Will they? And what form will it take? I don't know. I'm curious.
As a shareholder I was very pleased by Apple's keynote announcements. As a customer I'm anxious to get my hands on iOS 8 and OSX Yosemite. I feel like my time as an Android user has gone on long enough.
Master your iPhone in minutes
iMore offers spot-on advice and guidance from our team of experts, with decades of Apple device experience to lean on. Learn more with iMore!
Former sell side analyst, out-of-box thinker, consultant, entrepreneur. Interests: Wife & kids, tech, NLP, fitness, travel, investing, 4HWW.