You Won't Believe These 6 Ways People Are Wearing Their Apple Watch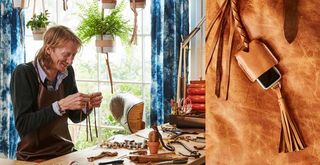 Whether you're rocking the latest version of the Apple Watch or have a model that's a bit older, there's probably been one point where you've been like, "What if I could wear this nifty little gadget in more ways than one?!"
Here are 6 different ways people are wearing their Apple Watch for you to try out on your own!
Zip it, lock it, put it in your pocket – or, y'know, hang it from around your neck and not worry about your Apple Watch getting scratched up because of the locket's handy-dandy screen protector.
Charm your enemies and show off your seriously killer sense of style with these modern, eye-catching charms from Bucardo!
3. As a formal scarf
(opens in new tab)
If you're lookin' to class up the joint with a handmade piece of art, then take a peek at this beautifully designed formal scarf from Etsy.
If diamonds are a girl's best friends, then pearls are certainly a close second because have you SEEN how freakin' beautiful this Apple Watch necklace is?!
(Oh, and PS, if you wanted to turn any of your old necklaces into one for the Apple Watch, all you need is the right attachment (opens in new tab))
ARE YOU LATE? YOU'RE LATE. YOU'RE LATE FOR A VERY IMPORTANT DATE!
NO TIME TO SAY HELLO (GOODBYE!) YOU'RE LATE, YOU'RE LATE, YOU'RE LATE!
Bye-bye necklaces, bye-bye wristbands, hello convenience!
How do you wear your Apple Watch?
Are you a big fan of keeping it classic on your wrist, or would you rather go some something a bit different and funky?
Let us know what your thoughts are in the comments below!
Get the best of iMore in your inbox, every day!
Cella writes for iMore on social and photography. She's a true crime enthusiast, bestselling horror author, lipstick collector, buzzkill, and Sicilian. Follow her on Twitter and Instagram: @hellorousseau
Wouldn't these "styles" defeat Pay and other uses that the wrist supplies?

That was exactly what I was thinking doesn't that defeat the purpose of smartwatch ?

Obviously if you used these, you probably wouldn't care about  Pay and passcode.

WTF? Totally defeats the utility of the Apple Watch as an activity monitor/HR monitor if you don't wear it on your wrist.

How do you not have to type in your key code every time you want to see the time? These have to be major security risks.