YouTube comes to Nintendo Switch today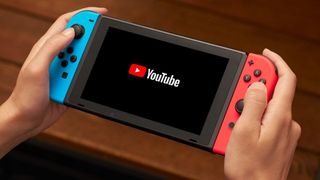 Nintendo Switch seems like the perfect device for media consumption, and although it plays video games perfectly fine, users have been wanting more. Well, Nintendo took a big step in that direction today with the arrival of the YouTube app for Nintendo Switch.
Available as a free download in the eShop, the app offers a full-fledged YouTube experience. The UI may look familiar to those who have used TV-based YouTube apps on other platforms. It just so happens that this format works well for both the big screen and when you're in portable mode on the Nintendo Switch.
You'll be able to sign in to access all your favorites, subscriptions, and personalized recommendations. You can search for any video you want, too. If you were afraid Nintendo would limit the app to protect children, guess again. And if you do need to protect children, a standard parental control option is available.
You'll need at least 94MB to download the app, so be sure to confirm you have enough space before heading to the eShop.
Get the best of iMore in in your inbox, every day!
Thank you for signing up to iMore. You will receive a verification email shortly.
There was a problem. Please refresh the page and try again.