10 Accessories for Taking the Most Flawless Selfie EVER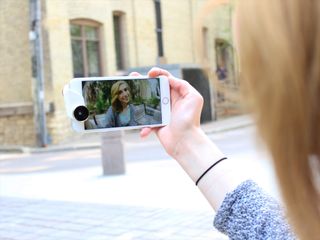 Taking a selfie is a true art form: and what is a great painter or sculptor without his or her tools?!
Here are 10 selfie-related accessories to keep in your back pocket in order to take the most perfect selfie on the planet!
1. Selfie stick? Nah, Cliquefie
There's a big, big difference: and it comes in the shape of a retractable tripod and removable, magnetic shutter remote for distance/group selfies.
Big things come in small packages, and good selfies (opens in new tab) come in great lighting (opens in new tab).
… With the help of a Joby GripTight GorillaPod (opens in new tab)!
4. This little selfie remote will take your selfies from 0-100!
And check out the rest of Photojojo's stuff while you're at it!
With the LuMee duo case (opens in new tab).
6. Panorama + selfies = Impossible, right?
Not with the CliqueFie Puck, that's for sure!
7. Lighting is KEY for the perfect selfie
(opens in new tab)

!
So this super popular Neewer ring light's (opens in new tab) got'cha covered.
8. Olloclip
(opens in new tab)

your way to selfie stardom!
Seriously though, this 3-in-1 Olloclip lens for your iPhone (opens in new tab) will have you shooting a heck of a lot more than selfies, that's for sure (opens in new tab)!
9. Classic selfie stick
(opens in new tab)

, meet your Bluetooth upgrade
Pop it in your bag and snap selfies (opens in new tab) in an instant!
I GOT A LOVE AND I KNOW THAT IT'S ALL MY OWN — OOOOWAY-OHHHHHH...
TAKE ME AWAYYYYYYYYYYYYYY
How do you take the perfect #selfie?
Is there a trick or a gadget that you use to take the most impeccable selfies ever?
Let us know your techniques in the comments below and we'll be sure to try 'em out when we're fish-facing it in a mirror selfie next time!
Cella writes for iMore on social and photography. She's a true crime enthusiast, bestselling horror author, lipstick collector, buzzkill, and Sicilian. Follow her on Twitter and Instagram: @hellorousseau
Thank you for signing up to iMore. You will receive a verification email shortly.
There was a problem. Please refresh the page and try again.